As Sixers break ground on new Wilmington fieldhouse, developer makes promises to the neighborhood
The arena for the 76ers minor league team will also be a training center for elite youth athletes and offer programs for low-income city kids, developer Rob Buccini says.
Listen
3:09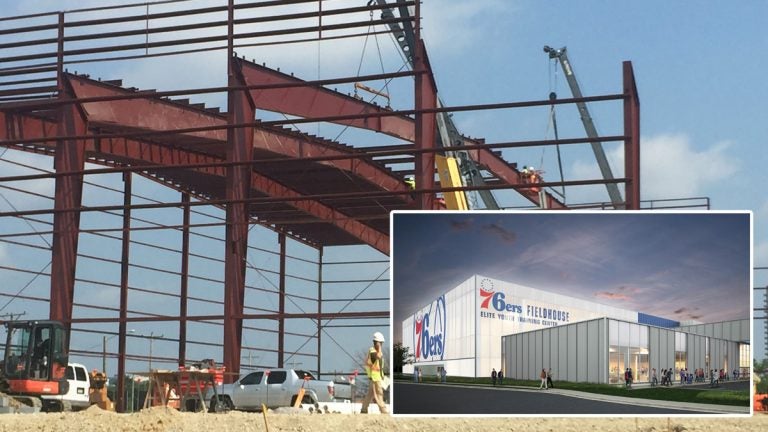 Crane operators and iron workers moved and secured huge steel beams into place this week on an industrial strip south of Wilmington.
The construction activity is occurring along a long-neglected stretch of South Market Street known more for strip clubs, junkyards, and a dirty oil recycling facility.
Now a shining phoenix is rising.
It's the new home for the Philadelphia 76ers' Delaware farm team, the Blue Coats, formerly known as the 87ers.
But the five-story, 150,000-square-foot structure that seats 2,500 promises to be much more. Not only will it feature NBA G-League basketball, elite youth soccer players and other athletes will train there.
The $26 million project is being aided by a $3 million state grant and a $1 million infusion from the city of Wilmington.
Kenneth Tann, a Sixers supporter in his 20s, is delighted to see the arena coming to town.
"I think it's a great local project and it will be great for the community," Tann said. "I'm glad those guys came out of their pockets to bring this facility here and give us something to do."
Yet the fieldhouse complex has a third mission: to provide free- or low-cost recreational, educational, and leadership programs for low-income kids. That's critical in a city hard-hit by gun violence, where too many young people turn to gangs and drug dealing.
Having the new facility was music to the ears of a few kids shooting hoops Monday under a searing sun in impoverished Southbridge, a few blocks away.
One was Tann's 10-year-old nephew, Kaydence Tann, who lives in a Wilmington Housing Authority apartment.
"That should be cool. Are kids allowed to go in there sometimes?" the child asked. "To do activities and stuff like that, and play basketball?"
Christian Brown, 12, seconded that notion.
"When it gets really hot we can go over there and play basketball," Brown said. "We don't have to stay outside. I think it's great for us to get exercise, too."
Though it won't be that simple, like going to one of Wilmington's handful of community centers with gymnasiums.
Steve Cavalier of Buccini Pollin Group, the site's developer, said all kids will be encouraged to participate in structured activities, but the fieldhouse won't be a "walk-in" facility.
There's a soccer program, plus plans for youth basketball and flag football leagues, Cavalier said. He's also working with a summer learning program that includes not only sports, but computer coding, dance, and theater.
"You can't just walk in and play on the court or turf or anything like that, but we will have planned programs for everyone at the facility," Cavalier said.
Alison Windle is the executive director of Southbridge's Neighborhood House community center, which has been in existence for 90 years and has a highly-rated early learning program.
Windle welcomes the sports facility, but said the community is already reeling because its elementary school, Elbert Palmer, is slated to close next year. She also pointed out that no one from Buccini Pollin has contacted her agency, which offers a full array of programs for kids and families and sponsors sports teams in various local leagues.
"I'm only concerned about reinventing the wheel," Windle said. "We already have these great youth programs in place and now we're going to have one more we have to compete with for funding. How can we partner with them to bring even more activities for youth?"
When asked about Windle's apprehension, Cavalier said he would soon be reaching out to her.
Cavalier added that the center should be open in December and said the Sixers themselves will have at least one open practice there each season.
Cavalier's boss, Rob Buccini, stressed that his company is committed to the city, citing his various ventures, such as the movie theater on Wilmington's riverfront, the Queen music venue, and an apartment complex opening downtown this month.
And despite the fact that many poor neighborhoods are plagued by gun violence and chronic poverty, Buccini says signs point to a city on the rebound.
"It's all part of what I think is a rising hometown pride," Buccini told WHYY. "In Wilmington crime is down, employment is up, the city is far cleaner, businesses are expanding. Home sales in different neighborhoods are doing well. It's all part of the resurgence."
WHYY is your source for fact-based, in-depth journalism and information. As a nonprofit organization, we rely on financial support from readers like you. Please give today.