Mütter gives new life to Founding Father's medicinal garden
The garden is visible from the iron fence that fronts the museum on 22nd Street near Market.
Listen
4:56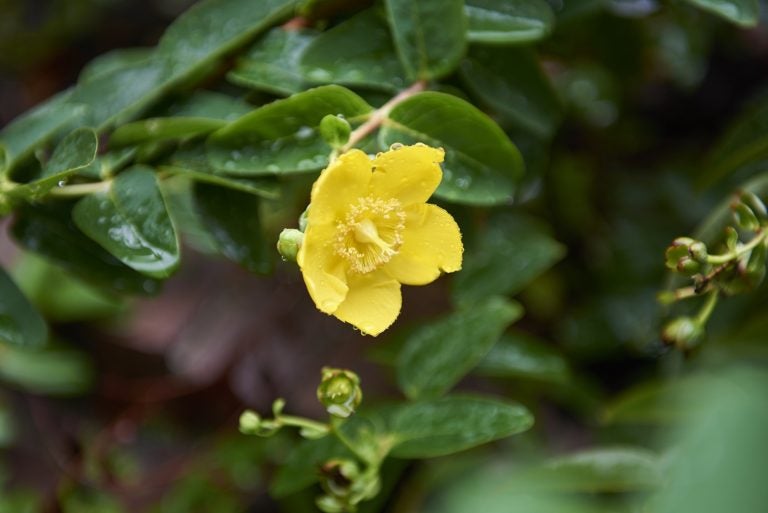 One sign at the entrance of the Mütter Museum medicinal garden warns "plants can be deadly; do not touch or consume any of the plants in the garden."  It underscores how powerful plants can be, and why they have been harnessed for medicine for centuries.
The garden is visible from the iron fence that fronts the museum on 22nd Street near Market, but because curative plants are less than attractive, most people don't realize that here is one of the most appealing medicinal gardens in Philadelphia. The idea for the garden goes back to Benjamin Rush, a signer of the Declaration of Independence and co-founder of the College of Physicians, which is home to the museum.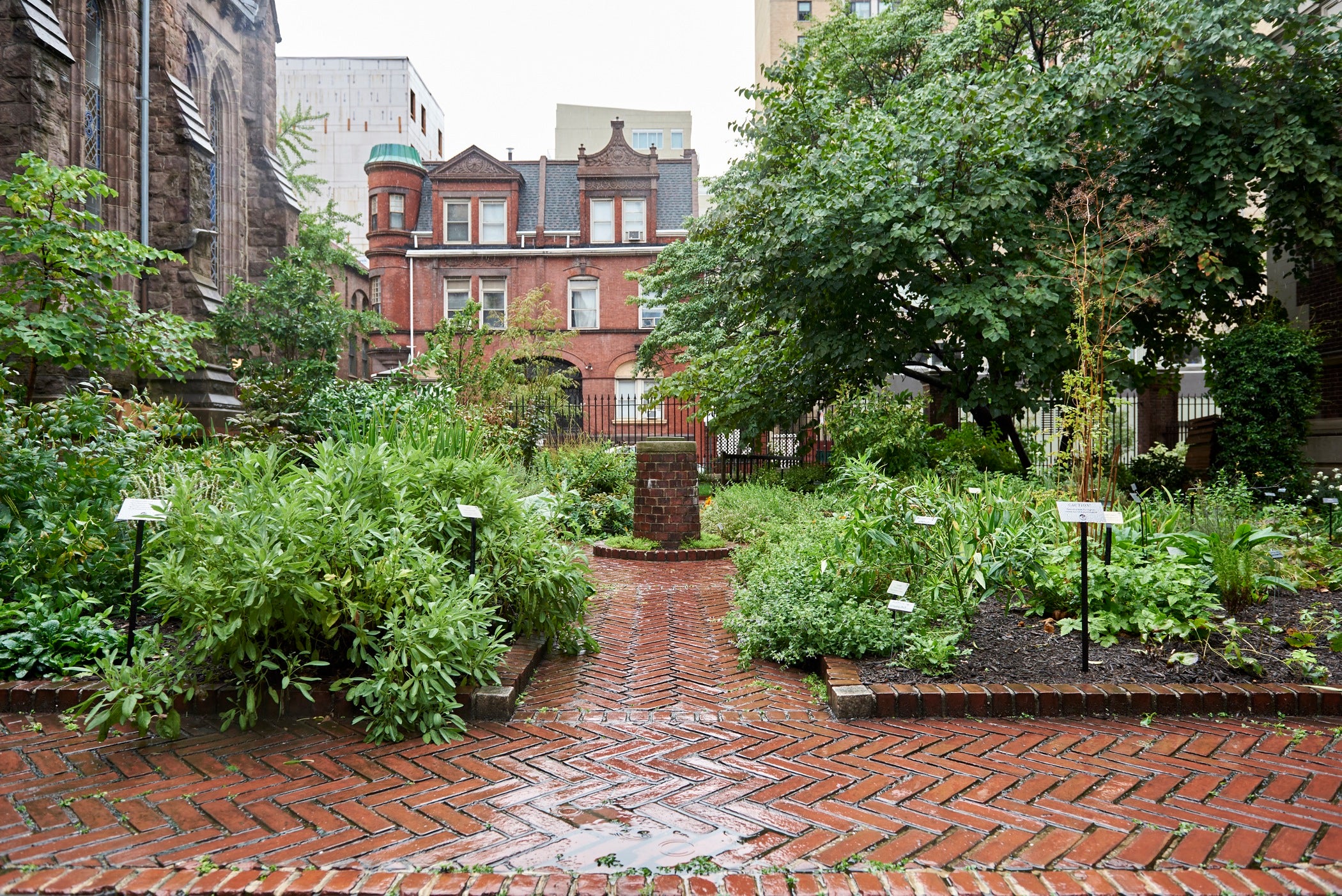 Rush wanted to have an in-house source of medicinal remedies says Dr. Jacqui Bowman, director of the center for education at the Mutter.
"The concept of the garden dates from the founding of the college which was in 1787, before the Mütter Museum even existed," she said. "This is going back to the original goals of physicians that formed this college, a group of people thinking and discussing public health issues in Philadelphia at that time. You know there was the Yellow Fever epidemic, there were a lot of things going on in Philadelphia and they felt they needed to get together and share their knowledge."
With two recently-published biographies focusing on Rush, he's become the Founding Father du jour, so to speak. He was a prominent doctor, educator, civic leader and social reformer. He had a major influence on the medical profession based on practical, not empirical knowledge.  But it took the College of Physicians until 1937 to plant the garden Rush envisioned as a way to replenish the medical chest for the college.
"In those days," said Bowman, "it was important because they used plants extensively in the practice, in their everyday treatment of patients. Now many people don't see the connection between the medicines that they get at the pharmacy to the plants we have grown outside."
To help make that connection Bowman opened one of the Mütter's ample rooms for one day — to invite people to explore the plants. She surrounded the rooms with different areas that would explore different powers of medicinal plants.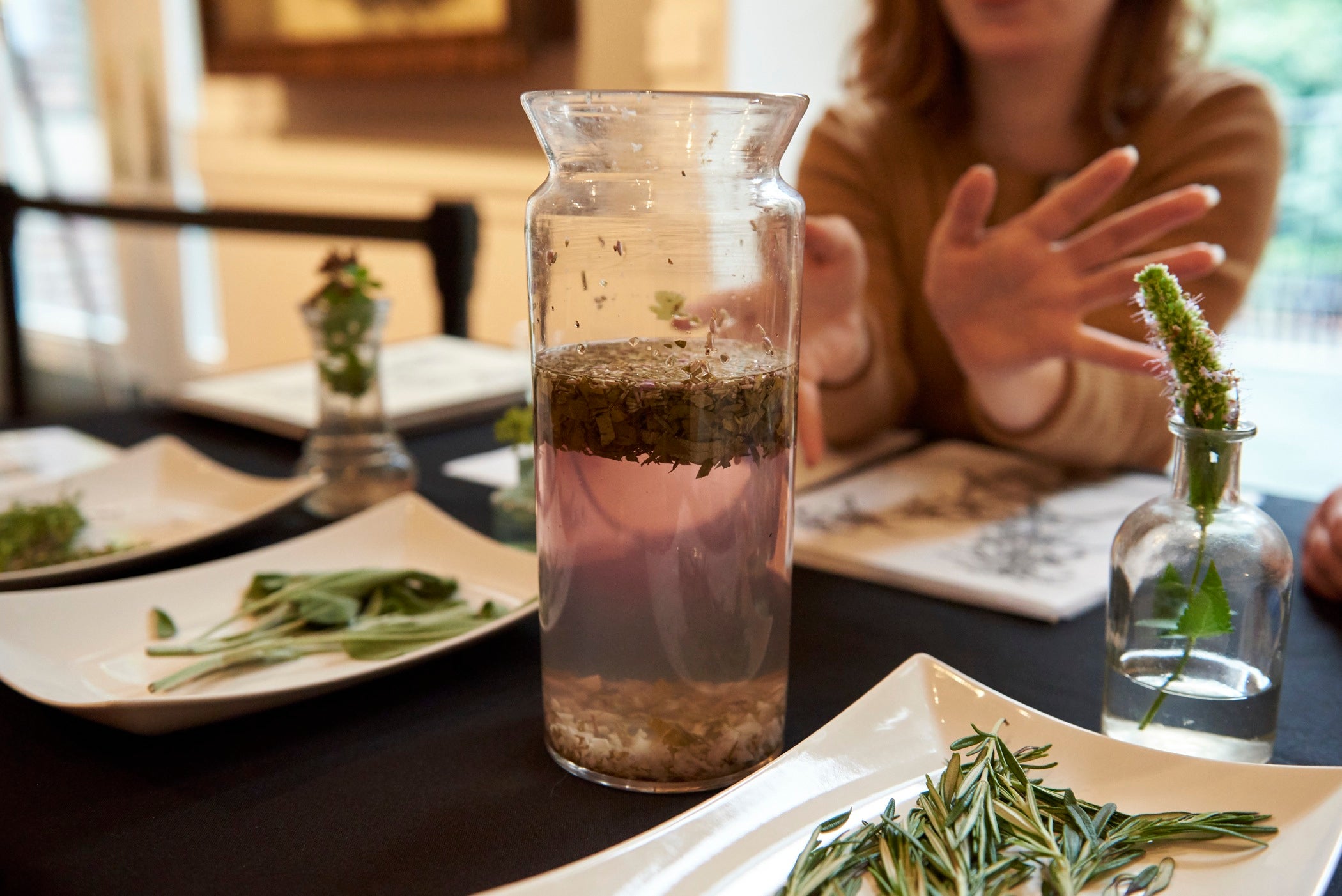 On one of the tables dedicated to the sense of smell stands a large glass jar of herbs floating in a liquid. It's a pungent mix of vinegar and garlic called Four Thieves vinegar that opens up the sinuses.
"The most popular version is that there were four thieves made this potion to protect themselves from the plague so that they could plunder the bodies of victims of the plague and steal all of their riches," explained Meredith Sellers of the Mütter.
The other ingredients in the potion, including mint, marjoram, sage and lavender can be found in the garden, along with 60 different kinds of medicinal herbs.
This year the garden will start undergoing a lengthy renovation. The idea says Bowman, is to add to the repertoire by bringing plants from different cultures. The deadly and carnivorous plant areas will grow as well, adding a corpse plant.
"They are a tropical plant from Sumatra where they grow huge and when they're about 8 years old they have a huge flower that smells like a corpse for 2 days to attract pollinators," she said.
From these medicinal plants, physicians would create ointments, salves, and teas. But they aren't universally helpful says Tosef Miller of the museum.
"Here is the fall stick plant its also called a pencil plant or a naked lady. It's sap has been used traditionally in medicine to cure things like asthma and warts, now it's not that effective. They tried to use it in cancer research but they found that it actually suppresses the immune system and makes the cancer worse," Miller said.
The room at the Mütter is filled with drawings, maps, art objects and gravures connected to the ongoing travels and notes of people exploring the world to discover new healing  plants.
They show in part, that there's still a lot to learn about the curative value of plants. Behind the exhibition is the premise that every time a plant is wiped out, either in the Amazon or around the corner, its potential medicinal benefits could be lost forever.
Wild ginger (Asarum canadense) is thought to help with conditions such as asthma, coughs, and digestive spasms. (Natalie Piserchio for WHYY)

Ornamental St. Johns Wort, found in The Benjamin Rush Medicinal Plant Garden located at The Mütter Museum, was used to treat depression. Early herbalists found it to have a calming affect. (Natalie Piserchio for WHYY)

The sensitive plant (Mimosa pudica) is known for having leaves that physically withdraw and close up when touched or shaken. It is thought to be protecting itself from harm. (Natalie Piserchio for WHYY)

Sage (Salvia officinalis) was a treatment for excessive sweating, cold and chest infections, and sore throats. (Natalie Piserchio for WHYY)

Cranesbille (Geranium maculatum) was considered a treatment for benign prostate hypertrophy and heavy menstruation. (Natalie Piserchio for WHYY)

Columbine (Aquilegia canadensis) was said to aid with headaches, diarrhea, and heavy menstruation. (Natalie Piserchio for WHYY)

Betony Woolly (Stachys lanata) has been used for centuries as a wound dressing. The plant also has antiseptic and anti-inflammatory properties. (Natalie Piserchio for WHYY)
WHYY is your source for fact-based, in-depth journalism and information. As a nonprofit organization, we rely on financial support from readers like you. Please give today.