LOVE Park? More like loathe park! Criticisms mount as JFK Plaza slowly reopens.
On Thursday, city officials gathered at LOVE Park to dedicate the southeast corner as Bank of America plaza and garden in recognition of a $250,000 donation from them.
Listen
4:10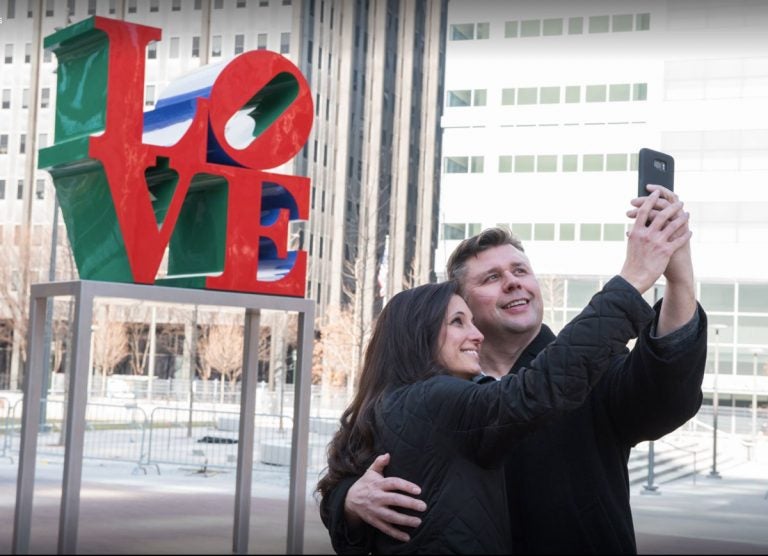 It's an iconic shot, a photo taken by numerous Philadelphians, millions of visitors, and countless brides and grooms. The subjects stand in front of Robert Indiana's LOVE Statue as a geyser-like fountain shoots up behind them. In the middle distance, Logan Square's own fountain sprays in parallel and, in the far distance, the Art Museum. Like the outline of the Liberty Bell or a shot of the city's skyline, it's an image that evokes Philadelphia.
Or, at least, it was.
With the park — formally known as John F. Kennedy Plaza, but famously as LOVE Park —  showing its age, the eponymous statue ready for a required refurbishment, and the parking lot underneath it in desperate need of a new, leak-free roof, city officials closed the park in 2016 for an overhaul replete with a complete redesign.
The return of the statue in February marked a soft opening of the plaza, which is slated for an official grand opening on May 30th.
But in the time since the statue's Valentine's Day return, the makeover has sparked growing criticism from an unimpressed public.
And after testing of the park's new fountains revealed problems with their drainage on Wednesday, more voices joined the chorus of critics who now loathe the new LOVE Park.
On Thursday, city officials gathered at LOVE Park to dedicate the southeast corner as Bank of America plaza and garden in recognition of a $250,000 donation from the financial institution. Jamie Gauthier, executive director of the Fairmount Park Conservancy, had the honors of thanking and introducing the bank's regional president who would present the oversized fake check.
"I know I speak for all of us," said Gauthier, "when I extend our sincerest thank you to Bank of America for their support to the park."
At just that moment, a man passing by shouted "Bank of America SUCKS," eliciting cheers and clapping from some curious onlookers standing behind the city officials, seated on folding chairs near the entrance to the park.
"And with that, or rather, in spite of that," Gauthier continued after a pause, "I'd like to welcome up…"
And so it always seems to go with each iteration of the Center City landmark's rebuild. Officials excitedly announce the latest development, only to face decidedly unenthusiastic reactions from the public.
As city staffers, bank officials and other assorted civic players patted one another on the back; Steve Perzan handed out flyers with "the new LOVE BLUNDER PARK" emblazoned in red at the top.
"I went to all the civic engagement meetings," said the Olney resident. "This park has not turned out to be exactly what was discussed."
Perzan dislikes that the new park has flattened out, losing the old gradations that made it so enticing to skateboarders. But it's changes to the LOVE sculpture itself that he really hates.
According to Perzan, Philadelphia's was the only of Robert Indiana's many LOVE sculptures to sit on a trapezoidal base. Now, it rests on a rectangular one. "It is now Robert Indiana's statue in Philadelphia," he said. "It is no longer Philadelphia's love sculpture."
"It's lost the absolute uniqueness."
In fact, Perzan argued, you might not want to even call it LOVE Park anymore. "If you take a look at the LOVE statue from certain angles, you will see a sign bigger than the LOVE statue itself," he said. "Which is: car park."
Just north of the iconic sculpture, there is, indeed, a headhouse leading to the parking garage underneath the plaza, labeled "CAR PARK" in ten-foot letters. "So, maybe that's the new name of this area… car park," Perzan said.
Philadelphians have been known to rush to judge. Just this year, Phillies fans greeted new manager Gabe Kapler with a torrent of boos at the home opener; the young team now boasts a winning record, and cheers have drowned out the critics. Sports radio callers crucified coach Doug Pederson the year before he delivered the Eagles to the promised land. Philadelphians don't hold back.
Kathryn Ott Lovell gets that. "I think it's part of our city's culture and part of what makes us great," the Parks & recreation commissioner said, adding that she appreciated the dialogue around Love Park's design. "The park's not done yet, though. So, I do think that I'd like folks to hold off on critiquing it before its completed."
And West Philadelphia residents Victoria Harris and Jonas Manciunas get that. As the married couple of outspoken urbanists — she's a transportation planner; he's an urban designer — look over the almost-finished park, they repeatedly couch their comments in caveats about how the new gardens haven't begun to bloom.
And yet: "The biggest thing," Harris said, pausing to emit a long sigh, "that disappoints me about the park is just how open and barren it is."
Harris knows the trees' leaves have yet to arrive, but is worried that won't make a difference. "Everything is very segregated — this is your hardscape with a fountain, and this is your green space and it's grass, and here is a bench," she said, pointing at each separate feature.
"This is what is creating that kind of barren landscape," she added. "Everything is really separated from everything else. So there's not going to be any shade on the fountain, any shade on the walkway, very little shade on where you want to sit and eat lunch."
Not that there's a plethora of seating options, said Harris. "You've got nowhere to sit down in the main part of this park."
The built-in seating options — backless benches around some trees, and steps leading up to the lawn area — are all located on the periphery of the park. The main water area and the grassy areas are largely seat-free. The benches that are there aren't particularly comfortable, and have strategically placed armrests, as if to discourage long sits and naps. The old iteration of Love Park was a magnet for Philadelphia's homeless population, and Harris worries these design choices are aimed at discouraging them from using the public space.
"Sometimes you hear people call this 'defensive design,' but it's really very hostile — it's hostile design," said Harris. "If you're always designing to defend against someone using the park, you're not designing for anybody to use the park."
Maciunas shares in his wife's disappointment, but thinks the city could make some easy improvements. "This isn't a lost cause," he said. "Cities and places in them have always managed to evolve."
Maciunas points to Dilworth Park as a place where seating was added after the park's opening, improving things considerably. "There are a lot of places in here that I think you could probably retrofit more seating into," he said.
The couple is also disappointed that a basin for the main fountain didn't make it into the final design. The silver cannon-shaped fountain had a basin to catch the water and form a pool around it in the design approved by the Art Commission back in October 2015, but didn't make it into the finished product. At a testing last week, the sunken drainage pipes seemed overwhelmed by the flows, sending rivulets of water across the pavement and onto the sidewalk. When the crews put the main fountain on full blast, sending streams some 25 feet in the air, the drainage problem worsened and the ensuing flows outside the water feature's intended confines were heavy enough to soak a reporter's socks through his sneakers.
Asked about the concerns that fixing the fountain's drainage might require ripping up the surface to replace plumbing, or even a redesign, Ott Lovell responded with a nervous laugh. "Oh, my gosh, no! I hope not!"
"I've learned though, through this project" she added, "that you can't predict the future, and there have been so many things that have surprised us throughout this project, that you never really know with this park."
According to Ott Lovell, the wet run wasn't entirely unexpected. "That's why we're testing," she said with a laugh. "There's a lot of tests happening every day in the park, whether it's the irrigation system or the fountain or the lighting — the park's not done yet."
"In the meantime," she added, "we'll be making lots of tweaks."
Whether those tweaks will be enough to silence the critics remains to be seen. But it seems that Parks and Rec are taking their cue right now from another Philadelphia sports team, one currently making quite a run in the playoffs after years of purposefully awful play: Trust the Process.
WHYY is your source for fact-based, in-depth journalism and information. As a nonprofit organization, we rely on financial support from readers like you. Please give today.