Kirsten Janusewski is lying on her back on a massage table, inside a windowless warehouse in Easton, Pennsylvania. She's wearing a bra and bike shorts, and she has dots of black marker all over her body — on her collarbones, her ribs, her thighs, her kneecaps, and her shins.
Five people are standing around her with rubber gloves and surgical face masks on. Each one of them is holding a large, sharp metal hook, about the size of a coat hanger.
"Everybody good?" asks Jeremy Smart, a bald, heavily tattooed guy, looking at the rest of his team.
Everyone says a muffled, "Set," from under their masks, and they pinch up Janusewski's skin, lining the hooks up with the dots of marker.
Janusewski breathes in deeply, and, as she exhales, they drive the hooks through her skin. This is why she came here — to hang from the ceiling by her skin, essentially.
It's called body suspension.
"People run because it's an adrenalin rush; it releases those good feelings," she says. "Suspension does the same kind of thing. It's all those same kind of natural drugs that happen with it."
Sometimes Janusewski suspends as a celebration of something good going on in her life. But, this time around, she is suspending because things have been hard for her lately.
"Suspension definitely helps start that movement, more of a positive mental kind of attitude. It helps clear all those negative emotions that I have going on."
She compares it to going to therapy — which would make Jeremy Smart her therapist.
Smart came across body suspension years ago during a difficult time in his life — he's a veteran, and was struggling with post traumatic stress. So, he decided to try it out.
He still remembers the first time, when the hooks went in, and they started lifting him up.
"When my feet left the floor, it was like a nuclear bomb went off inside me, and everything just pushed out at the speed of light. I was blown away by it, and in a matter of minutes my eyes were wider than they had ever been before. I felt completely rejuvenated and completely new and like a totally different human being."
He was … well, hooked. A few years ago, he founded Skynthesis Body Suspension.
These days, he and his team meet at the warehouse and facilitate suspensions for people for all sorts of reasons: Smart says sometimes it's the loss of a family member, the end of a relationship, or the birth of a child. One time he even suspended his own mother.
"Nothing feels as good as being able to provide individuals with the means to challenge themselves and overcome a lot of fears. All that negativity that's balled up and sits on your shoulders, just letting the weight loose, and you defy gravity for a minute, and it's like nothing matters."
There hasn't been any research done on what benefits body suspension actually might have.
"I tried to peruse the medical literature if there was any comment, and there wasn't really much that I could find," says Jules Lipoff, a dermatologist at the University of Pennsylvania's Perelman School of Medicine. "So I wouldn't want to overstate the risks. I wouldn't want to say you definitely can't ever do this, but, medically, I can't really recommend it."
His main worry about suspension is the hook penetrating the skin.
"There certainly is primarily a risk of infection. Even in the most sterile environments, like when we do surgeries or cut things out of the skin, still sometimes there are infections and risks."
The warehouse where Kirsten Janusewski is about to be suspended is certainly not an operating room, but each member of the team takes special care to keep things as sterile as possible.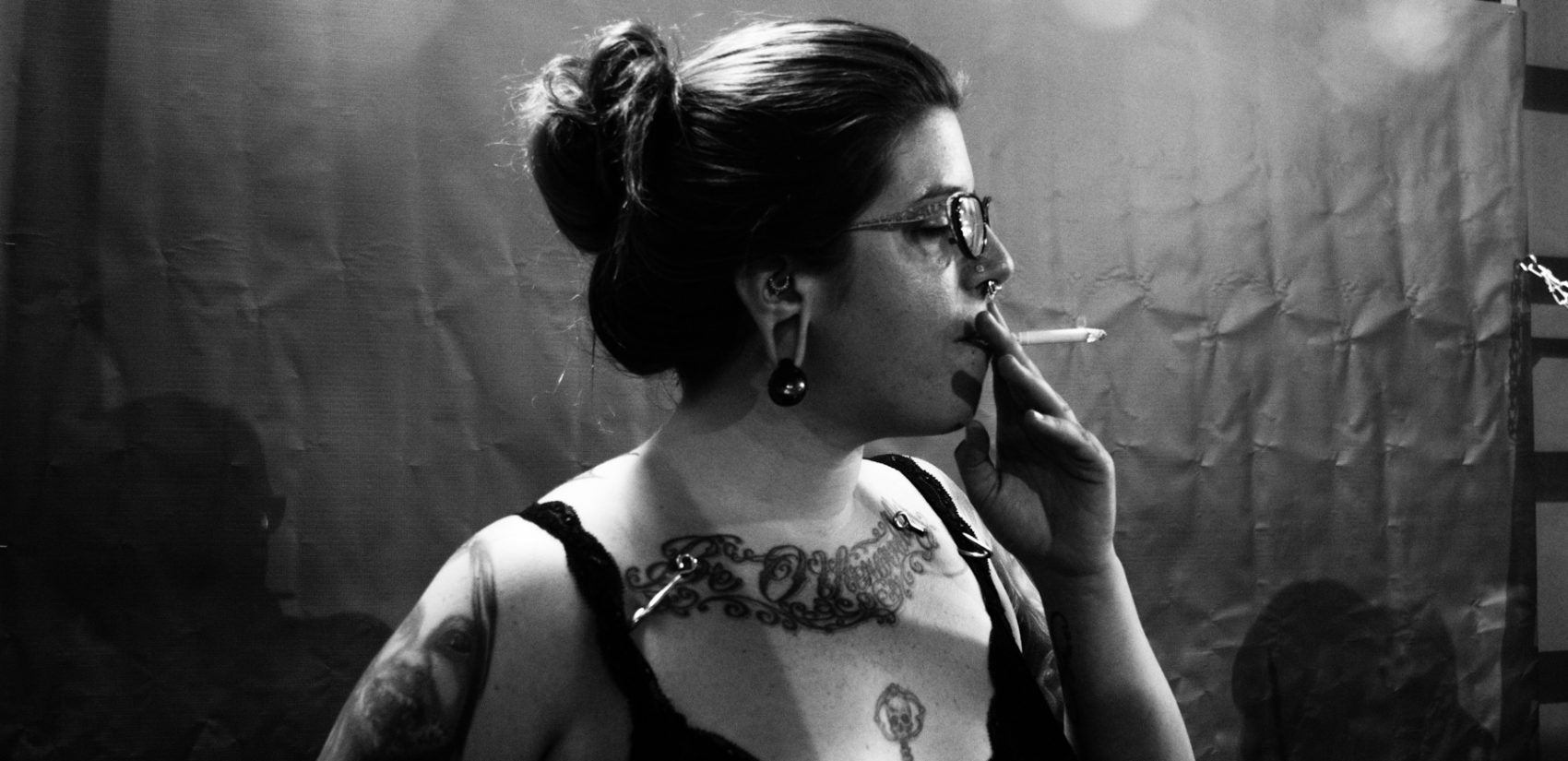 Janusewski is taking a quick smoke break before her suspension. The hooks are dangling from her skin, and the cigarette shakes in her fingers.
She climbs back onto the table and assumes the position for her suspension: leaning back, one leg bent and the other straightened.
Smart carefully loops a rope through the hooks, criss-crossing back and forth, forming a web between Janusewski and the rig hanging from the ceiling above her.
The room is tense as the rig is raised slowly, pulling the hooks and stretching Kirsten's skin.
Her body leaves the table, and, suddenly, she's floating in the air.
Smart steps away, admiring her like a piece of artwork he has just created. She beams, letting her body relax.
She hangs there for about 15 minutes. Jeremy gently swings her the way a parent would a child on a swing set.
She asks to come back down, and, the moment her body hits the table, she begins to cry.
Jeremy kneels next to the table and holds her hands and encourages her to let it all go.
"Thank you guys very much," she says as the team puts Band-Aids over the hook wounds. "Thank you for making me cry, too. I needed it."
WHYY is your source for fact-based, in-depth journalism and information. As a nonprofit organization, we rely on financial support from readers like you. Please give today.