For Maria evacuees, a stable address is the first step out of crisis
The Chaparros are one of 50 Puerto Rican evacuee families in Philadelphia finally able to settle into a long-term home, thanks to the work of local organizers.
Listen
3:38
The Chaparro Crespo family have been through a lot in the past seven months. Hurricane Maria left their town of San Sebastian, located in Puerto Rico's northwest region, without power and basic services for months. Their two-story concrete house survived the storm. But what made Marta Crespo, 51, and Angel Chaparro, 49, leave the island was their fourth and youngest son. Luis Chaparro Crespo,16, has multiple spine and brain disorders, including kyphoscoliosis and hydrocephalus. After Maria, doctors told the family to move their son here, so he could continue to get the daily medical attention he needs. Luis also needs surgery to drain liquid from his brain. Getting that in storm-ravaged Puerto Rico would have been impossible.
After raising about $10,000 for traveling to treat Luis — asking for money from people in their community and through the local church — the three of them came to Philadelphia on December 13th, leaving two daughters and a son, and their whole extended family behind.
The first two weeks they stayed with Chaparro's cousin, who they call their angel because she has helped them ever since. And then, they rented an apartment. But after five months of bills and no time to find a job, their funds were quickly disappearing.  That's when they turned to the Greater Philadelphia Long-Term Recovery Committee, a group of organizations and city agencies specially created to help Puerto Rican evacuees.
"We told them that we were running out of money paying for rent, and electricity, and all the trips to the hospital," Crespo said.
Almost eight months after the storm, about 60 Puerto Rican evacuee families like the Chaparros are still struggling to meet basic needs. But now, the committee that is helping Luis, Marta and Angel has the funds — and a plan — to help them find permanent housing and get settled. It comes after months of pressuring state and local agencies and organizing on the ground.
For the Chaparro Crespo family, relief came in in the form an apartment provided by the Philadelphia Housing Authority. Seven other evacuee families are also being located in PHA properties, according to the agency.
"Thank god for housing that helped us, and we were lucky because they called us fast — and we got it," said Marta Crespo
After living in a one-bedroom apartment for months, the Chaparros can't believe their new apartment on the sixth floor of Harrison Plaza in North Philadelphia has so much space. They share two decent-sized rooms, and more importantly, an adapted bathroom that makes it easier for them and their son. They only moved in two Saturdays ago, but the apartment is completely set up and decorated with red sofas and curtains, two standing lamps, a wooden coffee table, cabinet, and dining table. They got everything, plus the beds for $100, they said. Plastic red flowers lay on top of the dining table, and family pictures scatter the walls.
"This was a blessing, it's so comfortable," said Chaparro in Spanish. "I would never imagine we would find anything like this. Because it's a process, there's a lot of people waiting in line, and look where we are in five months!"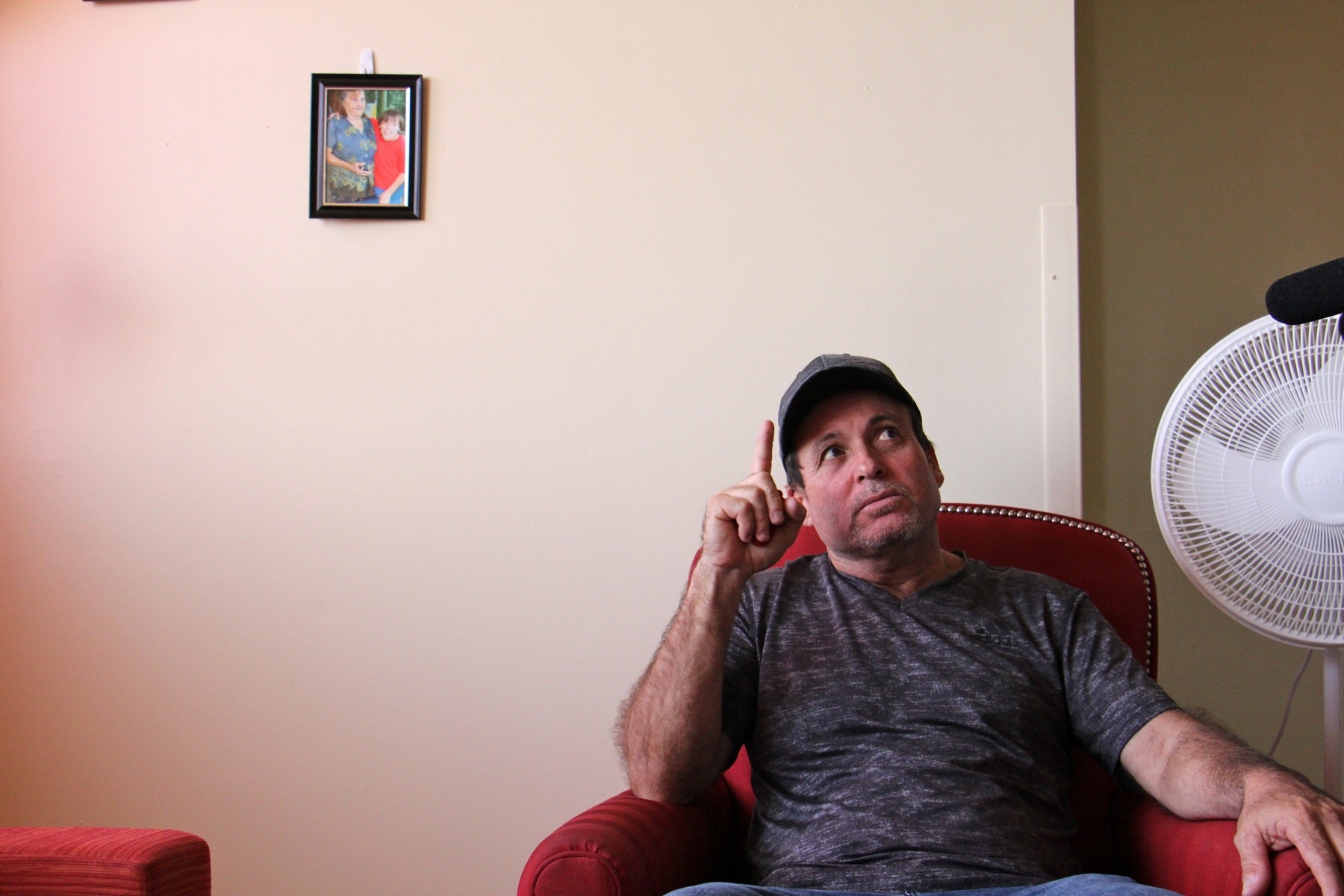 While his parents talk, Luis stands up and looks through the window. The apartment, near Temple University, has a beautiful view of northeast Philadelphia, and from time to time, the Regional Rail passes by.
"Luis, do you like it here or there?," Chaparro asks his son, referring to Puerto Rico or Philadelphia.
Chaparro Jr., who has speaking disabilities, answers with sounds.
"Here? Why?" his father asks again.
The son replies with a sound and a gesture pointing out the window.
"Oh, because of the train?" the father asks.
"Yes," Chaparro Jr. says almost clearly, making everyone laugh.
Moving towards a new normal
Life with a home is easier for the Chaparro Crespos. The doctors from Shriners Hospitals for Children said surgery will happen in May, so they're anxiously waiting for the call. They can't wait for their kid to be better so they can return to Puerto Rico and reunite with the rest of their family. But they're not sure how long the recovery will take, it could be years.
Still, the family is in a much better place than they were months ago and they are not alone in that progress, said Julia Menzo, director of community outreach at Liberty Lutheran, a Montgomery County nonprofit and director of the long-term recovery committee.  One recent win for evacuees was a decision by the Federal Emergency Management Agency to extend the vouchers for all the families staying in hotels through the Transitional Sheltering Assistance program until June 30th. The move will help around 3,000 families across the country, and about 20 in Philadelphia. With more time granted by the TSA hotel program, and additional rental assistance for evacuees coming from Philadelphia's Offices of Homeless Services, PHA, and Pennsylvania's Department of Community and Economic Development, the committee has been able to put a housing plan in place for about 50 families, including the Chaparro Crespo family.
"We are looking at not just referrals for food, clothing, and housing, but we're starting to look at what is the whole picture looks like for a family, and how can we support them or direct them to services to help them become sustainable," Menzo said. "We're starting to get into a little bit of a recovery phase where people are starting to get some sense of normalcy."
Depending on their financial and medical situations, the families working with Menzo's group could get first, last and security deposit for their rent, help for food, health, and transportation. But to get that help, the family has to be willing to participate in career counseling for them to be able to get jobs and become self-sufficient.
Menzo said a lot of goals have been accomplished in the last months, but there's still a lot to do. People moving into houses don't have furniture, many of them don't speak English, and haven't been able to secure a job to buy groceries and pay for basic services.
"They might not have immediate housing needs, but whatever percentage [of Puerto Rican evacuees] is still here in Philadelphia, we still think there's a significant need," Menzo said.
Spiritual and emotional care is one of the big next steps for the committee. Finding sources of food for children who are currently getting breakfast and lunch at their schools but won't once summer vacations begin is another priority.
City agencies, the disaster response groups, and local Puerto Rican communities know things are not over. With the situation still dire in Puerto Rico, and a new hurricane season approaching, they don't expect the influx of evacuees to stop. But after going through a steep learning curve, Menzo said they are better prepared to respond and help new residents hoping to start a new life.
WHYY is your source for fact-based, in-depth journalism and information. As a nonprofit organization, we rely on financial support from readers like you. Please give today.