Does family tie bring super PAC too close to congressional candidate?
Listen
4:35
The super PAC that's now spent nearly $56,000 to help 5th District Delaware County congressional candidate Ashley Lunkenheimer turns out to have an interesting backer – the candidate's mom.
The Lunkenheimer campaign has confirmed the buzz that was rippling through the political world, that her mother, businesswoman Molly Shepard, donated to the committee called Progress for Pa-05.
UPDATE: Progress for PA-05's first filing of donors shows that Shepard contributed nearly all of the money raised by the Super PAC through April 25th. Shepard contributed $100,000, and two other donors gave a total of $12,700.
Direct donations to congressional campaigns are limited to $2,700 per individual.
But as a super PAC, Progress PA-05 is permitted under Citizens United and other U.S. Supreme Court rulings to raise and spend unlimited sums, as long as it doesn't coordinate activities with the candidates it supports.
How close is too close?
Progress Pa-05 isn't the only super PAC supporting candidates in the Philadelphia region, but it seems positioned to skate unusually close to the line of coordination prohibited under law.
For one thing, there's the fact that the candidate's mother is involved.
Shepard, a former chair of WHYY's board of directors, is presumably interested enough in her daughter's political aspirations to support them in a substantial way, but she will refrain from talking campaign strategy with her.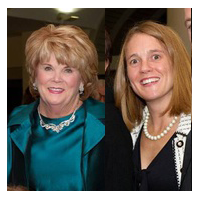 And there's this: When I placed a call to Shepard last week after I'd heard she might be funding a super PAC, the call was returned by – guess who? Lunkenheimer's campaign manager, Tyler Tucker.
Tucker said the campaign obviously can't be involved in an independent expenditure effort (election law lingo for super PAC spending), but it's apparent that Shepard has at least some relationship with her daughter's campaign manager.
Third, there's the apparent choreography of advertising efforts by the campaign and the super PACs.
The campaign has invested heavily in TV ads, but it has done no direct mail, a common method of communicating in congressional campaigns. The super PAC has done no TV, but has spent $55,959 on mailings, according to its campaign spending reports.
Not so unusual
It turns out that while some enforcement agencies, including the Philadelphia Ethics Board, have been pretty strict about policing coordination between campaign committees and independent groups, the Federal Election Commission has been far more lax.
"There's really not a very strong cop on the beat," said David Levinthal of the Center for Public Integrity in a telephone interview. "The Federal Election Commission is quite divided ideologically and, on numerous occasions, has deadlocked on what is legal when it comes to the actions of super PACs."
This is widely known in the political world, and, without enforcement, the rules don't mean a lot.
Parental involvement in a super PAC, for example, is not so novel.
In 2012, presidential candidate John Huntsman benefited from his father's $1.9 million contributions to a super PAC supporting his son.
I spent some time looking at the FEC guidelines on prohibited coordination, and they pretty much boil down to direct contact – the campaign and the super PAC making mutual decisions about strategy, communications, fundraising, whatever. If there's no clear evidence of that, there's no case.
Lunkenheimer's is also not the first campaign that seems to have a happy division of labor with its super PAC on TV ads and mailing.
"It's possible for a super PAC and a candidate committee to coordinate without breaking laws on coordination," Levinthal said. "There's ways to signal to each other who's putting up ads and who's not. They could even trade messages publicly."
In response to my queries about all this, the Lunkenheimer campaign provided the following statement attributed to Ashley Lunkenheimer:
"My mom told me she wanted to do more to help, and of course I'm happy to have her support because she's my mom.  Aside from that, though, the operations and the activities of that campaign committee have nothing to do with me.  My main focus continues to be talking to 5th District voters about my campaign, but in a very competitive race I'm proud that my mom and others are willing to go the extra mile.  The current campaign finance rules aren't great, but they're the rules by which we all play. I support overturning the Citizens United decision and I think voters deserve a better campaign finance system, and in Congress I'm going to work to make those changes."
I asked Tucker about the fact that he returned my call to Shepard, and the apparent division of labor with the super PAC on advertising methods.
"We have counseled our team to assure that no one on our campaign has any conversations with the strategic decisionmakers at Progress in PA-05," Tucker wrote back.  "We have been independently making our messaging decisions, and, as far as we know, Progress in PA-05 is doing the same.  We make our own decisions based on what messaging we believe is going to be the most effective and likely to maximize our campaign resources."
WHYY is your source for fact-based, in-depth journalism and information. As a nonprofit organization, we rely on financial support from readers like you. Please give today.