Did European immigrants come to the U.S. 'the right way'?
How hard was it to immigrate when people coming to the U.S. were more likely to be from Italy than El Salvador?
Listen
8:43
Last fall, WHYY partnered with Reveal/The Center for Investigative Reporting for a show about immigration. During that hour, we asked listeners for their questions about how people move to the U.S. More than 300 listeners from across the country responded. This story answers one of those questions, but to hear a whole episode of answers, click here.
—
In Judy Eidelson's home office, there's a wall-sized map of the world, crowded with pushpins.
She's a clinical psychologist in Bala Cynwyd, and each pin represents a person she has worked with. Over two decades, Eidelson has documented the trauma of more than 300 people, mostly asylum-seekers, so that they can present that information as a part of an immigration application or in immigration court.
That work got her wondering — how hard was it to immigrate when people coming to the U.S. were more likely to be from Italy than El Salvador? And did European immigrants in the 19th and early 20th centuries always follow the law?
"I think a lot of people with European backgrounds think they're somehow more American, or they're more legitimate, in their American citizenship," she told WHYY. "And I want to know, how did their families get here?"
Buried in her question was a family secret.
'Virtually an open door'
To answer Eidelson's question, WHYY contacted Mae Ngai, a history professor at Columbia University who specializes in immigration.
"Until the 1920s, we had virtually an open door — from Europe that is — into the United States," she said.
Before the 1920s, several successive waves of European immigration, starting with colonizers in the 16th century, moved to North America with little impediment beyond the steep price of passage.
In the mid-1800s, the U.S. began asking newcomers from Europe more questions. However, Ngai said, this weeding out process was still minimal.
"They wanted to make sure you had a little cash in your pocket, so you wouldn't become a public charge, they wanted to make sure you didn't have what was called a 'dangerous or loathsome disease,' they wanted to make sure you weren't a prostitute," she said.
Even with a low bar, some European immigrants disguised their identities or reasons for coming.
Combing through old immigration records, Susan McAninley, an amateur immigration historian focusing on Pier 53, Philadelphia's historic immigration port, found a group of men coming from Germany in 1895.
"One was a tailor, one was a carpenter — they all had officially listed occupations," she said. Something tipped off the immigration officials at Pier 53 that this was not their real plan. "After questioning, it was determined this man just had a band of musicians, and they were just going to be street musicians."
In the late 19th century, immigration from Europe to the U.S. shifted — where there had been large influxes from England and Northern Europe, now more Southern and Eastern Europeans were moving to America. For the next 50 years, more than 20 million Europeans streamed through that "open door." Meanwhile, the U.S. had started banning entire groups of people, based on their race.
Age of restrictions
"Chinese were the first group to be banned by name," said Ngai, through the Chinese Exclusion Act of 1882. "Later the Japanese were excluded … and people from South Asia were excluded."
Just as immigration from Southern and Eastern Europe was booming, suspicion of those immigrants was also building.
"People in the late 19th century always thought racially," said Richard White, an American historian at Stanford University. "Most people would break it down into good immigrants and bad immigrants. Good immigrants tended to be Northern European, Protestant and white. Bad immigrants were everybody else."
Those tides continued to rise after the turn of the 20th century. Labor unions worried immigrant workers would drive down wages. A broad movement to preserve the "racial purity" of white America also captured political power.
To justify keeping some European immigrants out, these groups relied on negative stereotypes, said White. For example, "Italians are violent, the Italians are naturally thieves, other groups are lazy, they're ignorant, they simply cannot be educated."
Immigration halted during World War I. Following that conflict, groups that wanted to limit immigration from Europe to the United States got their way. In the early 1920s, the U.S. passed a series of laws creating quotas — culminating in the Johnson Reed Act of 1924.
The open door had closed to the point of admitting a limited number of immigrants — first come, first served. And the line was much longer for people from Southern and Eastern Europe.
However, enforcement of these laws focused around only some ports of entry, according to White.
"The Canadian border is wide open, there's just no way to patrol that border, and that's also largely true of the Mexican border," he said.
Articles in The New York Times in the early 1920s described people from Czechoslovakia and Poland hiring smugglers to ferry them by boat from Cuba into the country or to get them across the U.S. border with Canada.
In 1925, the U.S. Immigration Service reported that 1.4 million people living in country could have crossed the border illegally, because there was no record of their entry. The U.S. government seemed to be sounding an alarm about the intention of these immigrants, "whose first act upon reaching our shores was to break our laws."
"The figures presented are worthy of very serious thought," wrote U.S. officials, according to an article by Ngai. "All of which serves to emphasize the potential source of trouble, not to say menace, that such a situation suggests."
Judy Eidelson leafs through a folder of her father's immigration documents. (Laura Benshoff/WHYY)

Judy Eidelson lays out pictures of her family members, some of whom died during the Holocaust. (Laura Benshoff/WHYY)

Saja Iwensky and a family member, before the German army invaded Lithuania. (Laura Benshoff/WHYY)
Fraud in the family
White's own Irish grandfather was one of these immigrants. In 1924, he went around his country's quota to enter the United States through Canada.
After a trip back to Ireland a few years later, White said, his grandfather committed another immigration crime — lying on official paperwork to return to the United States.
"Virtually everything on [his citizenship petition] except for his name is either a lie or wrong," said White, who wrote a book about his family's dodgy immigration record. "He even has his own birthday wrong."
There is no reliable way to know how many people sneaked into the U.S. or lied on official documents during this period, according to White. Later, laws granting amnesty such as the Registry Act of 1929 indicate that hundreds of thousands of European immigrants came into the U.S. through unofficial channels, or simply lost their documents, and became citizens.
After World War II, Judy Eidelson's dad, Saja Iwensky, committed his own immigration crime after surviving the Holocaust.
He survived genocides and concentration camps by lying because his life depended on it, said Eidelson.
"He was in Dachau, in a work camp, and they needed men to paint," she said. "And so he said he was a painter. He was not a painter." At a different work camp, he pretended to be a carpenter. He was the only person in his immediate family to live through the war.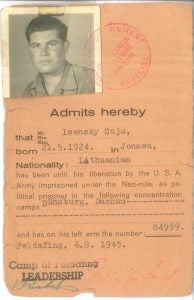 After the war ended, Iwensky made his way to the Feldafing displaced persons camp in Germany. The woman who would become his wife went to the United States, where her father lived. After two years, his future father-in-law cooked up a different kind of lie, according to Eidelson.
"My father had to pretend that he was going to rabbinical school, that he was going to study to become a rabbi in order to get a visa to come into the country," said Eidelson, pulling out his student visa. "That was immigration fraud."
Using a letter of admission from a rabbinical school in Baltimore, Iwensky was allowed to enter the United States. He had no intention of becoming a rabbi — and went on to become a bookkeeper. Once in the U.S., he applied for citizenship through the Displaced Persons Act of 1948, and he was naturalized in 1953.
Eidelson said it didn't hit her until after Iwensky died that he would have faced serious consequences if he had been found out.
"Did he become a criminal under U.S. immigration law? He did," she said.
Comparing her father's story to those of immigrants seeking refuge in the U.S. today, Eidelson said she came to a startling conclusion.
"He would never have gotten into this country, and my parents would not have been married," she said. "I wouldn't exist. That was chilling."
—
Thanks to Judy Eidelson for sharing her story with WHYY. To hear answers to more listener immigration questions, check out the Reveal episode.
WHYY is your source for fact-based, in-depth journalism and information. As a nonprofit organization, we rely on financial support from readers like you. Please give today.