More Democrats enter scrum for Meehan's congressional seat
Three more Democrats are running for Meehan's seat, with more sure to follow.
Listen
2:05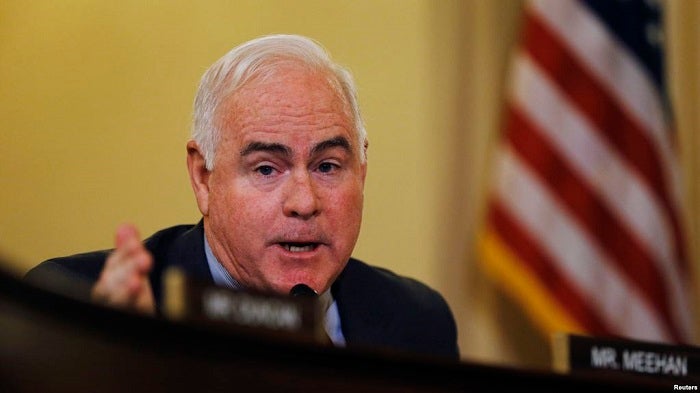 Three new Democrats have jumped into the chaotic race for the Delaware County congressional seat held by U.S. Rep. Pat Meehan.
They include former Democratic nominee Mary Ellen Balchunis, attorney and former Swarthmore school board member Mary Gay Scanlon, and former journalist David Wertime.
More are expected, since the newly redrawn district is markedly more Democrat-friendly than the one it replaced.
Last week, the Pennsylvania Supreme Court redrew all the state's congressional boundaries after finding the previous districts to be unconstitutionally gerrymandered.
Republican leaders have launched two federal lawsuits seeking to have the old boundaries restored.
The compressed electoral calendar imposed by the new boundaries and the uncertainty stemming from the ongoing litigation presents challenges for candidates who have three weeks to circulate nominating petitions — and for party leaders who have to make endorsements for districts that might yet change.
Back in the game
Balchunis, a La Salle political science professor, was the party's nominee in losing efforts in 2014 and 2016. She hadn't planned to run this year for the 7th congressional seat, a bizarrely shaped district that she thought was too tilted toward Republicans to win.
But the new district, dubbed the 5th, is far more compact and far better terrain for Democrats, and Balchunis has decided to run again.
"I represented the party when party leaders where begging me to run," Balchunis said in an interview. "Now that the district is fair, I hope the people of the district will stand up for me so I can stand up for them in Congress."
In a primary that could have as many as a dozen candidates, Balchunis' name recognition from her early runs could be helpful.
The activist lawyer
Scanlon is an attorney for the mega law firm, Ballard Spahr, LLP, where she's led the firm's pro-bono work for many years and has been active on a variety of social causes, including child welfare, education funding and gun control.
Though she's getting in the race late, she has contacts that should enable her to raise some money. Like everyone else, she will be competing in a large field where victory can come without a majority of the vote.
She said in an interview the state needs to finally add a woman to its congressional delegation.
"I do think it's a woman's year," she said. "I'm one of the few women in the race who's run for or served in public office already."
The journalist
David Wertime is a Harvard Law graduate who's worked as a journalist and researcher, focusing on international issues. He was a senior editor for Foreign Policy magazine for three years.
Most recently he was an "entrepreneur-in-residence" at the Lenfest Institute for Journalism, where he worked on new projects with several media organizations, including briefly with WHYY.
He said in a phone interview he was motivated to run in part by the fact that his mother has supranuclear palsy, a rare and serious brain disorder that requires care costing $10,000 a month, much of it not covered by Medicare.
"For me, this is really personal," Wertime said. "The Republican attacks on our health care system are a threat to my family and a lot of families that are one diagnosis away, one layoff away, one encounter with addiction away from a personal and financial abyss."
And there's more
Another candidate expected to enter the race soon is Rich Lazer, former Philadelphia deputy mayor for labor, who is expected to enter the race with considerable backing from building trades unions.
Those unions have put large sums of money into super PACs to assist candidates for Congress, mayor, and district attorney in 2014, 2015, and 2017.
Lazer lives in the Philadelphia portion of the district — a relatively small area, but a substantial share of its registered voters are Democrats.
Among others who have announced for the Democratic primary are Dan Muroff, Molly Sheehan, Shelly Chauncey, and Ashley Lunkenheimer.
The Republican hunt
This election season hasn't been a lot of fun for Delaware County Republican Party chairman Andy Reilly.
Two months ago, he had a well-liked incumbent poised to seek re-election. Then Meehan dropped out of the race after a sexual harassment scandal, and the state Supreme Court made the district a warm nesting place for Democrats.
Reilly would like to pick from seven Republican hopefuls and get the party behind one of them. But, he told me, "We're unable at this point to endorse a candidate because we don't know where the district lies."
Actually, the district lines are clear at the moment, but Reilly is hoping Republican lawyers can convince the courts to restore the district's old boundaries.
The problem is that the three-week period for collecting nominating signatures began Tuesday and closes March 20. Anybody who is going to get the required 1,000 signatures will have to get moving.
I managed to reach all of the candidates by phone or email. Two found themselves outside the new district boundaries. Some said they'd wait to see if they get the party's backing, and forget about a run if they don't.
Two candidates, Pearl Kim and Clare Putnam Pozos, both former prosecutors, said they're committed to the race and will be circulating their nominating petitions.
WHYY is your source for fact-based, in-depth journalism and information. As a nonprofit organization, we rely on financial support from readers like you. Please give today.