Crowd emerges seeking GOP nomination in Rep. Pat Meehan's district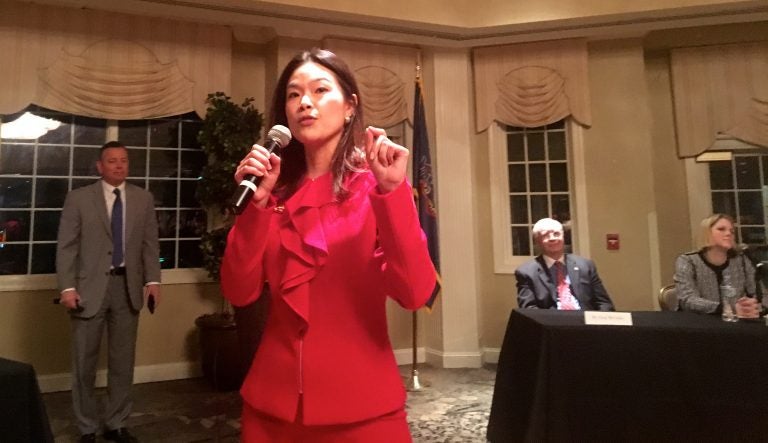 Seven Republican candidates have emerged to run for the 7th Congressional seat held by Republican U.S. Rep. Pat Meehan, who decided not to seek re-election in January after it emerged he'd settled a sexual harassment complaint from a former aide.
Six of the seven candidates spoke before members of the Delaware County Republican party Monday night. Only one is an elected official, and none are prominent officials in the party.
"I think we're getting a fresh look at some great diverse candidates with diverse backgrounds and great experiences," said Delaware County GOP chairman Andy Reilly. "They're very qualified people, and very knowledgeable on all the issues."
It's been a remarkable turn of fortunes for Republican leaders in the congressional district. A month ago, they had a four-term incumbent, well-known and liked in the county, ready to defend his seat against a determined Democratic field.
With Meehan gone and court-ordered redistricting almost certain to make the seat more Democrat-friendly, the GOP now seems to be facing an uphill fight to keep the 7th in 2018.
Republican leaders of the legislature have submitted a proposed redistricting map to Gov. Tom Wolf. Under the terms of the Pennsylvania Supreme Court order, Wolf has until Thursday to submit a map to the court. If the court finds the map unacceptable, it can craft its own congressional boundaries.
Reilly said if the district lines are clear soon, he hopes the county party can endorse a candidate on Feb. 27th.
Of the seven candidates, five are men, two are women. Five are attorneys, three of them former prosecutors. They are:
Joe Billie, 45, of Aston, a Navy veteran of the first Iraq invasion who said he was motivated to enter the race to improve the Veterans' administration. He's a volunteer firefighter who works in paper manufacturing.
Jeremy Gonzalez Ibrahim, 54, of Birmingham Township, an attorney and former Philadelphia prosecutor who was nominated by President George W. Bush to the Foreign Claims Settlement Commission, where he served from 2003-2006. H said he wants to focus on bringing quality jobs to the region
Pearl Kim, 38, of Radnor Township, a former chief of the human trafficking unit for the Delaware County District Attorney's office who recently resigned her post as a Deputy Attorney General to run for Congress. She said she's in a position to substantially self-finance her campaign.
Greg McCauley, 61, of Pennsbury Township, an attorney and investor in multiple businesses. He said he can run a smart campaign by finding the "granular data" to appeal to different categories of voters.
Clare Putnam Pozos, 35, of Bryn Mawr, an assistant U.S. Attorney since 2010, in Washington D.C. and Philadelphia. She said she's concerned about threats to national security from cyber terrorism, and that her work prosecuting hackers from the "dark web" gives her insight into the issue.
Walter Smerconish, 59, of Haverford Township, a real estate developer who stated proudly that he's never been a defendant in a lawsuit, because he focused on working disputes out amicably. He said he's interested in infrastructure development, lower taxes and border security, though "not necessarily with a wall."
Richard F. Booker, 54, of Radnor, a Township commissioner and tax attorney who's worked for Sunoco and Sunoco Logistics since 2002. He didn't attend the Monday candidates' meeting, but said in a phone interview he's a small government, low tax conservative who wants to "represent those who feel Pat Meehan was too willing to sacrifice conservative principles."