Connecting prisoners with loved ones is this Philly woman's business
Listen
5:18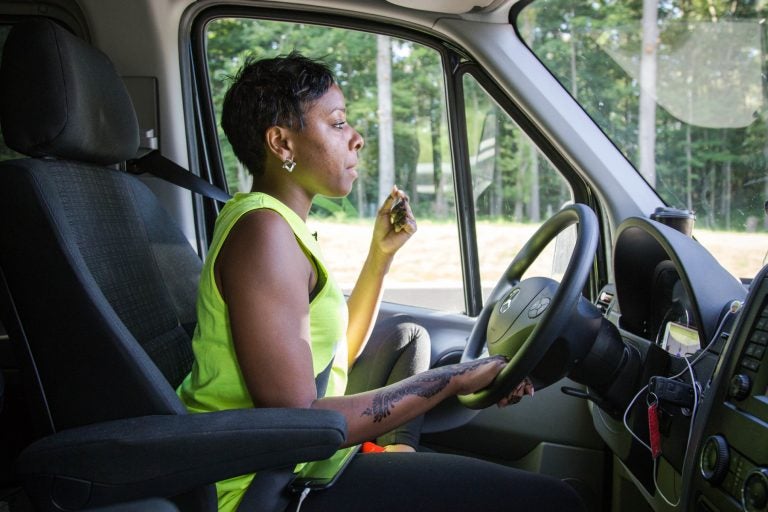 It's 4 a.m. in Philadelphia, and Kristal Bush is trying to settle on the right radio station.
She's on her way to pick up several people — mostly women — to drive three hours into the mountains. The destination? Huntingdon State Prison in Central Pennsylvania.
For $50, Bush will pick you up at your house, take you to the prison where your family member is, and then take you back home at the end of the day.
"I normally play, like, soft soul music, oldies, just so people can kind of be at ease," she says.
Most prisoners don't get regular visits. A 2015 study from the Prison Policy Initiative found that in a typical month, only one-third of state prisoners were visited by a loved one, often because they're locked up so far from home. But visits are crucial for helping them and their families cope with their incarceration and for easing the journey home if they are released.
"We do see the more often you visit your incarcerated loved ones, the more healthy the relationship is, the more healthy the family is," Bush says. "Even when they come out, they're not … that distant from society."
Bush is a social worker, but most weekends, she's up by 2:30 in the morning to run this van service, which she calls Bridging the Gap.
She started the service in 2012 because, as a little girl, she went several years without seeing her dad. Her mom didn't have a car that could make it from Philadelphia.
Now Bush owns three vans and has three drivers on staff to accommodate weekly trips.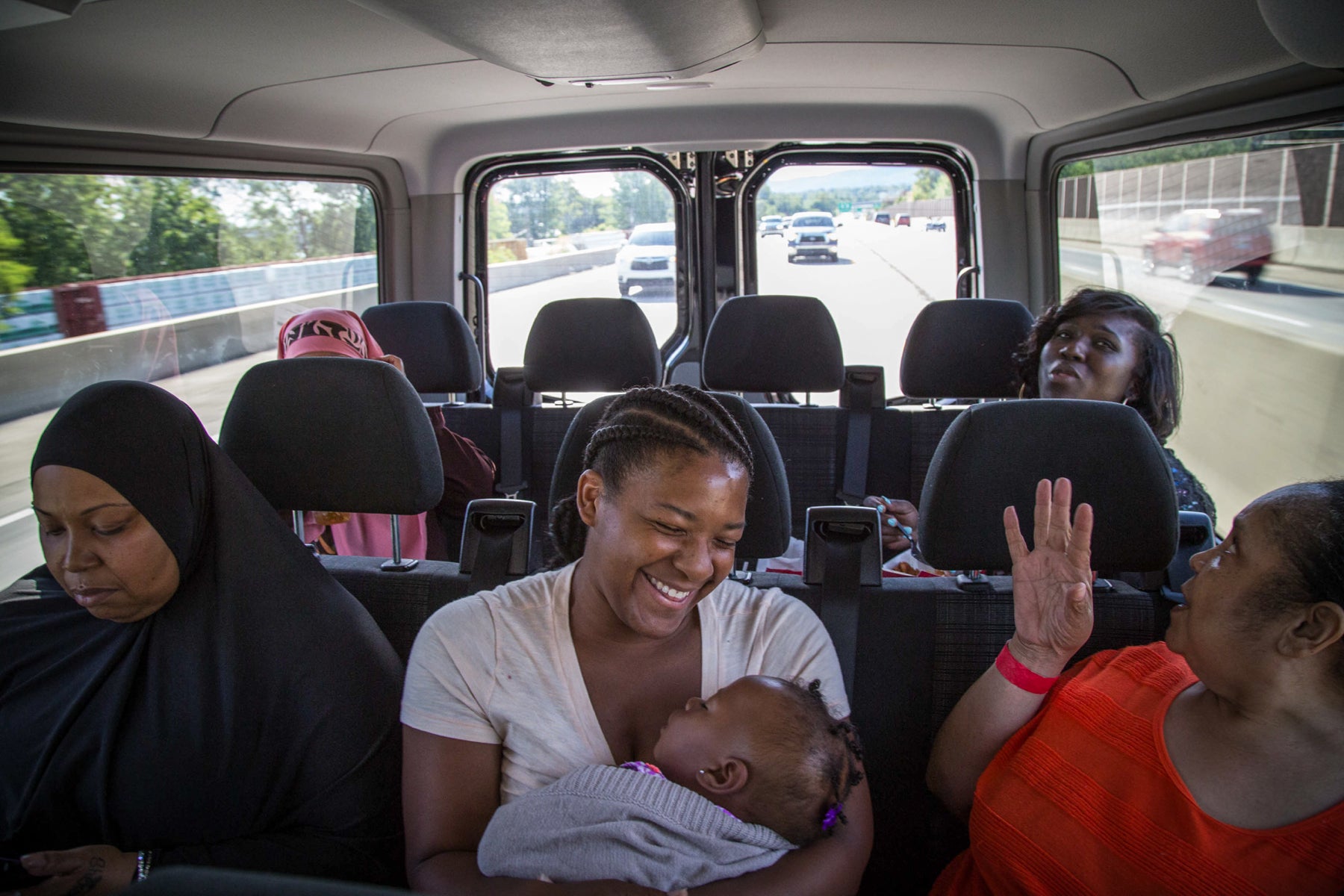 One of this week's passengers is Tanesha Faison, and she really appreciates the friendship of the other women who take the van, because they get it, she says.
"Somebody you can hang out with when you're going through problems, talk to, and they understand where you're coming from, versus somebody who doesn't know anything about this," she says.
Faison won't say why her husband is in prison or how long he's been there, but she said they have a good relationship and, despite the fact he's locked up, he always puts her first.
But since they're both stubborn, she tries to avoid any phone fights or drama before she comes up "because that's the worst visit, coming up here and rarely talking to one another or arguing the whole time," she says.
When it comes time to pick new music, the women settle on an R&B station. As a song by K. Michelle fills the van, the women sing along.
Soon traffic gives way to green mountains and empty roads, and it starts to rain. Many people close their eyes and settle in for the long ride.
"Normally, people are still asleep," at this point, Bush explains. "But then, you'll notice the further we get up, they just automatically start getting up, start spraying their sprays, putting on lotion."
A few minutes later, as if on cue, Faison wakes up and asks me to roll down my window so she can put on perfume.
"Just a little lip gloss, freshen your breath, all that stuff," she says of her routine.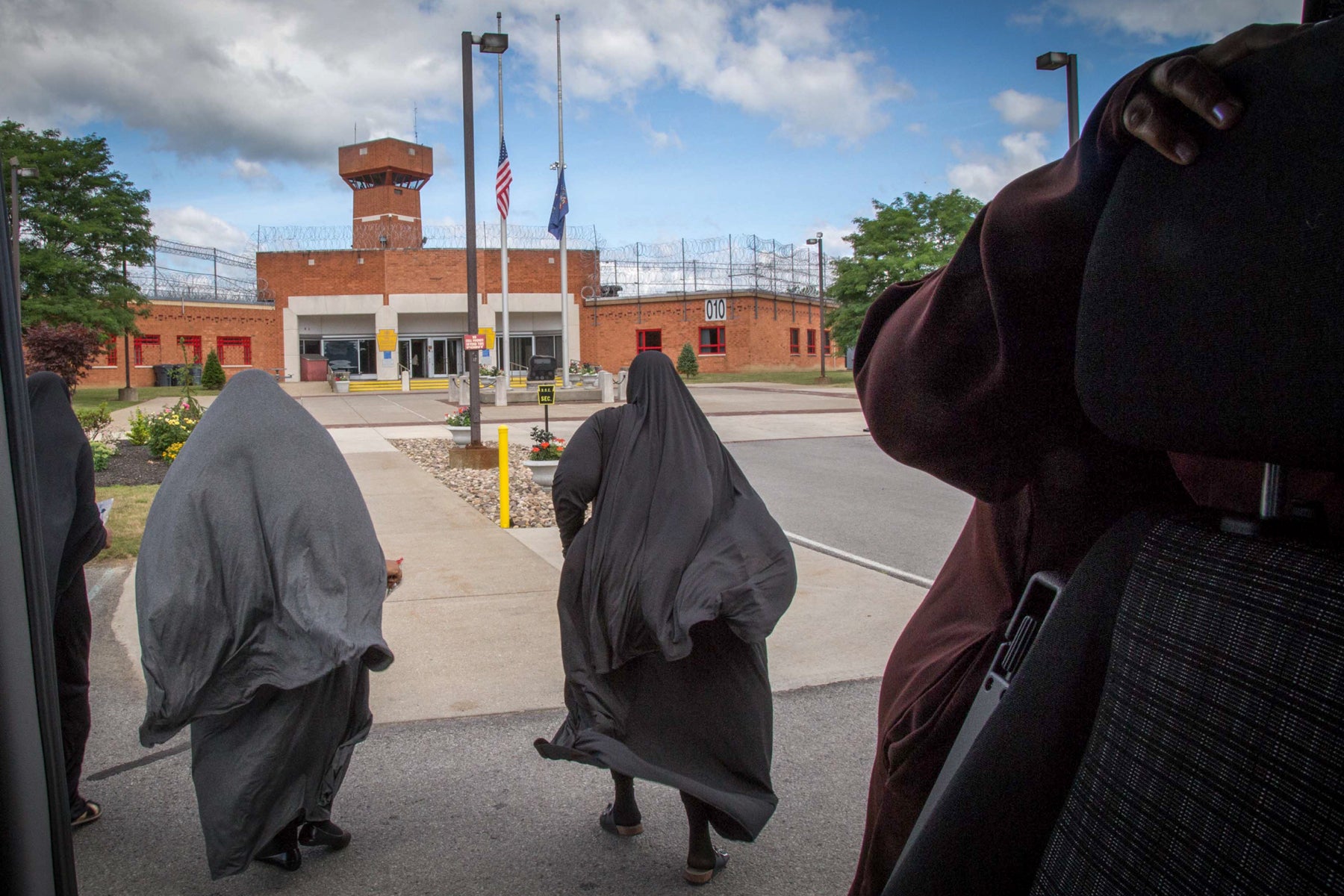 And finally, after three hours of driving, we're five minutes away from the entrance to the prison.
"This is our light! I'm ready to jump out!" cries Faison. "That means we're close to the prison. I'm ready to jump out, I'm so excited."
The first thing she'll do when she sees her husband?
"Hug him and kiss him! Of course!"
But Bush has to give everyone a somber warning first.
"Make sure you all have your IDs," she says. "Make sure you don't have wire in your bras. Make sure you don't have contraband, or drugs …. Just enjoy your visits, OK?"
The women go inside and leave all their belongings in the van.
Now Bush waits. The visits typically last five or six hours, but the cost of supporting someone in prison is much greater than time.
"It can be equivalent to like a mortgage or a car," Bush says. "So if they're paying me $50 to ride the service … and then they also need money to send to the inmate for their commissary, that can be roughly like around $550 to $600 a month."
It's afternoon now, and Faison opens the door. Bush asks her how it went.
"It was a great visit," she says. "A great, great visit."
Faison describes the prison as a meeting place where deep conversation, reflection, and prayer coexist alongside little kids and card games.
She says she never imagined this life for herself. She misses her husband, but the sacrifice is worth it.
"If I can say this, my husband does more for me from prison than a man I've been with out on the street," she says.
So she'll keep riding in Bush's van until he gets released.
---
Photos by Zara Katz and Lisa Riordan Seville for their for their forthcoming documentary film, "Women on the Outside".
WHYY is your source for fact-based, in-depth journalism and information. As a nonprofit organization, we rely on financial support from readers like you. Please give today.