Children joyfully head to school while mom stays in sanctuary of North Philly church
After taking sanctuary Dec. 13 in Church of the Advocate, Carmela Hernandez's undocumented children went back to school. All are in danger of deportation.
Listen
2:30
Carmela Apolonio Hernandez, like most moms, wants a happy, healthy life for her four kids. She worries about their safety and their future — but she also has other concerns.
Monday marked the first day of school for Fidel, Keyri, Yoselin and Edwin since they took up sanctuary in a North Philadelphia church late last year. Hernandez sent them off with hugs and new school supplies. But she could only walk them to the door before her ankle bracelet started beeping, shocking her leg. A remote voice warned she was at the edge of her boundary and needed to retreat.
The family has been living in sanctuary since mid-December.
After applying for asylum in 2015, Hernandez has been monitored by U.S. Immigration and Customs Enforcement. Once her bid for asylum was denied and a deportation order issued last year, she went from church to church in South Jersey and Philadelphia seeking sanctuary. She finally found harbor at Church of the Advocate in North Philadelphia, a member congregation of New Sanctuary Movement of Philadelphia.
But the kids — who are 15, 13, 11 and 9 — have felt cooped up.
Daughters Keyri and Yoselin say they've been bored because "there's not much to do," but do like the activities they've had in the church.
"On Tuesday and Thursdays, we go to boxing class here, and then on Fridays, we have capoeira," said 13-year old Keyri.
"We like it," said Yoselin, a sixth-grader.
"Every Friday, we have community dinners," eighth-grader Keyri said. "It makes me happy that they come to spend time with us, and we share a meal together."
But the children have missed the friendships and liveliness of school. They were so excited, they were up at 5 a.m. Monday with anticipation.
A big sendoff
Activists rallied at the church to send the four to their new school. Standing on the steps of the church, they held signs demanding "sanctuary for all."
From the doorway, and through a translator, Hernandez thanked the crowd for all their support in getting her children back to school.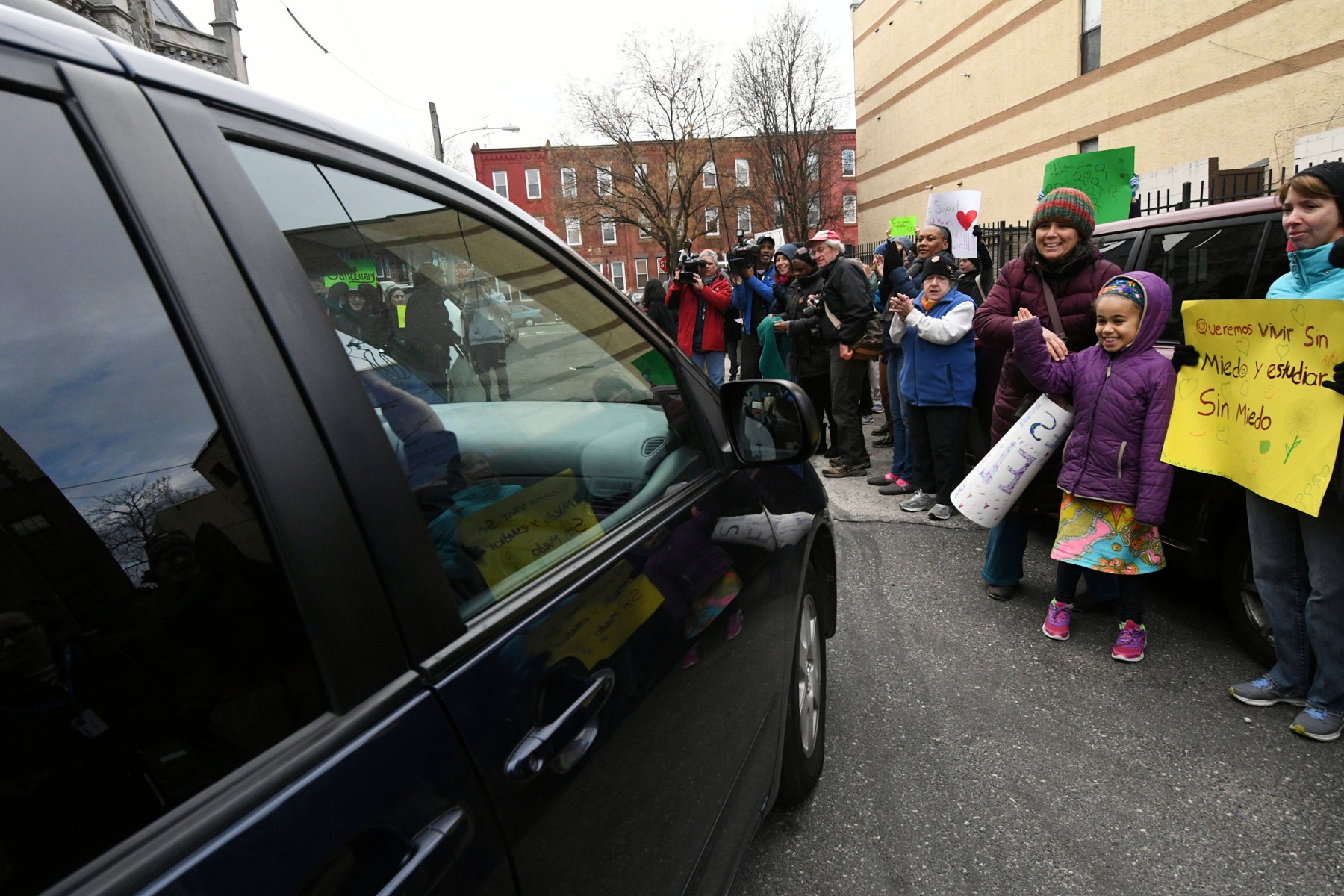 "I want you to understand they are children and, for them to be cooped up in rooms under sanctuary, it's very, very hard not to be able to go out," she continued. "Sometimes they get a little desperate and think that they really need to be free and be able to just walk out. Today, they are walking out. But we want to be free. We want to be permanently free."
Her youngest, 9-year-old Edwin, has had the most difficult time.
"He has been crying for no reason," she said. "He bursts out crying when anything happens, and we realize that this is the result of all the stress that he has been under that he's less able to process being the youngest one."
Hoping to win on appeal
The family has an appeal pending at the 3rd U.S. Circuit Court of Appeals.
Hillary Linardopoulos, Philadelphia Federation of Teachers legislative representative, says she was struck by the courage of the Hernandez family.
"Carmela's family has to be brave in a time when so many others don't have to," she said. "The kids are trying to go to school, and we expect so much of them, so much bravery, so much strength, so much fight."
Pennsylvania state Rep. Chris Rabb, who represents Northwest Philly, is pushing to expand sanctuary more widely. He was at the church Monday to show his support.
"I introduced a bill that would make Pennsylvania a sanctuary commonwealth, allowing police to do their job and not being deputized by ICE to rip families apart," he said, referring to the push by the federal government for local police departments to assist U.S. Immigration and Customs Enforcement agents.
Rabb was there as a policy advocate but also on a personal level. His great-great-great-grandfather, he said, helped provide sanctuary for a little girl disguised as a boy who was fleeing slavery in 1855, a few years after the Fugitive Slave Act was passed.
"She had freed herself from her master's in Maryland, ran to D.C. … She went from D.C. to Philadelphia, and my ancestor took that that child all the way to Canada, which was a very dangerous thing to do," Rabb said.
"I am a descendant of those who chose to fight. I wouldn't be where I am today if it weren't for all the people who came before me and created social justice movements that expanded freedoms," he said. "And we're not going to be free until we're free of this. This family needs help."
Philadelphia City Councilwoman Helen Gym urged supporters to call Congress to reopen the family's case — as well as ask for a clean DREAM Act, a bill that would offer a path to citizenship to undocumented immigrants brought into the country as children.
Speeches were translated into English and Spanish for the crowd of dozens.
The Rev. Dr. Renee McKenzie of the Church of the Advocate blessed the children, who then hugged their mother and said their goodbyes.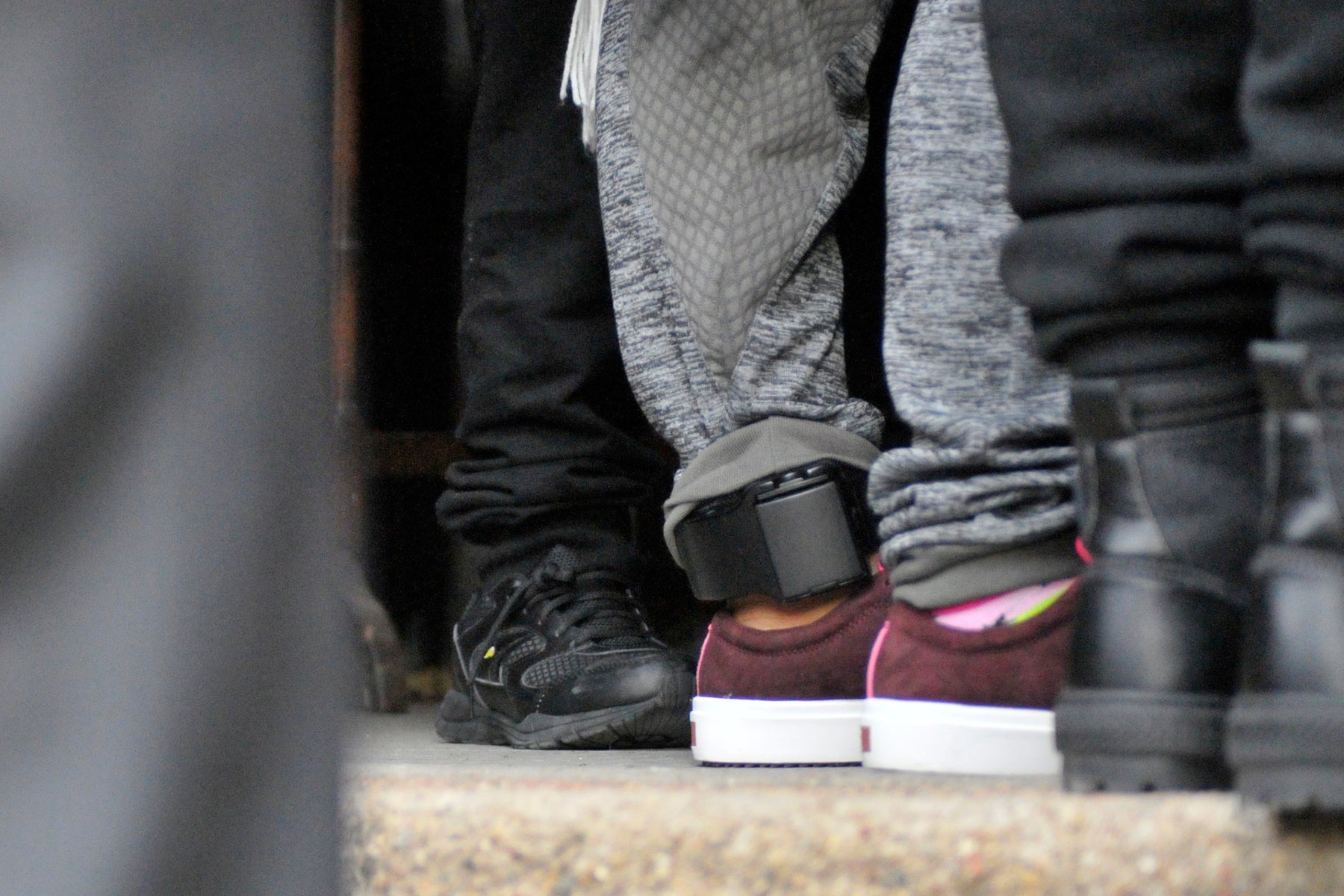 "What we are dying to see is that we're going to be able to stay as free people," Hernandez said. "I in particular am carrying an ankle device and it is very burdensome."
She said she looks forward to getting rid of the monitor controlled by ICE.
"It's physically very difficult to carry, it but also psychologically," Hernandez said. "It's very difficult to know that one is constantly connected to a source of authority one distrusts."
As the crowd sang in English and Spanish, then cheered, the siblings got in a car to be transported to school.
Hernandez said she's hopeful that her asylum case will be reopened. If the family returns to Acapulco, Mexico, she said they will be in deadly danger from organized crime. Hernandez, who has lost three loved ones already, said she and her daughter have been assaulted.
WHYY is your source for fact-based, in-depth journalism and information. As a nonprofit organization, we rely on financial support from readers like you. Please give today.