Budding clothing line provides lifeline for African refugee starting over in Lancaster
A small but growing clothing line from Lancaster, Pennsylvania is an unusual example of an African refugee being able to put to work skills he used back home.
Listen
5:59
A small but growing clothing line from Lancaster, Pennsylvania is an unusual example of an African refugee being able to put to work skills he used back home. Their Refugee Makers Project is one of the many ways newcomers have been welcomed to the city so-called refugee capital of the U.S.
While Lancaster's doors are open, recent federal policy changes mean few refugees are arriving. And while families struggle with the changes, resettlement agencies are coming to grips with the reality of fewer arrivals and budget troubles since their funding is tied to the number of refugees they help.
The men behind the clothing line, Bryan Norris and Remmy Kasongo say Lancaster is a great place for families. Norris moved back to take care of his parents a few years ago. He had a career as a men's fashion designer and after meeting Amish and Mennonite craftsmen, he started a small line of handmade clothing called Forager Company.
"I am a lucky person in that I am connected on Instagram. I have friends in New York," said Norris over a worktable. The company found its market online. "I have the connections that give me the faith because they're showing up and saying 'I love what you're doing. I want to buy a jacket,'" he said.
Around the same time, Kasongo moved to Lancaster with his wife Angela and five of their children. They lived in a refugee camp in Zambia called Maheba for 14 years, after fleeing civil war in northern Congo. Remmy would leave Angela and the kids in Meheba for a month at a time to work in a neighboring town.
"You would just like sneak but get a letter that would help you to get out of the camp," said Kasongo through a translator. He had worked as a dressmaker since he was a young boy. After a days-long journey to the town, "He would go to start looking for jobs. And then he met an Indian guy and that guy gave him the job to do overalls," explained Kasongo.
In Maheba, Kasongo says he heard all kinds of stories about what life would be like in the US. Mostly they were violent, "They would say, 'You will be shot in the street no different than here,'" said Kasongo shaking his head. "But in America they take care of their people. Lancaster is very safe for a family," he said.
Making it Together
The Refugee Makers Project began when Norris gave a talk to a local sewing group.  Kasongo agreed to sew a line of tote bags for the Brooklyn Museum in Norris' living room. They sold quickly, but the money wasn't enough to live on. At the time, Kasongo was working at a chicken processing plant, which was hard on his health. At one point his blood pressure spiked so much that the company laid him off.
Norris remembers the toll it took on Kasongo. "I cant see my friend working like that when we can do this if we work hard," said Norris. So, after raising over $20,000  online, the workshop moved to the Keystone Art and Culture Center. The duo sells up-cycled military jackets and thrifted clothing that Norris dyes indigo. Kasongo embellishes them with African wax prints.
Norris wants to keep the project small and focus on Kasongo's salary which he says works out to about $20 an hour part time. The 60-year-old says he's found a new purpose.
"When it was just me, being dysfunctional erratic and spontaneous was OK," said Norris who also admits to being a bit of a neat-freak. "Now that it extends to a refugee and his family, I need to step up to the table. Which is really great —  it motivates me. My thing is that I want to be a good little company, not a big company."
The custom pieces sell mainly online and are a bit expensive for Lancaster. Many are in the $100 range, with handmade overalls and dresses going for more. But Norris tapped his contacts in fashion to get their work into high-end pop-up markets.
Norris gives Kasongo rides to work and English classes three times a week. The workshop, once an art gallery, is homey. Kasongo shows off the coffee maker Norris brought. And after school, his 9-year-old son Juma comes by for a snack and to play the piano.
Kasongo says he feels lucky to return to his original trade.  "I can say that it is God's direction for me to do this work because a lot of people had said whatever you do in Africa, when you go to America you will not do the same," said Kasongo through an interpreter. "And then I found this American guy who is very good who is helping."
Federal Changes in the Refugee Capital
Lancaster got the nickname Refugee Capital of America last year because it had accepted more than 1,300 people in four years.  That's 20 times more people per-capita than the rest of the U.S.
Stephanie Gromek of Church World Service Lancaster says she saw a culture change in mid-2015, the time both Kasongo and Norris moved to Lancaster. Church World Service is one of 19 Pennsylvania nonprofits that resettle refugees.
In 2015, the majority of refugees resettling in Pennsylvania were from Bhutan or the Democratic Republic of Congo. But she attributes it growing media attention to the Syrian refugee crisis. "The support for refugees has always been there- but def in the past 3-4 years the community support just skyrocketed," said Gromek.
Her agency has eleven programs that provide five years of services for refugees who might have been judges, teachers, or farmers back home. The program helps, but she says, nothing compares to making a friend, as Norris and Kasongo have.
"Bryan is a fashion guy and Remmy is a fashion guy so they bring their skills and talents to the same table and now they're starting this whole fashion line. And I feel like that's a great analogy for what we've been working on in the community to build," said Gromek.
Changes to federal policy have cut the number of new arrivals. The ceiling for the number refugees admitted to the U.S. dropped between the Obama and Trump administrations. In fiscal year 2016, 110,000 thousand refugees were allowed, compared with the 45,000 decided for 2017.  That's the lowest cap since Congress passed the Refugee Act in 1980.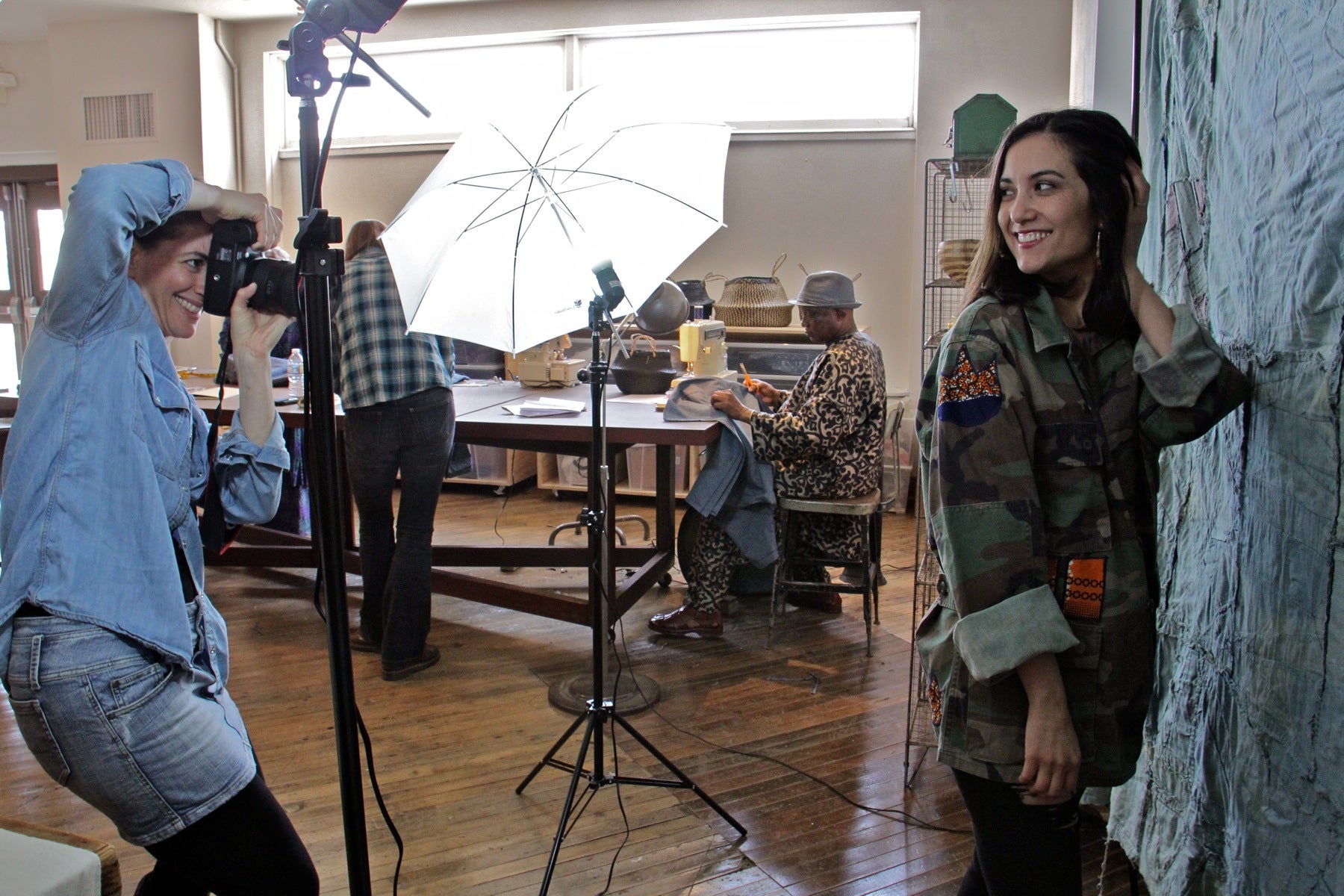 Toward the end of last year, Church World Service had just under 90 refugees that were scheduled but never arrived. Gromek attributes the cancelations to four executive orders which include the travel bans and a three-month suspension of the resettlement program. Halfway through the fiscal year, the Office of Resettlement reported accepting 10,000 refugees to the U.S. That's less than one-quarter of the quota set by President Trump.
The delays also meant the security and medical clearances the refugees had obtained expired, which effectively restarts the years-long application process."It just becomes this whole domino effect that once one check expires, several others will continue to expire as well," explained Gromek.
The Kasongos have two adult children who are still in Maheba with their families. The camp has been around since the 1970's but they feel there's little hope in the refugee system to reuniting the family right now.  So the Kasongos reached out to Norris via Facebook to ask if he could sponsor them.
"There's really nothing I can do to sponsor a family. And to have to say, 'I can't help,' that's a tough one," said Norris.
The changes have implications for agencies who often depend on the federal funding that accompanies arrivals. Gromek says Church World Service and others have considered reorganizing or laying off employees as the influx of refugees slowed to a trickle. In a way, she says CWS and other resettlement agencies can relate to how Norris feels.
"We are here to provide hope for these individuals who are facing unimaginable situations. And we can't do that right now because of a bunch of red tape and nonsense that's happening in DC, you know? It's very frustrating," said Gromek.
WHYY is your source for fact-based, in-depth journalism and information. As a nonprofit organization, we rely on financial support from readers like you. Please give today.