Assessing the legacy of Chris Christie: 'What could have been'
Listen
2:55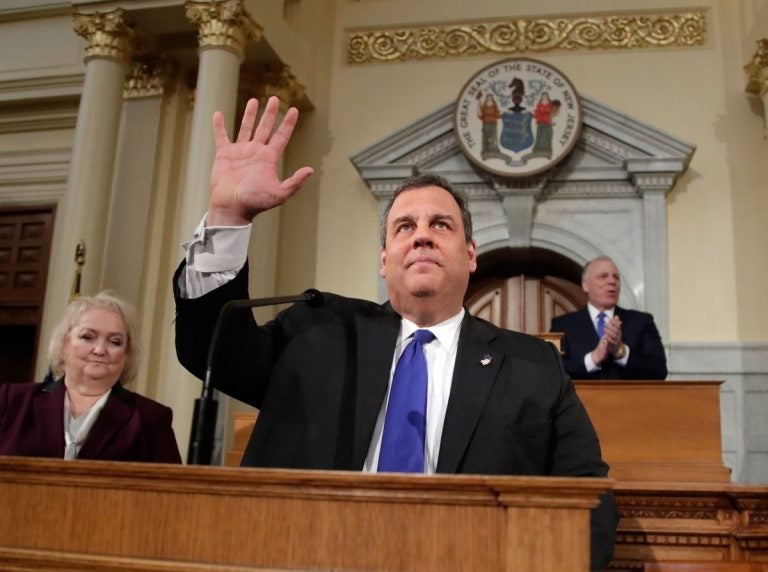 New Jersey Gov. Chris Christie is now serving his final days in office. On Tuesday, Democrat Phil Murphy will be sworn in. With his bigger than life personality, Christie was hailed for his commanding leadership after Superstorm Sandy, but Bridgegate took its toll on his political viability.
He will leave office with historically low approval ratings for a governor. And political analysts say that, while Christie made some big changes — many of them positive, most New Jersey residents will be glad to see him go.
Seton Hall political science professor Matthew Hale gave Christie an A for his first four years in office — and an F for the last four. In his first term, Christie showed a remarkable ability to capture the imagination of people and succeeded in getting bipartisan support to solve tough problems, Hale said.
"That went away when Chris Christie decided that he wanted to be president. He sort of abandoned New Jersey, and when he came back, he seemed to lose all interest in the bipartisanship, the compromise, and the willingness to get things done," Hale continued. "It was his way or the highway."
Christie gets an overall grade of C plus from Ben Dworkin, the director of the Institute for Public Policy and Citizenship at Rowan University.
"This is somebody who had once-in-a-generation political skills, and it all seemed squandered between Bridgegate and then an ill-fated presidential run and then the Trump endorsement," he said.
Dworkin credits Christie for taking steps that helped control property tax increases.
"He absolutely changed the culture in Trenton. But we still have a pension crisis. We still have issues with urban schools," he said. "We still have tremendous transportation infrastructure problems. New Jersey Transit is a mess."
Hale acknowledged that Christie did have significant accomplishments.
"He's clearly the leader on combating the opioid epidemic. He clearly did some major things in bail reform. He did some fantastic things in reorganizing higher education. All of those things are going to be lasting and important things," Hale said. "But I think, overall, it's going to be about what could have been."
Christie has said he will be missed, but Dworkin said his record-low approval rating in recent months shows the public doesn't agree.
"They were more than ready to wave goodbye and they have been for several months now. With certainly that kind of approval rating, the governor will certainly shrug his shoulders and say he doesn't care," Dworkin said. "But the people who care are the Republicans who have to run in his legacy."
What will Christie's legacy's be? Hale said it depends on events of the future.
"If the pension system gets worse, if the amount that we owe in that skyrockets even more beyond control, yeah, he's going to look a lot more favorable then we look at him today."
WHYY is your source for fact-based, in-depth journalism and information. As a nonprofit organization, we rely on financial support from readers like you. Please give today.