Asian wasp's arrival in S. Jersey brings hope to scientists, farmers fighting stink bugs
It looks harmless, but the samurai wasp is a skillful warrior.
Listen
6:14
The peaches look far from perfect in Rutgers University Agricultural Research and Extension Center's experimental orchard in Bridgeton, New Jersey. The orchard is not managed with insecticides, and many peaches lie rotting on the ground.
Entomologist Anne Nielsen watched closely as a bug walked over a peach.
"So now it moved to the leave right there," she said. "Do you see it?"
The brown marmorated stink bug, an invasive insect the size of a dime that was accidentally imported from East Asia — most likely in a shipping pallet — was first spotted in Allentown, Pennsylvania, more than 20 years ago. With no natural predators, it quickly became a pest, causing catastrophic damage on farms across the U.S.
Brown marmorated stink bugs collected by entomologist Anne Nielsen. (Kimberly Paynter/WHYY)

Samurai wasps bred by the entomologist research team at Rutgers University lab in Bridgeton, N.J. (Kimberly Paynter/WHYY)
Stink bugs pierce fruits, vegetables, even nuts. They suck into them, causing them to rot.
"Here's some stink bug injury," Nielsen said pointing at a hole on a peach with something that looks like a tear coming out of it. "The gum coming out of the fruit, right there."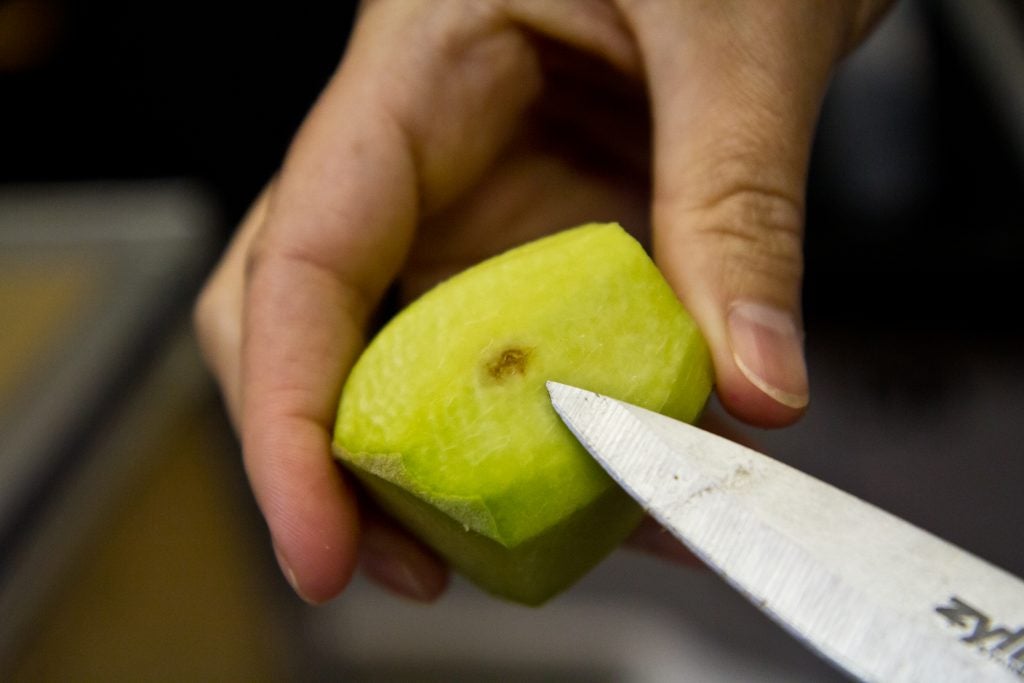 If you try to squish a stink bug, as a defense mechanism, it will release a disgusting smell and an orange resin that will stain your hands. Nielsen grabbed one of the insects and shook it in her hands.
"There you go," she said, after smelling her hands. "Can you smell it?"
The smell is like a mix of cilantro and dirty socks, she said. "It's not that bad. But once you start handling them enough you start to smell like stink bugs … that's not pleasant."
Still, Nielsen, who has been as been handling and studying them for 15 years, thinks the shield-shaped invaders are beautiful.
"When I got married, actually, I had orange fingertips. My mom wasn't happy," she said.
Wreaking havoc everywhere
The bugs stink for many reasons. Most pests create problems either outdoors or indoors — brown marmorated stink bugs do both. They spend winters inside homes and offices by the thousands. In the hotter months, they're outside, eating almost any plant they find. They consume vegetables, fruits, nuts, ornamental trees, grains, legumes, and more than 250 kinds of plants in total, ruining gardens, parks, and especially, farms.
In 2010, some mid-Atlantic growers of sweet corn, peppers, tomatoes, apples, and peaches reported total losses, according to a group of scientists trying to stop stink bugs. In New Jersey, one of the four top peach producers in the country, farmers lost 60 to 90 percent of their harvest that year. Pennsylvania lost almost half of its peach production.
"There was a period where our estimates were that growers were applying four times higher number of amounts and insecticides then they had been before." Nielsen said.
But stink bugs are resistant to most insecticides, so they continue to spread. With growers desperate and afraid, Nielsen said brown marmorated stink bugs set pest management programs back about 40 years.
But then, something happened: The samurai wasp swooped into the U.S.
An unexpected turn
"It was a huge surprise to me because I wasn't expecting it," said Kim Hoelmer, research entomologist with the U.S. Department of Agriculture's Agricultural Research Service in Newark, Delaware.
Eleven years ago, Hoelmer traveled to China and brought back the stink bug's most ferocious enemy: the samurai wasp, a stingless insect smaller than a fruit fly.
It looks harmless, but the samurai wasp is a skillful warrior. It controls up to 90 percent of the stink bug population in Asia by laying its eggs within the stink bug eggs, destroying their embryos. Instead of a stink bug emerging form the egg, you get a wasp.
"Samurai wasps are specialists on stink bugs — we know that they only attack stink bugs and no other kind of insects," Hoelmer said. "The problem is that they're many, many kinds of stink bugs, and not all of them are pests … some of them are regarded as beneficial."
Hoelmer kept the wasps in quarantine and spent years carefully studying the potential risks of introducing another invasive species. He didn't want the cure to be worse than the disease. Finally, he concluded that releasing them was safe.
But before he could get regulatory permission for their release in the United States — scientists must submit a proposal to the USDA's Animal and Plant Health Inspection Service and be vetted by a scientific review panel including representatives from Canada and Mexico — he got a call from a colleague. Samurai wasps were spotted in Maryland and then in other states. Just like the stink bugs, they arrived from Asia on their own, sometime between 2014 and 2015.
The way of the samurai wasp
Hoelmer said samurai wasps are well established in 10 states, mostly in wooded areas. Last year, they appeared in John Maccherone's peach orchard in Salem, New Jersey.
"I got a text, I was very excited" said Maccherone, owner of Circle M farms. The text was from Anne Nielsen, who had been managing his stink bug problem for years. It said "something like samurai wasp found on your farm, exclamation point, exclamation point."
It was the first time samurai wasps had shown up on an actual agricultural crop in the country, possibly because they were blocked by all the insecticides used to control the stink bugs.
Maccherone, a fourth-generation stone fruit producer, said stink bugs have been the worst insect pest he's seen in 10 years.
"We actually had problems with them over winter in our pesticide storage, to put in perspective how strong they are," he said.
Having samurai wasps at his farm could be a blessing. Although he's not seeing a big difference yet, he said the wasps are better for the environment — and cheaper — than insecticides.
"The samurai wasp works all the time, our insecticides don't," he said laughing. "And they work [for] free!"
Nielsen said samurai wasps showing up on their own is good news for everyone by speeding up a process that could have taken years.
And there's no time to lose. This year, the stink bug population in the orchards she manages in South Jersey is four to eight times higher than last year.
"If we don't control it, it could come back to those levels of 2010 where they just caused devastating losses," she said.
This week, Nielsen and entomologist Kevin Rice of the University of Missouri in Columbia, released 6,000 samurai wasps into Rutgers' experimental orchard. In May, they experimented with 3,600 wasps as they tried to attract them to the farms to foil the stink bugs there.
"The whole goal of biological control is that we will reduce or eliminate the need for insecticides," Nielsen said. "So, in an ideal world, samurai wasps will come in and it will control stink bug."
But the U.S. is not an ideal environment for samurai wasps. And they may need some time to adapt before they start showing their warrior skills.
WHYY is your source for fact-based, in-depth journalism and information. As a nonprofit organization, we rely on financial support from readers like you. Please give today.