A quest to conjure Philadelphia's immigrant past at Pier 53
Pier 53, in South Philly, was the city's own version of Ellis Island. One woman has made it her business to preserve the stories of immigrants who came through the pier.
Listen
8:58
Pier 53, in South Philadelphia, was the city's own version of Ellis Island.
Unlike that immigration port of entry, there's no on-site museum to commemorate the hundreds of thousands of people who stepped into their new American lives here.
But one woman has made it her business to find and preserve their stories — before any more time passes.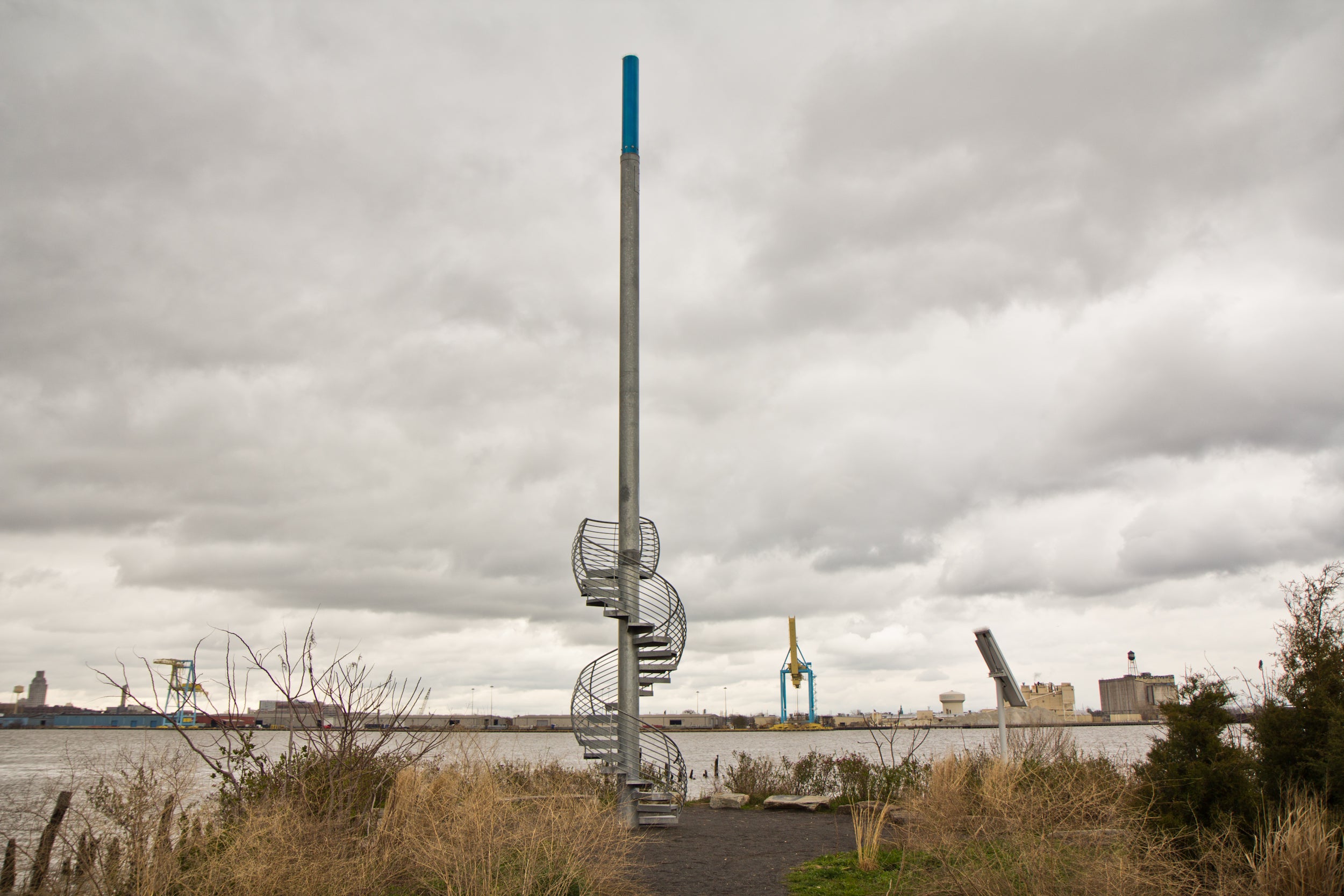 Standing by a small park where the pier used to be, Susan McAninley conjures up the old immigration station.
"It faced right here," she said, gesturing to the Sheet Metal Workers Local 19 Training Center. "This was a street, Swanson Street, and it led into railroad tracks."
She points to Christopher Columbus Boulevard and the strip mall across the street.
McAninley is in her mid-70s, with chin-length gray hair. Over several years, she has worked to learn as much about Pier 53 as she can.
Back at her house in Pennsport, McAninley pulls out a stack of laminated notecards — the fruits of her labor.
"These are the stories of real people and the ships they came in on," she said. The brief bios, which she calls passenger tags, describe immigrants who came from across Europe — to find work or flee ethnic prejudice or persecution.
Using immigration records, Ancestry.com, the Historical Society of Pennsylvania, and interviews with descendants, McAninley has pieced together and preserved the stories of 80 immigrants who came through the pier.
What started as a passing interest in ancestry has turned into a full-blown quest.
"I started going to parties and asking complete strangers, 'Did your parents, grandparents come through Pier 53?  I'm doing a study,' " she said.
She says "grandparents" because Pier 53 shut down in 1915, and steamships stopped coming a decade later. The grandkids of these immigrants are not young — and, in many cases, they're the last living people who would have known the immigrants themselves.
Such relatives bring immigration records to life, and they can also shed light on whether newcomers were telling immigration officials the whole truth.
"My grandfather Dominico was listed as a joiner (carpenter) on the passenger manifest. I'm not sure that he ever really did any of that type of work in the U.S.," Joe Showalter told McAninley. "My mother told me that he worked in a tailor shop in the Point Breeze section of Philadelphia that was owned by one of his cousins. She says that he was never paid a lot."
Taken together, the tags give a cross section of Philadelphia society at the turn of the 20th century — nurses and shipbuilders, domestic servants and tailors. Italians who brewed wine in their basements, Lithuanians who washed dishes, and Austrians who served in the Army.
One ship shows up so much in the immigration records — the SS Haverford — that McAninley gave it a nickname.
"I call [it] the 'BoltBus' of immigration," she said. "It just went back and forth and back and forth, Liverpool to Philadelphia, Liverpool to Philadelphia, for years."
McAninley seems to particularly relish stories that could have come straight from a soap opera — such as that of one Italian immigrant whose last name was Testa.
Before his ship docked at Pier 53, "there was a telegram that came in saying he was wanted for murder. He had murdered the husband of his lover," she said. In another case, a well-off Scotsman tried to leave his pregnant girlfriend behind — only to have her follow him across the Atlantic.
McAninley compiles these stories — and less pulpy ones — and shares them at local historical society meetings and public events at Pier 53.
Part of her interest is personal — learning about the pier has helped her understand where she came from.
In her early days of researching the site, she found out that two of her grandparents had come through Pier 53. Bernard McAninley came at the age of 17 from Ireland, seeking more economic opportunity. John Popp came with his family when he was 17 to avoid compulsory service in the Prussian army, according to McAninley.
They are just two of the more than 1 million people who arrived in Philadelphia between the 1870s and the 1920s — when immigration by boat was booming.
Today, more than one in 10 people in Philadelphia were born in another country, but they're more likely to be from Latin America or Asia, according to U.S. Census data from 2016 compiled by Pew's Philadelphia Research Initiative.
The desire to make a better life for yourself was the same a hundred years ago, said McAninley. Take her Irish grandfather.
"He had a pushcart, he sold oysters, he worked in a bar," she said. "Eventually got enough money to open his own bar, and then got involved in local politics." All things she believes he would not have been able to do had he stayed in the old country.
WHYY is your source for fact-based, in-depth journalism and information. As a nonprofit organization, we rely on financial support from readers like you. Please give today.