19th-century love letters between Eastern State inmates document story of resistance
Love letters sent between inmates at Eastern State Penitentiary during the Civil War tell the story of an interracial love affair and social resistance.
Listen
6:27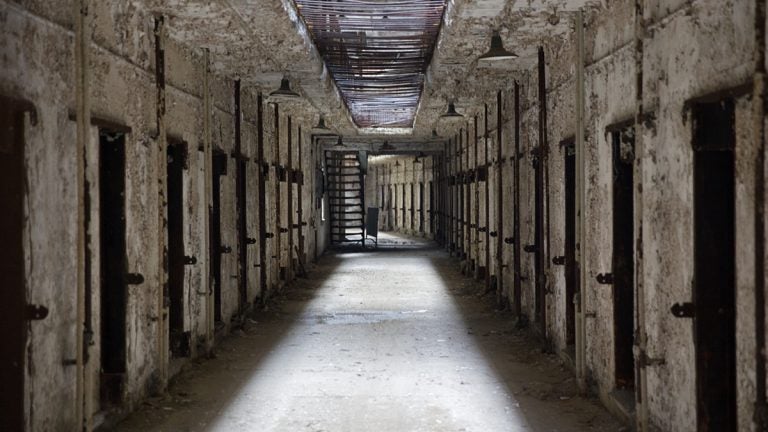 One of Philadelphia's historic sites — the Eastern State Penitentiary — is as iconic as it is eerie, a crumbling monument to a 19th century model of criminal justice and moral reform.
More than 150 years ago, two Eastern State inmates — a white woman and a black man — carried on a secret affair inside those walls. Letters they covertly sent each other are now archived at the American Philosophical Society in Philadelphia.
Rebecca Capobianco — an historian formerly at Villanova University, now a doctoral candidate at the College of William and Mary in Virginia — has studied those letters. In an article published in the Pennsylvania Magazine of History and Biography, she wrote that the highly emotional letters of Elisabeth Velora Elwell and Albert Jackson are evidence of an underground resistance against prevailing social norms.
Elwell was 17 when she was incarcerated at Eastern State Penitentiary for larceny in 1861. Jackson, convicted of burglary, had already been there a year. Both were first-time offenders.
Eastern State Penitentiary was barely 30 years old at the time. It was the largest and most ambitious prison in America, one with a strong moral agenda.
The cells, built to keep the prisoners separated, each had its own toilet, heating system, and small outdoor yard. Their meals were brought to them, and inmates were not allowed to leave their cells.
The idea was that prisoners would be able to reflect on and correct their moral compasses in isolation, without the potentially negative influence of other inmates or visitors.
Any communication from inside and outside the prison was strictly forbidden.
Nevertheless, the letters of Elwell suggest a secret postal system operated inside the walls. Letters moved between prisoners, and communication with the outside world entered with prison vendors.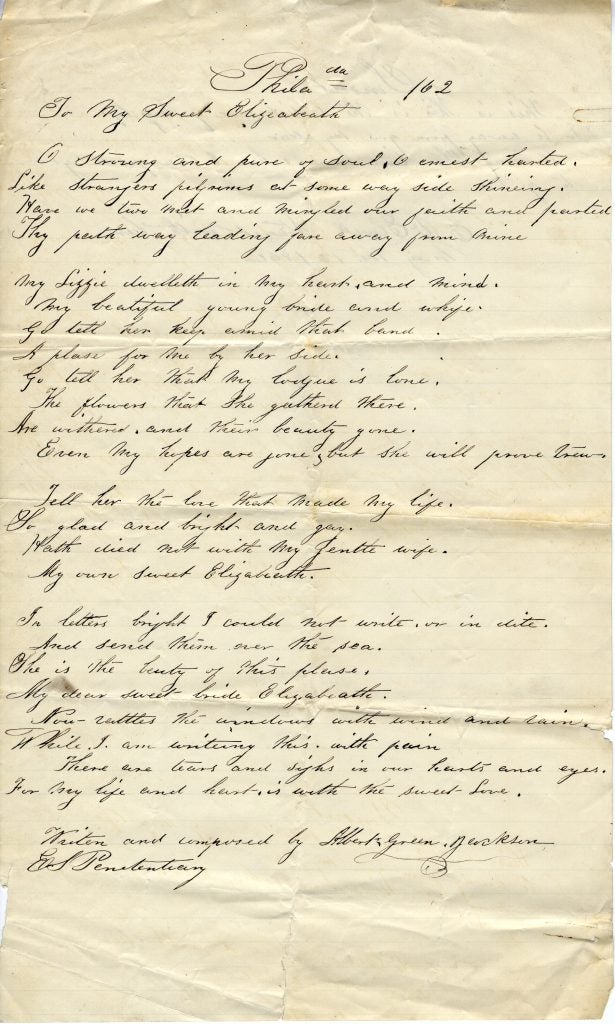 The letters tell of stolen moments together, a network of subversive communication, and an alternative world invented inside prison. Although both were legally married to others on the outside, Elwell and Jackson called each other husband and wife.
Elwell was likely able to move more freely throughout the prison, because — as a fallen woman — she was considered beneath candidacy for moral reform.  The prison found it more useful to use her for housekeeping operations than to attempt to rebuild her civic worth. Elwell was able to leverage her below-the-radar status to subvert the prison's system of penance.
While the nation was entering the darkest time of Civil War, many states — including Pennsylvania — had passed miscegenation laws to prevent cross-racial relationships.
As Capobianco describes in this interview with WHYY's Peter Crimmins, the love affair behind bars is evidence of an underground resistance against institutions trying to impose national social standards.
WHYY is your source for fact-based, in-depth journalism and information. As a nonprofit organization, we rely on financial support from readers like you. Please give today.