Mulberries: Trash or treasure?
Listen
August 25, 2012 — Are your mulberries making a mess when they drop their fruits? Mike McGrath, reveals how you can turn trash into treasure by harvesting what some say is one of the best tasting berries of all! Plus your fabulous phone calls!
[audio: garden20120825.mp3]
---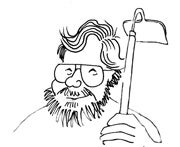 Question of the Week
I caught your show for the first time recently while driving. It was very good—informative and responsible. But part of your discussion with a woman with a mulberry tree 'problem' left me disappointed. Yes, wildlife and birds enjoy mulberries, but so do humans! The berries are large and easily picked—you don't have to get down on the ground or deal with thorns—and the branches bend easily without breaking, bringing more of the treasures within reach.
I enjoy all three types I've encountered in New Jersey:
Purple: large fruits; taste a little like watermelon; not very common.
White: fruits are a little smaller; very sweet; and very common.
Black: the best of all, more flavor and less sweetness than the white ones.
Yes, ripe mulberries can mess up a sidewalk for the first few weeks of June. But if picked and eaten instead, those two or three weeks can turn from inconvenience to joy! I think it would be great if you did a segment on these and other foods that people consider weeds or nuisances—like dandelion, lamb's quarter, and other common, easy-to-identify, safe wild edibles. It's great to harvest from a garden you didn't plant! Thanks, Get the answer »