Lower Manhattan Muslim center proposal, aka the "Ground Zero mosque"
Listen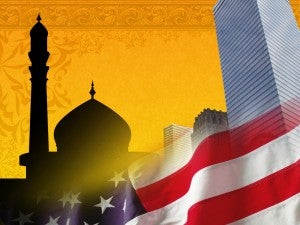 Hour 1
The proposal for a Muslim community center near the site of the September 11th, 2001 terror attacks – you might have heard it mistakenly called a "Ground Zero mosque" – has generated considerable controversy and divided opinions. The Cordoba Initiative that's proposing the center says it would be dedicated to tolerance, understanding and celebrating an inclusive, distinctly American form of Islam, and its supporters say that's just what's needed to win the war of ideas with violent Islamist jihadists. But the proposal's opponents – who have included Newt Gingrich, Sarah Palin, some 9/11 victims' families and many from the political Right – see it wholly differently, a "mega-mosque" that's a propaganda effort by sympathizers of the 9/11 terrorists who want to commemorate a "victory" in a Holy War. Joining Marty to discuss the proposal and the furor surrounding it on today's Radio Times are WNYC reporter ARUN VENUGOPAL, who has been covering the proposal; EBOO PATEL, founder of the Inferfaith Youth Core and member of President Obama's Advisory Council of the White House Office of Faith Based and Neighborhood Partnerships; and RAYMOND IBRAHIM, associate director of the Middle East Forum, a Philadelphia-based think tank and a critic of Islamism and its sympathizers.
Listen:
[audio: 081710_100630.mp3]
WHYY is your source for fact-based, in-depth journalism and information. As a nonprofit organization, we rely on financial support from readers like you. Please give today.