Thinking of buying and planting a truly live Christmas tree this holiday season? On this week's You Bet Your Garden we'll walk you through what you need to know to make the result merry and bright. Plus your fabulous phone calls.
---
Question of the Week:
We interrupt our regular programming to provide important help to all of the people who are going to buy a truly live Christmas tree this season; one with its roots all tucked up in burlap that they intend to plant in their landscape after the holidays are over.
Mike walks you through the process »
---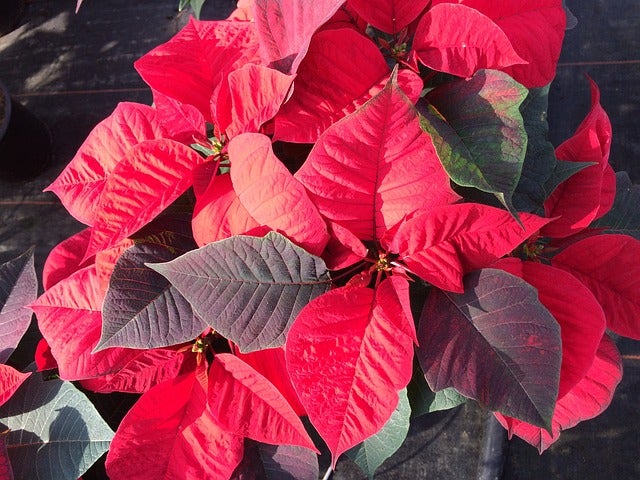 Poinsettia Plant
George from Nashville, Tennessee wants to know if his poinsettia will turn red again. He bought the plant last year during the holiday season and now its leaves are green. Mike informs George that they will turn red, just not on their own. These "fascinating plants", as Mike calls them, in their natural habitat look nothing like the Christmas poinsettia we are all familiar with.
"The poinsettia is a tropical plant that is specially bred and heavily pruned to look that way" said Mike. "If this plant is given the correct care, the leaves in the center of the plant will turn red, and inside of the red are yellow true flowers." They are given 12 hours of light and 12 hours of dark, and this induces the red bracts in the center of the plant.
He recommends George to give them artificial light if he wants to turn his leaves red. Give the plant bright light for 12 hours and darkness for another 12, and in 60-90 days he should see his leaves changing from green to red. In the future, if George wants his poinsettia plant to turn red in time for the Christmas season, Mike also suggested to begin this process in late August or early September.
---
Crepe Myrtle Tree
Jon from Birdsville, New Jersey has a crepe myrtle tree that needs to be pruned. A few years ago, he planted half a dozen crepe myrtle trees that grew five or six feet tall. Currently, his trees are 15 feet and he wants to know what can do to scale back their height.
"Never prune anything in the fall," Mike's voice echoes in the background. He recommends that Jon pick an adequate height for the trees, and in the spring prune 2-3 weeks after the trees begin to grow again and take off the previous years growth.
Pruning in the spring will avoid crepe murder, in the words of Mike. It will also control the trees size and will help it bloom. Mike instructs George to make sure the height of the crepe myrtles is no more than 12 ft and not to take off more than half when pruning.