Kosher Chinese: Living, Teaching, and Eating with China's Other Billion
Listen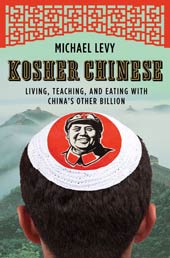 Hour 2
[REBROADCAST] Writer and teacher MICHAEL LEVY describes China to his students as a country exactly like the United States in size, in cities, in the same number of rich and poor people – but add one billion peasants. Levy served two years of service in the Peace Corps in China and saw a country different than the one we read about in the mainstream headline news, the China becoming the competitive international superpower with its exponential economic growth, bullet trains, high-tech factories, it is shadowed by human rights and labor shortcomings. When Levy arrived in the interior province of Guizhou in 2005 he was expected to immerse himself in the culture, including accepting his Peace Corps stipend (about $100 a month) that put him at the income level of the agrarian, temporary home. Communism is dominant in the "other billion" part of the heartland of the country and he says it took him over a year and a half to have an honest discussion about politics and religion with his new friends and extended family. As Levy believes the Peace Corps, in its 50th year, is important to the United States foreign policy, he had to put aside his cultural and religious beliefs of Kosher and vegetarian life to be part of this larger mission. Levy's been back in the U.S. teaching mostly at schools of privilege, which he says is the polar opposite of "the poorest kids on Earth" culture he experienced in 2005-2007. His recent memoir on his Chinese experience is Kosher Chinese: Living, Teaching, and Eating with China's Other Billion.
Listen:
[audio: 093011_110630.mp3]
WHYY is your source for fact-based, in-depth journalism and information. As a nonprofit organization, we rely on financial support from readers like you. Please give today.