Don't underestimate the weed known as "Jack in the Pulpit"
Listen
Mike McGrath explains how to get rid of yellow jackets and borers safely, what benefits thousand-leggers offer, the best way to grow a palm tree indoors, how to prune vines from a lilac bush, and why the weed "Jack in the Pulpit" should not be underestimated. Plus, Mike speaks with Elizabeth Millard, author of Indoor Kitchen Gardening.
---
Question of the Week
"The most pernicious weed I have ever encountered in my 50 years of gardening has invaded my soil. The only garden center in the Philadelphia area that even knew of it told me there is absolutely nothing anyone can do to get rid of it except sift every inch of soil to remove all the rhizomes. I have spent hours doing this and they continue to roar back. The "flower" is a variation of a cobra head with a thin purple thread-like stem emanating from the hood (in and of itself very sinister looking). Its scientific name is Pinellia. Please help me with this!"
— Susan Miller; greater Philadelphia
---
Highlights from show for September 20, 2014:
How to get rid of yellow jackets safely
Kathy, in Wayne, Pennsylvania has unfortunately discovered a nest of yellow jackets in her compost pile. Clueless on how to get rid of them and not wanting to poison her compost in the process, she hasn't gone anywhere near it. Giving Kathy a mini-bio of yellow jackets, Mike explains there is no point in spraying or pouring anything on these wasps, because their nest is so protective and shielded with many layers. All those chemicals go off the sides and hurt us or taint our drinking water. What Mike suggests is either A: leave them alone and unharmed, because it is just a short term problem, as soon as the winter comes they will all die and not return to to the same nest they once inhabited. If it's really bothering her she can B: cover the nest with a tarp, wading down the edges with rocks, using a can of cooking spray to neutralize any of the wasps that might escape. This will "cook" the nest and kill these dangerous creatures.
---
Correcting an insect infestation
Tyler from Marion, Indiana has a maple tree in his backyard that looks as if it has been infested with borers, which are insects that range from caterpillars to beetle larva. They have been poking holes in his tree. Mike goes into how insects such as these, like to be in damp, moist areas and how to prevent from them spreading any further such as, getting into Tyler's house. Mike suggests exposing approximately 6 inches to a foot of soil around the foundation of his house because to them, it is like a desert, and they will die anywhere that is dry. But to treat the source of the problem, Mike has advised Tyler to buy "Beneficial Nematodes" along with a garden syringe, which are microscopic creatures that prey on whatever is infesting plants. Tyler should inject it into the tree to maintain a healthy tree.
---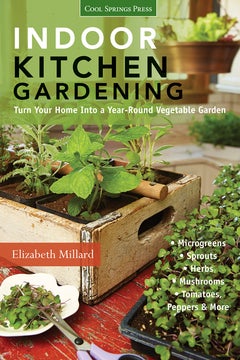 Special guest Elizabeth Millard
Mike speaks with Elizabeth Millard, author of the new book, Indoor Kitchen Gardening: Turn Your Kitchen Into a Year-Round Vegetable Garden. Millard is a proponant of growing microgreens in her indoor kitchen gardening system and uses them for many different purposes. However, you can grow plants as large as tomatoes. Although Millard warns that is about as big as any indoor gardener should go.
"Why not? That's the whole impetus for almost everything that I do. Why not grow microgreens on your dining room table?"

Elizabeth Millard
---
Thousand leggers: Friend or foe?
Dan in Central Pennsylvania, has been crushing, everyday, on average, 5-10 creepy crawlies throughout the night in his basement. These creatures are known as house centipedes or thousand leggers. Dan has been suffering with these centipedes running all over, although they pose no threat to him, only to other insects they want to eat in his basement. Mike suggests having a merciful approach to these unwanted predators, as they are not threat to humans, but are great ridders of insects and are keeping Dan's basement free of bugs. If Dan has to get rid of them, Mike recommends vacuuming them up and letting them go outside.
---
The ever-growing palm tree
Amber from Claymont, Delaware has an unknown variety of palm tree that she bought a year ago. The tree, while beautiful, is getting too large to keep in her home. The first year she actually used it as a Christmas tree, but now she wants to know how she can keep it safe during winter without taking up the whole living room. He urges her to remove any damaged leaves because they will not be able to photosynthesis. However, he states that it's not a bright idea to taking off the tips of the plant without knowing if they will regrow or not. Most importantly, he suggest that she should keep it pot bound and in the bay window where she originally kept it, for that is the ideal location for the plant.
---
A mysterious vine choking a lilac bush
Carol in Ventnor City, New Jersey is a part-timer at her vacation house in New Jersey, and is there for a part-time care taker of her Lilac bush as well. Last year she realized that a vine had made its way around her bush almost choking her plant. This year, once again, after pulling the vine off her plant from last year, it has regrown and choked her bush. This time, however, it covered the entire bush. To treat this vine, Mike has recommended that Carol cut the vine where it comes out of the ground with loppers or pruners instead of pulling the vine. "When you sever it at the root, the top growth will die" explains Mike. Repeatedly cutting those stalks , while opening up the roots of the plant will cause the inside to rot, and eventually die.