ZIP Essay: Easter on the avenue, an enduring faith, and the best Sunday mornings of my life in 19121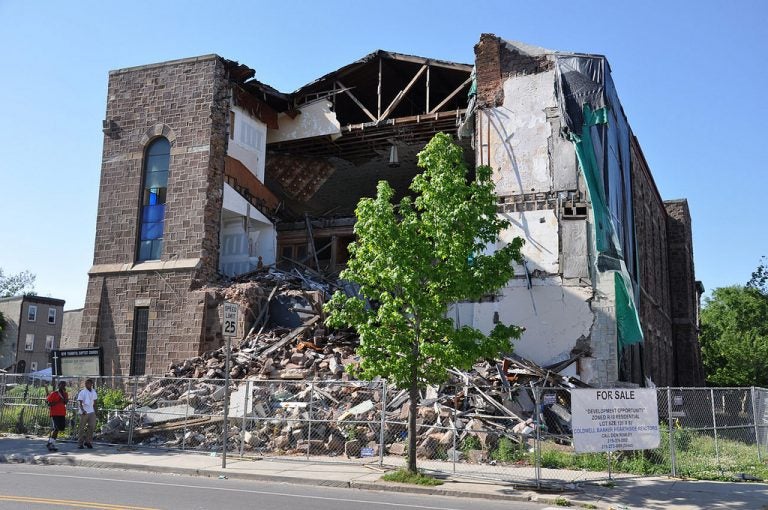 (Photo: Laura Blanchard/Flickr)
Easter always triggers memories of everything I love about the culture and community of a black Baptist church. I was baptized in New Thankful Baptist, at the corner of 18th Street and Columbia Avenue in North Philadelphia.
On Easter Sunday, my family would join the congregation on the sidewalk — my mother wearing a hat she'd made the night before, stuck with pins and feathers; my aunt Mat wearing something bright that showed off her curves, just a little; me and my cousin Regina acting cute, twirling in our little dresses, picking at the lace fringe of our ankle socks, deciding who to sit next to for the best candy. Does Aunt Lee have some lemon balls in her purse? Maybe Miss Charlotte has the strawberry ones with the gooey stuff inside.
From the sidewalk, we would merge inside, marching down a wide sweep of polished wooden pews and carpeted aisles to the pulpit — the pulpit draped in burgundy velvet with gold embroidery; a regal chair for the pastor to sit in.
Easter Sunday on the avenue: the deacons, the aunties, the gossip, the laughter, the hats, the male chorus in golden robes, the New Thankful chorus in purple robes. The mother of the church, always in white, wide and steady as a battleship.
And on communion Sunday, the table up front was covered in a pristine white table cloth, bleached pure and ironed flat by my aunt Ida, artfully arranged over the wafers and wine to look like the shrouded body of Christ.
This do in remembrance of me.
When the choir loft was full — well, don't let them start the service singing "Soon and Very Soon" or "I Know it was the Blood," because then everybody's feeling the holy ghost! Miss Janie waving her lace hanky; Deacon Solomon doing his sanctified strut; and the white-gloved junior and senior ushers running everywhere to fan and hold hands and stretch out arms to welcome the Spirit.
The corner of 18th and Columbia was home to New Thankful for nearly 60 years, but as the congregation dwindled, the church ran out of money for costly repairs. In 2010 the steeple fell in, and the city condemned the building. The church sold the building and moved the diminished congregation into the basement of another church nearby. New Thankful was bulldozed and turned into condos in 2010.
On some of the best Sunday mornings in my life, New Thankful was righteous and full, with everybody in the world I loved, together, in one place. When I used to go to church I didn't have much faith in an abstract notion of God — somebody I couldn't see and didn't know. But I did have faith in the people, my people — and the church, my church — the solidity, the solidarity, of place, of belonging.