Wolf: Pa. education funding changes will 'take time'
Last week, Pa. Gov. Tom Wolf said he'd support a major school funding shakeup. Now Wolf is hedging his position.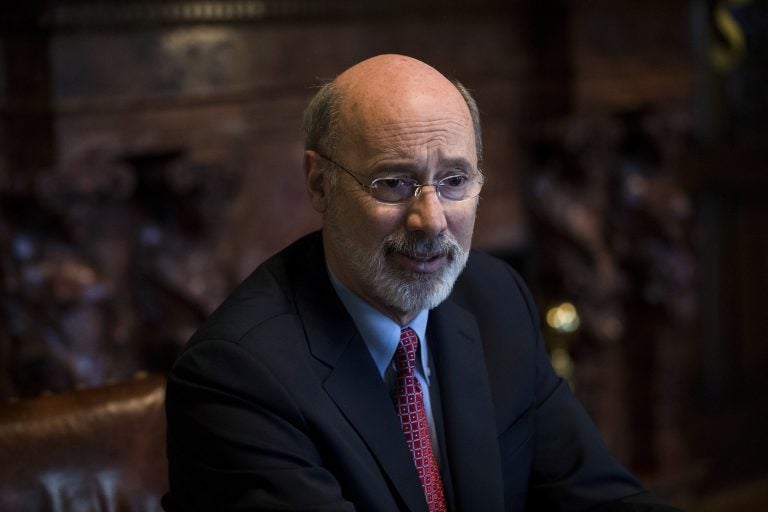 When Pennsylvania Gov. Tom Wolf announced last week he'd support sending all of the state's education money through its new funding formula, he emboldened advocates and riled opponents.
Now Wolf is hedging his position to say that any changes will "take time," and that he would not support a sudden, radical shift in the way Pennsylvania doles out school dollars.
"Governor Wolf believes we must fully and adequately invest in public education, and that every dollar should be run through the fair funding formula," said the governor's spokesman, J.J. Abbott. "But achieving both of these goals will take time and additional funding, as well as input from the General Assembly, school districts, and communities across the commonwealth."
Abbott added that Wolf would be pragmatic in making any changes to the state's system for distributing education money.
He did not elaborate on exactly what type of proposal Wolf might support, but it's safe to say the governor is not keen on sending all money through the formula right now.
The state's education funding debates are fraught with politics, though not the typical, right-left kind.
Enacted in 2016, the new funding formula rewards poor and growing school districts, most of them in the state's eastern half. It's supposed to help them fill the gaps after years of a system called "hold harmless."
Under "hold harmless," a school district had to receive at least as much money from the state as it did the year prior, which has generally allowed shrinking districts in the state's western half to spend more per student while taxing their citizens at lower rates.
As part of a bipartisan compromise, Wolf and the General Assembly agreed to only send new education dollars through the formula when it was established in 2016. The idea was to give some relief to poor and growing school districts, while easing the hurt on shrinking ones.
But some legislators, many from the southeastern part of the state, want to ramp up use of the formula. That includes several Republicans from Philadelphia and its suburbs.
Some advocate for a gradual increase in the amount of old money sent through the formula. Another bill introduced earlier this year would use the formula to distribute all education dollars immediately. Such a proposal would boost Philadelphia's annual state funding by more than $300 million, but reduce Pittsburgh's state aid by about $70 million each year.
Politicians from the Pittsburgh area — of all political stripes — are predictably skeptical of sending more money through the formula.
Senate Minority Leader Jay Costa, a Democrat who represents part of Pittsburgh, initially told Keystone Crossroads he supported the governor's concept of using the formula to distribute all state aid. He then pulled back from that statement and said through a spokesperson he "needs to fully evaluate the impact to all of the schools in his district."
House Minority Leader Frank Dermody, who also hails from Allegheny County, said through a spokesman the idea "merits consideration," but did not say whether he supported it.
WHYY is your source for fact-based, in-depth journalism and information. As a nonprofit organization, we rely on financial support from readers like you. Please give today.