Wilmington reaches deal with Catholic school to overhaul historic stadium
An artist's rendering depicts what a renovated Baynard Stadium would look like following $15 million to $20 million in upgrades. (Courtesy of the city of Wilmington)

An artist's rendering shows what a renovated Baynard Stadium would look like following $15 million to $20 million in upgrades. (Courtesy of the city of Wilmington)

An artist's rendering depicts what a renovated Baynard Stadium would look like following $15 million to $20 million in upgrades. (Courtesy of the city of Wilmington)

An artist's rendering depicts improvements at Eden Park in Wilmington's Southbridge section. (Courtesy of the city of Wilmington)

An artist's rendering depicts improvements at Eden Park in Wilmington's Southbridge section. (Courtesy of the city of Wilmington)

An artist's rendering depicts improvements at Eden Park in Wilmington's Southbridge section. (Courtesy of the city of Wilmington)
Wilmington's Baynard Stadium has hosted many sporting events in the Delaware city since its construction in 1922 as a baseball and track facility. Football has come to dominate the field at the stadium adjacent to the city's Brandywine Park. But future football games were in jeopardy as the aging stadium's need for maintenance and safety improvements outpaced the city's ability to pay that work.
Without improvements and repairs, the stadium would have deteriorated and become unusable, according a task force exploring the city's options.
An initial deal to have Salesianum School take control of the facility two years ago was thwarted when state Rep. Charles Potter and others questioned community access to the site. Now, after much negotiation and input from the community, those concerns appear to have been assuaged.
"We unselfishly took the time for all of us to put our points on the table and to come up with a solution that was going to benefit not us … but we put our children first and made sure that they were taken care of," said Hanifa Shabazz, Wilmington City Council president. "This really is historical."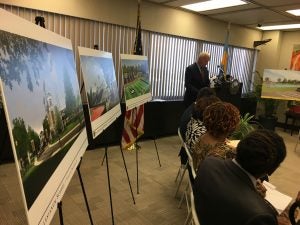 Under the deal, the all-boys Catholic school will lease the stadium from the city for 50 years, with one-year extension options for another 50 years. The school is committed to spending $15 million to $20 million to rehabilitate and expand the stadium.
"Absent this agreement, several millions of dollars of taxpayer money would be required to minimally improve the stadium," Mayor Mike Purzycki said. "The stands are constantly being monitored for their structural integrity, and it's only a short time before a significant investment will be required, even without an expansion."
The state currently maintains the site at a loss of about $100,000 every year. Purzycki said the city has not operated the facility for nearly 50 years.
The upgrades include a new turf field, a new running track, lights, bleachers, locker rooms, scoreboard and press box. The school will pay to maintain the facility in safe and clean condition.
Salesianum president Brendan Kennealey said while the school has eyed a takeover of Baynard for some time, this deal will enable the school to have a greater impact on the city beyond its students.
"[We're] staking our ground that this is important," he said. "That people need to invest, and institutions need to invest in this city if we're going to thrive."
The stadium will be made available to other schools and youth groups in the city. Currently, those groups use the stadium for games and events for a total of 130 hours per year, Purzycki said. Under the lease agreement, those groups will be guaranteed a minimum of 360 hours per year to use the facility.
Another 90 daytime hours per month will be made available so the public can use designated areas of the stadium complex as well.
Eden Park improvements
Baynard Stadium isn't the only city park facility to get a facelift. Because Salesianum will fund improvements for the stadium, that enables Purzycki to use existing city funds to upgrade Eden Park in  Wilmington's Southbridge section. The $2.4 million project will include a new synthetic turf field that will host football, soccer and lacrosse games. An adjacent field will be regraded and seeded for use as a practice field or for rugby and flag football games. A new scoreboard and new fencing will also be installed.
"Salesianum's steadfast commitment to the city of Wilmington will not only bring about the renaissance of Baynard Stadium, but it also enables the city to channel much needed resources to make the revitalization of Eden Park possible," Purzycki said.
In addition to the fields, Eden Park's pools will get upgrades including new filtration systems and an umbrella spray feature.
As a 35-year resident of Southbridge, Council President Shabazz said she was thrilled with the plans. "I'm proud to say that I'll be able to have this beautiful field my children can walk to … This is just the beginning of things we'll be able to do in this administration."
The optimism for future improvements at Eden Park is in stark contrast to a deadly shooting at the park in 2012. Gunfire that interrupted a July soccer tournament at the park ended in the death of Alexander Kamara, a 16-year-old soccer player, and Herman Curry, a coach who organized the tournament. In 2014, a Wilmington jury found the accused shooters, Otis Phillips and Jeffrey Phillips, who are not related, guilty of first-degree murder in the death of Curry and manslaughter in Kamara's slaying.
The public will have a chance to comment on the plans at the City Council Finance and Economic Development Committee meeting Wednesday.