William Penn seeds $5 million more for waterfront access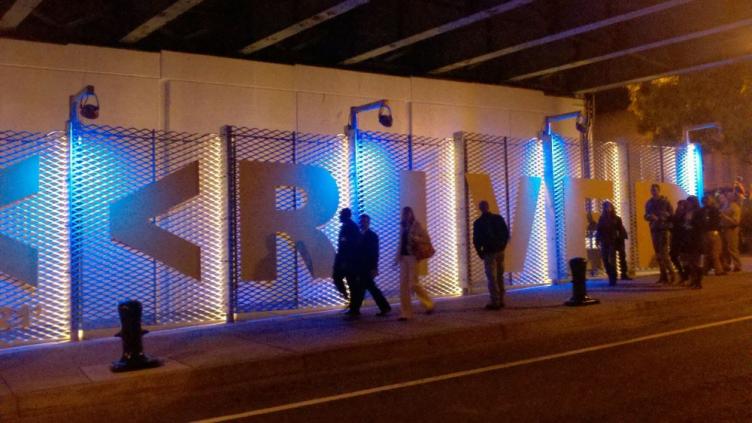 The Delaware River Waterfront Corporation has received a second $5 million gift from the William Penn Foundation, designated to pay for projects that increase public access to the Central Delaware Waterfront as a means to spur private investment there.
The grant is expected to allow DRWC to continue its work on key projects, including:
Funding the construction of the permanent Delaware River Trail between Washington Avenue and Pier 70. There is a temporary trail open now.

Design for the central, on-road section of Delaware River Trail between Spring Garden St. and Washington Avenue. This would use the design concepts illustrated in the recently opened Penn Street Trail.

Design and construction of a new pier park at Pier 68 in Pennsport. See related story here.

Design and development of connector street amenities on Tasker St.

More archaeology at the West Ship Yard site at Vine St. and Delaware Avenue. Read about the previous archaeology here.
William Penn made its first $5 million grant to DRWC in 2010, and according to a report released by William Penn and DRWC Thursday, that gift leveraged more than $14 million from other sources. A report summary is attached at the end of this article.
Projects the first grant helped fund include:
Washington Avenue Green and the in-development park at Pier 53

Connector street projects at Race, Spring Garden, and Columbia, Shackamaxon, and Marlborough

Acquisition of Piers 66-70

Feasibility studies for Pier 9

Archaeological study of the West Shipyard

Interim improvements to the waterfront trail from Pier 70 Blvd. to Pier 53

Pre-development work on the Festival Pier site at Spring Garden street
Both groups of projects are called for by the Central Delaware Master Plan, which was completed in 2011 and adopted by the Philadelphia City Planning Commission in 2012. The William Penn Foundation has long supported the waterfront revitalization blueprint, which aims to develop parks every half-mile along the 6 miles between Oregon and Allegheny avenues, and link them with the multi-purpose trail.
William Penn funded a series of public meetings seven years ago that helped forge the goals of the Master Plan. "Through an extensive civic engagement process, we heard consistently that Philadelphians want better access to the river," said Helen Davis Picher, William Penn interim president.
The central concept of the master plan is that these public spaces will inspire private development. Some of this seems to be happening. The new Fringe Arts building, just across Delaware Avenue from the Race Street Pier, is expected to open this fall, and to offer an outdoor cafe and restrooms open to all waterfront users next spring. Developer Michael Samschick has said it was in part the city's plans for the waterfront that made him want to develop his on-going Penn Treaty Village project.
Shawn McCaney, Senior Program Officer at the Foundation, explained further why William Penn was interested in providing more funding toward implementing the plan that resulted: "DRWC has surpassed our expectations with its award-winning Master Plan and early projects like the development of Race Street Pier and the Penn Street Trail."
"Since its creation by Mayor Nutter in 2009, DRWC has worked to raise funds from diverse sources to plan and build each project, and William Penn Foundation's seed funding has been essential to catalyzing fundraising from all levels of government and non-profit sources. We are pleased to report that DRWC is meeting each milestone established in the master plan," said Thomas Corcoran, President of DRWC.
DRWC expects to have a series of meetings with the appropriate community groups and with the Central Delaware Advocacy Group over the coming months to finalize its plans for new projects to be designed and built over the next three years. These meetings will occur parallel to ongoing projects such as the design of a park over I-95 and Columbus Boulevard at Penn's Landing, the implementation of a pier park at Washington Avenue and the Spring Garden St. connector project.
Central Delaware Master Plan Projects: South

Central Delaware Master Projects: Central

Central Delaware Master Plan Projects: North

(Photo by Tammy Leigh DeMent of the Pennsylvania Horticultural Society)
WHYY is your source for fact-based, in-depth journalism and information. As a nonprofit organization, we rely on financial support from readers like you. Please give today.