Will plans for 30th St. Station District include capping rail yards? That's up to you
A lot of people have a lot of big plans for 30th Street Station – capping the rail yard to its North, re-opening the tunnel between it and the Market-Frankford Line stop, using it to bridge the watery divide between University City and Center City – but, so far, none of those plans have been on the same page.
Last night, the process to remedy all that began, as the development of a comprehensive 30th Street Station District Plan began in earnest. The district plan is a joint effort by Amtrak, Brandywine Realty Trust, Drexel University, SEPTA and other stakeholders to create an implementable vision for the 175-acre area surrounding the station.
At the district plan kickoff last night, representatives from Amtrak engaged with members of the public, answering questions about the station, the current conditions and some of the possibilities going forward. The project team is seeking lots of public feedback for the plan.
In the coming months, the team will develop three different scenarios for the district come 2040. Following another round of public feedback and feasibility studies, those three scenarios will be synthesized into a single District Plan, which will be fully implementable the day it's released (sometime around fall 2016).
The plan will try to figure out how to knit three often competing priorities – transportation, station facilities and commercial opportunities – into a single vision, said Amtrak's Natalie Shieh, Project Director for the 30th Street Station District Plan. Shieh pointed to the long-sought covering and development of the rail yards to the north of the station as an area where transportation and commercial development clash. "We would like to evaluate that," Shieh said. "But … from a transportation perspective, it still has to work for us to make sure we're still providing the best service possible."
District Plan open house. Courtesy Amtrak/Chuck Gomez (Amtrak/Chuck Gomez)

District Plan open house. Courtesy Amtrak/Chuck Gomez (Amtrak/Chuck Gomez)

District Plan open house. Courtesy Amtrak/Chuck Gomez (Amtrak/Chuck Gomez)

District Plan open house. Courtesy Amtrak/Chuck Gomez (Amtrak/Chuck Gomez)
SEPTA and Amtrak both expect more passengers to use 30th Street Station – there wasn't a single mention of William H. Gray III at the open house – which will require modernizing the physical plant.
"We need to figure out how to celebrate this historic building but also make it meet our modern needs and just be able to fit people," said Shieh.
"Penn Station [in New York City] is a comparable that we probably don't want to repeat in terms of the passenger experience. " Shieh added with a laugh.
But let's be clear: Penn Station is no laughing matter, as it is a place where joy goes to die. Penn Station is awful. And not just because they took a gorgeous building and demolished it – 30th Street Station is nice, and so is Grand Central in New York, but Penn Station was the best looking of the bunch. It was one of the architectural gems of the nation and they destroyed it to make way for the freakin' Rangers. It's the equivalent of Philly knocking down City Hall to make way for more roads (an idea that actually had legs in the '50s, but that's grist for another tangential rant).
Penn Station is also just objectively awful, no comparison to its lost glory necessary. If you have had the misfortune of being in Penn Station – maybe you went a few years ago to see the Sixers play the Knicks back when they weren't both heaps of hot stinking garbage – you know its awfulness firsthand. It is crowded, disgusting and labyrinth-like (both in that you cannot find your way, and that you will be accosted by goblin-like creatures). Seriously "Amtrak Station" is the one thing that even the most obnoxious New Yorker will agree Philly does better.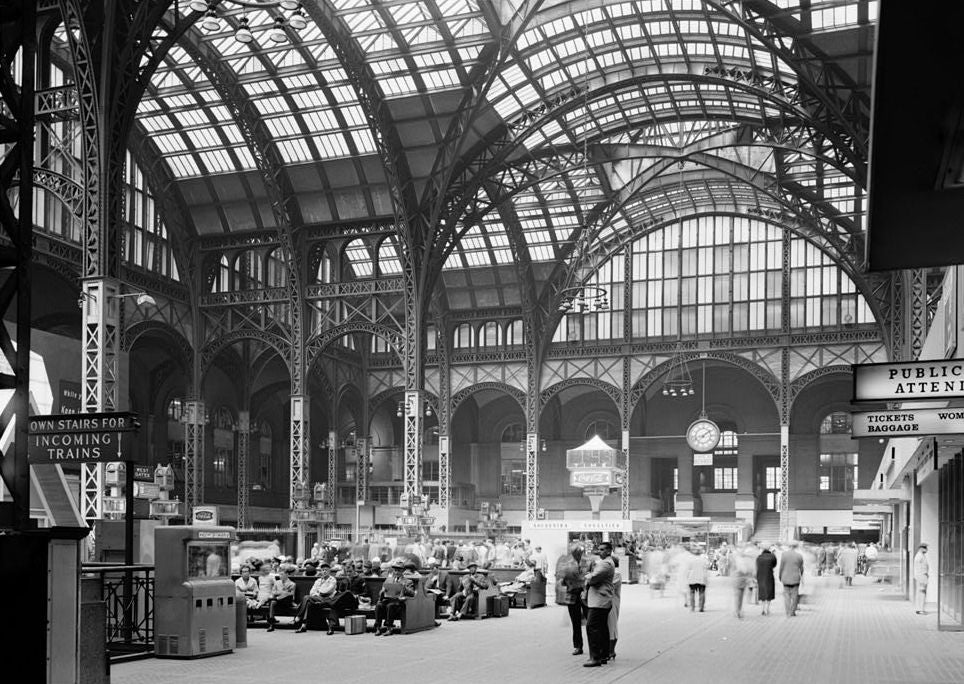 While 30th Street Station doesn't face demolition, there are still plenty of ways to screw it up, especially if the District Plan doesn't properly balance those competing interests. That's why the planning team wants the public to weigh in.
In order for the rail yard cap to happen, that land (technically, the air rights above it) needs to be worth enough to justify the tremendous cost of covering it. Just as the development of Hudson Yards is covering the price of putting a lid on the West Side Yard, burying the rail yard would be effectively paid for with the rent from the skyscrapers built on top.
That means developing the surrounding area in such a way as to increase property values along that side of the Schuylkill. As PlanPhilly's Jon Geeting recently reported, Philly's monthly office rental rate averages $24.25/ft2, compared to $61.11/ft2 in NYC. We don't need our entire office stock to get that pricey, but the covered rail yard enthusiasts do need the area north of 30th Street to get close. Drexel's planned Innovation Neighborhood should help make that a reality, and what that means for the nearby neighborhood of Mantua is still unclear.
Now, some of you might be thinking "No way Philly rents ever get near Manhattan real estate." But, remember, this is a 30-year plan. Thirty years ago, Ford had recently told NYC to drop dead; Times Square was known for porno theaters, not pedestrian plazas; and the city's Ghostbusters were still all dudes. My point: a lot can change in 30 years, if you dream big.
So, big dreamers out there (and anyone else who simply cares) now is the time to act. Shieh explained how: "Go to the website, take the survey, sign up for project updates so [you] are aware of other opportunities for public input."
WHYY is your source for fact-based, in-depth journalism and information. As a nonprofit organization, we rely on financial support from readers like you. Please give today.