WHYY's Dave Davies recaps Republican Pa. governor's debate
Listen
5:41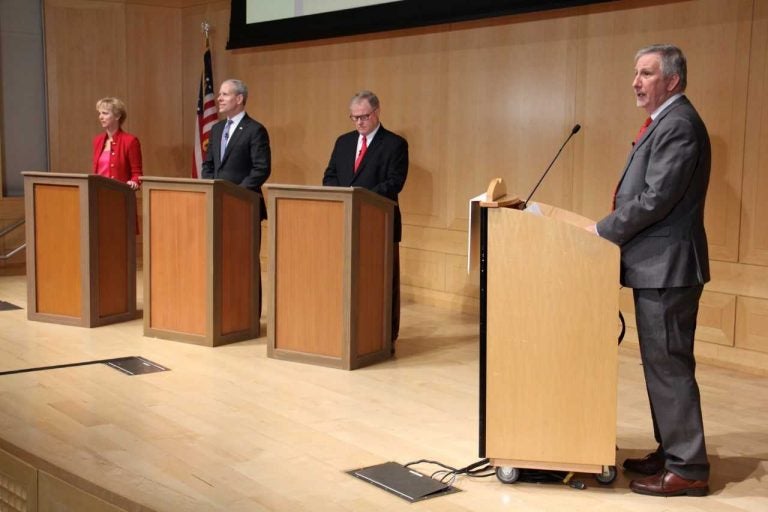 The three Republican candidates for governor of Pennsylvania engaged in their fifth debate at the National Constitution Center in Philadelphia Tuesday morning. WHYY's senior reporter Dave Davies fired off questions provided by the Chamber of Commerce of Greater Philadelphia.
Morning Edition host Jennifer Lynn spoke with Davies about the debate and the candidates vying to unseat Pennsylvania Gov. Tom Wolf.
—
Dave, give us the thumbnail sketch of each candidate.
Laura Ellsworth is an attorney from Pittsburgh who's been very active in civic organizations, and it's her first time running for office. Paul Mango is a health-systems consultant, who attended West Point, served in the Army, and it's also his first run for public office. Scott Wagner grew up on a farm in York County, he's in the solid-waste business and has been in the state Senate since 2014 when he won a special election.
All three are hungry for their party's nomination to challenge Democratic Gov. Tom Wolf in November. Let's hear from each candidate and see how they presented themselves during the debate. Should we start with Paul Mango? 
Sure. He speaks with a lot of confidence and has a tendency to go after Wagner. In an answer about economic development, Mango said he would be a proactive governor seeking businesses, like Amazon, and said we need to create a more business-friendly environment in the state, lower taxes, lower regulations, and then he added this:
But let me say one other thing you heard the senator talk about, antidiscrimination. One thing I will not do is let people, by gender identity, come into our girls locker rooms at schools in the name of generating business in Pennsylvania. I'm going to keep our kids safe and secure. I'm not going to advance that bill, his bathroom bill, at all.
That's a reference to an anti-LGBT discrimination bill that Wagner co-sponsors. Wagner says it has nothing to do with bathrooms. What it does show is the dynamics of the race. Wagner got on TV first. He's won the state Republican endorsement, and I think Mango needs to go after him and try to take him down a peg.
Since you mentioned Scott Wagner, give us a sense of how he fared in the debate. 
Well here's a moment when I asked each of them — who said that pre-K education is very important — how they would increase its availability in the state. All of them said, 'Well you know, we don't need to just throw more money at it, we need better performance.' Here's something Wagner added:
 But I will tell you something, I'm in the waste business, and my company has over 15 waste contracts with school districts. If you go behind any of the schools on any given day and you look in the dumpsters, you would be shocked to see the number of milk cartons that are thrown away, that are unopened. Sandwiches that are still packed and unopened. We need to go into the schools, and we need to make sure that the money is being spent properly. There needs to be accountability. 
So that's classic Scott Wagner, drawing lessons from his personal experience as a businessman, arguing that politicians and bureaucrats just don't get it and that he does.
We can go back to the Trump presidential campaign and find the same thing. 
Yeah and that's a comparison that Wagner has at times embraced, the self-made businessman with a no-nonsense approach. But when Trump became unpopular, he backed away from that a bit, noting that while Trump was born rich and was a Manhattan guy, Wagner's a working-class guy who grew up on a farm and drove a truck in his first business. He, like Mango, is willing to spend a lot of money on an election.
This leaves attorney Laura Ellsworth. Tell us about her. 
Well, she draws a contrast between herself and the two guys sniping at each other. She noted that this event was on Independence Mall, where she said the Founders had come together to create a special kind of democracy:
 Where we listen to each other, where we don't stand on our own corners and shout at each other and never engage. It is time for people to come into politics who have done it before in the civic sector, but who come as nonpoliticians, who say,"I will not participate in the name calling. All I want to do is get things done for people."
So that's Ellsworth. She spent a career in Pittsburgh, getting people to work together for the common good, and she says that's what the commonwealth needs. Unlike Wagner and Mango, she doesn't have the personal wealth to spend millions on TV ads, so she needs to find a way to get better known in a very big state before May 15.
Did any major differences emerge in this debate? 
I would say not big ones. They're Republicans in a Republican primary sounding like Republicans. They believe in school choice, they hate taxes — or at least tax increases — and they want to control spending. And it's interesting, Jennifer, I asked each of them how they were going to get the state's budget under control, and I said if it's spending you're going to cut, tell me specifically a program you'd cut or a saving or efficiency that would generate a lot of money.
Laura Ellsworth said that, in her business career, you tell your departments to each cut 2 or 3 percent, and they'll find it. Paul Mango said he would bring county and township commissioners together to tap their ideas on changing government and saving money.  Wagner was the most specific. He said he would cut benefit packages for state workers, which he regards as excessive, and said that would save a fortune. So that's the program, you cut spending, you don't raise taxes.