Why the 9 bus is actually Philly's worst route
Year in and year out, the Route 9 bus has delivered among the worst, if not the worst, on-time performance out of all of SEPTA's routes.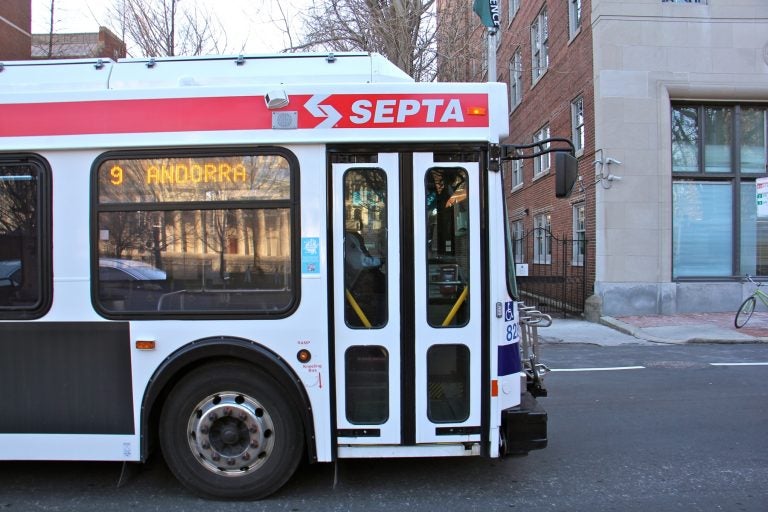 SEPTA runs 111 city bus routes, including 38 special bus routes for school children, 41 suburban bus routes, 13 Regional Rail lines, eight streetcar lines, five contracted-out shuttles, three trackless trolley routes, two subways, and one high speed line. Out of those 184 different lines, Route 9 is arguably the worst.
Year in and year out, the Route 9 bus has delivered among the worst, if not the worst, on-time performance out of all of SEPTA's routes. While other lines' performance can swing up or down in a given year due to construction or long-term detours, the Route 9 remains regularly late. The only thing consistent about it is inconsistency. The bus arrived on-time just 60 percent of the time in 2017, 63 percent in 2016, 73 percent in 2015, and 65 percent in 2014. That performance made the Route 9 2017's least on-time route — excluding Route 80, a seldom-running route that was running on a detour to avoid a weight-restricted bridge. It tied for least on-time in 2016.
"It's horrible," said regular Route 9 rider Cindy Payne from her window seat.
Payne transfers to the Route 9 from the Route 32 on her way to work at Roxborough Memorial Hospital and then takes the reverse trip home. Unless she can catch a ride with a friend or chooses to call a cab, those two buses are her only way to work. Payne says she still times her walk to the bus stop according to the schedule, even though it's off so often. "It could be five minutes, ten minutes, sometimes like a half hour, it varies," said Payne. "Even if the schedule says one time, I'll still be out there waiting past the set schedule."
Like almost all U.S. transit agencies, SEPTA defines "on-time" using broad window around the scheduled time: A vehicle can be up to two minutes early or up to six minutes late and still be considered on-time. For SEPTA's statistics, a bus running five minutes behind schedule, technically, isn't late.
Route 9 runs between the Andorra Shopping Center on the city's northwest perimeter in Roxborough, and Old City, running through Center City until it gets to 30th Street Station when it takes I-76 to Ridge Avenue.
The line isn't alone in its typical tardiness. A handful of other bus routes regularly find themselves towards the bottom of the on-time performance rankings, like Routes 27, 44, 124, and 125, all with on-time performances well below 70 percent.
All those routes share two things in common with Route 9: They go through Center City and they take the Schuylkill Expressway.
"Our on-time performance, while admittedly weak, is really a component of [Route 9's] routing and the Schuylkill Expressway plays a large part in that lateness," said Mike Liberi, SEPTA's chief officer for surface transportation. Trying to schedule around I-76's frequent, yet irregular, traffic jams is a near impossibility. SEPTA has tried alternative routes that avoid the Schuylkill, but while those are more consistent, they're consistently slower.
Padding extra time into the schedule between stops is also a non-starter, said Liberi. Just imagine trying to regularly tell a bus full of impatient passengers that the bus was running too far ahead of schedule and had to wait. Besides, Liberi adds, stopped buses block traffic.
SEPTA's city buses tend to do worse than its suburban routes. The average city route's on-time performance stands at 77.2 percent, whereas suburban routes are on-time 80.8 percent of the time.*
That's mostly because of Center City, said Charles Webb, SEPTA's chief officer for service planning.
"On a regular basis, [there is] a lot of traffic, especially in rush hours," said Webb. "We're competing with that and we're part of it."
Center City's narrow roads mean there's a greater chance that a single stopped vehicle — like a delivery truck, ambulance, or just a broken down jalopy — can effectively shut down the street.
That's also true for Route 9 as it winds along Ridge Avenue, another particularly challenging street — on the day this reporter rode that route, a fire truck forced the bus off Ridge, down to Henry Avenue for a block, and then back to Ridge.  A distance that should have taken five seconds to travel took five minutes instead.
In addition to tighter streets and bad traffic through most of Center City, SEPTA's city routes proceed more slowly than their suburban counterparts because of a larger number of riders getting on and off buses: The average city route carries 4.5 times more passengers (5,162) than the average suburban route (1,452).
While SEPTA's 77 percent average on-time rate sounds bad, the transit authority outperforms a lot of its peers. SEPTA's buses do better than nearly all of New York City's subway lines, many of which are late more than half the time. And it's comparable with the  78 percent on-time rate Washington D.C.'s Metrobus recorded last quarter.
Still, SEPTA's buses in both the city and the suburbans are markedly less reliable than Regional Rail, which averages an 87.8 percent on-time performance. But despite receiving the lion's share of media attention whenever there's a major service disruption — even though Regional Rail carried just 11 percent of SEPTA riders in fiscal year 2017 — the least punctual Regional Rail line is less often late than the average SEPTA bus route.
Some lines are much better than others — the Airport and Warminster lines run at 96 percent on-time, compared to just 80 percent for the Paoli line and 82 percent for the Manayunk/Norristown line and the Trenton line.
The Paoli line has two features holding it back: at 22,938 passengers per weekday, it's the busiest Regional Rail line; and at 37.9 miles long, its the second lengthiest (Wilmington, at 41.1 miles, is the longest). Add in the fact that SEPTA leases most of the Paoli/Thorndale Line track from Amtrak, which can bump the Regional Rail trains to make way for its own running between Harrisburg and Philadelphia, and the 80 percent makes even more sense.
Despite Route 9's dubious distinction as the most frequently late bus route in 2016 and second latest in 2017, it still has its fans.
"Actually, I love the 9," said Camille D'Attilio, a hairdresser at Aqua Salon in Center City who lives in Roxborough. "During the storms, I understand why it doesn't go up Ridge Avenue, for the safety of people, and I wish there was some way the 9 could. But I love this bus; I always get excited to take the 9 Bus."
Like D'Attilio, Ron Lane said he's a big fan of Route 9 because it goes precisely where the retiree wants, getting him to the cultural amenities along the Avenue of the Arts from his Roxborough home. "For me, it's a very convenient route."
For Lane, D'Attilio and many others, Route 9 provides a direct one-seat ride from Andorra, Roxborough and Manayunk into the heart of Center City. It's way cheaper than Regional Rail and, despite all the traffic jams and detours, more frequent: Route 9 buses run every 10-12 minutes during peak, which is way more often than the Manayunk/Norristown line's half-hour headways.
That advantage largely disappears on the weekends, though, as riders like Gloria Fields will tell you.
"It's horrible. The nine on Saturdays is horrible — horrible," said Fields, a Manayunk resident who works in Center City. "During the week, working hours is fine, but non-working hours, on Saturdays and Sundays, it's terrible."
Part of the reason why Route 9 and some other poorly performing routes are so tough to schedule accurately is their length — at 12 miles, Route 9 is two miles longer than the average city bus route. SEPTA could break up the route to speed up performance, like it did in 2015 with the Route 23, splitting it into the 23 and the 45. But Liberi said there are currently no plans to consider that, noting that SEPTA's standard transfer policy means riders would end up paying more for such two-seat rides. "And it's not just a matter of price per transfers," said Liberi, "its the inconvenience of having to get off a bus and on another."
On the day PlanPhilly rode Route 9, it took a little over an hour to get from the Route's start at 4th and Walnut Streets up to Andorra. At least one rider didn't mind. Bill Gavula was heading back to Roxborough after visiting his wife at work in South Philly, a trip he makes twice a week.
"I'm trying to get used to planning on it being not quite on schedule," said the retiree. "Some days they are, but a lot of times, it's maybe 15 minutes than it should be…. But, as long as the weather is not bad, I don't mind."
Gavula's secret? A good book. This week, it's Snowblind, a page-turning crime thriller set in Iceland. "That's what I use my time for, reading, especially on this [bus] because it's such a long ride."
—
*NOTE: These statistics exclude SEPTA's 38 400-series routes, which are designed primarily for school children — SEPTA, as a common carrier, is prohibited by federal law from providing student-only buses, but it can design routes especially for students. Most of these routes only make a handful of stops and run only once-or twice-a-day.)
WHYY is your source for fact-based, in-depth journalism and information. As a nonprofit organization, we rely on financial support from readers like you. Please give today.