What should a 21st century Philly rowhouse be? Emerging designers answer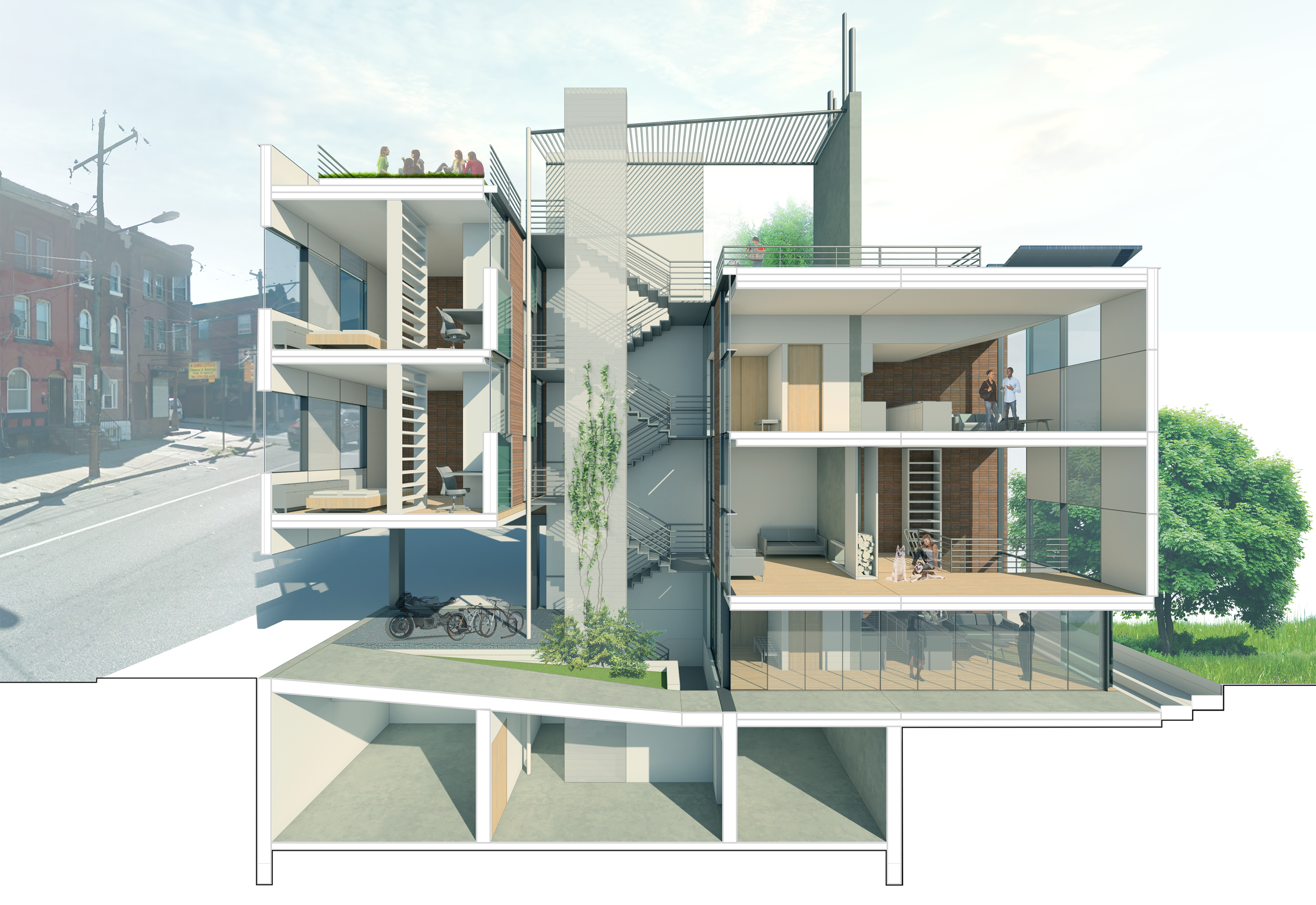 Last Thursday PlanPhilly and the Design Advocacy Group presented our take on this year's DesignPhiladelphia theme – Home – with an event focused on Philly's most common house type, the rowhouse. In anticipation of this event, we partnered with the AIA's Philadelphia Emerging Architects (PEA) committee to develop a design competition in search of new takes on the rowhouse form.
Our competition asked designers who are young in their careers to answer this question: What should a 21st century Philadelphia rowhouse be? We wanted to see new interpretations of Philadelphia's long rowhouse history that also articulated modern concepts of space, materiality, and durability through a single-site infill rowhouse design for one of two corridors – North 29th Street in Brewerytown and Amber Street in East Kensington.
Our competition jurors were Kara Hagerty Wilson (CICADA Architecture), Kiki Bolender (Bolender Architects), Cecil Baker of (Cecil Baker + Partners Architects), Jeff Cohen (Growth and Structure of Cities Department, Bryn Mawr College). The jurors evaluated 12 final design submissions on their form and function, materiality and methods, context and concept, overall design excellence, and a written abstract. Here's a look the competition's winners and finalists:
CM(SE)X(Y)-1 by Chris Mulford and Lindsay Rule
(Chris Mulford, Lindsay Rule)

(Chris Mulford, Lindsay Rule)
The winner for the East Kensington site was CM(SE)X(Y)-1 – a zoning pun on CMX-1 – by Chris Mulford and Lindsay Rule. Both are recent PennDesign grads are midwestern transplants to Philadelphia. As a design team, the two say they combine interests of multidisciplinary problem solving along with a criticism of current architectural and planning canons. Chris Mulford currently practices architecture at Interface Studio Architects, and Lindsay Rule is a landscape designer with the OLIN Studio.
They jury appreciated their design's flexibility – accessible units on the ground floor or maybe a live/work configuration or retail with residential above – and designers' willingness to "upend" the zoning code a bit in the name of adaptability.
One juror said the design had "spark as well as purpose."
FLEXIBLE HOUSE by Uk Jung
(Uk Jung)

(Uk Jung)
The winner for Brewerytown was Flexible House by Uk Jung, who also won for the strongest abstract.
Jung spent the last six years as an architect at Kieran Timberlake and is now starting his own practice, Studio Hada and adjuncting at Drexel. He lives in a rowhouse in Mantua.
Jurors found Flexible House to be true to its name, and appreciated the way the design delivered on a thoughtful manifesto. One juror admired the design's approach to creating affordable units saying, "This project brings design intention to the production of essential small housing units, in a graceful way."
FLEXIBLE HOUSE: DESIGN ABSTRACT:
"There are four main design explorations with this proposal at a city owned vacant lot at 1304 N 29th Street in Brewerytown, Philadelphia.
Flexibility in property ownership & living configuration

Access and distribution of open gathering spaces

Modular construction around on-site constructed infrastructural circulation core

Expanding the functions of walls & roof systems
With the changing dynamics of how we live and work, this proposal aims to define a flexible architecture to be able to respond to the change in the owners' needs and allow for a more diverse ownership. To aid in this goal, the units are designed to be smaller than newer rowhouse development and each sub-unit is separated by an open circulation core which also allows the three main outdoor gathering spaces to be easily accessible.
Modular construction and panelization of the envelope is intended to allow flexibility during the design and construction phase, allowing for higher quality construction and multiple design outcomes. Instead of focusing on what the materials are, the focus in this proposal is on increasing the functionality of the wall and roof systems to be able to do more with light, energy & water."
COMPETITION FINALISTS
(Shawn Hale, Jacquelyn Nemitz)

(Shawn Hale, Jacquelyn Nemitz)

(Jeremy Avellino, Samir Patel, Amanda Bonelli)

(Jeremy Avellino, Samir Patel, Amanda Bonelli)

(Chris Class)

(Chris Class)

(Leah Schultz, Alyssa Francis, Tara Jasinski, Anne Ullestad)

(Leah Schultz, Alyssa Francis, Tara Jasinski, Anne Ullestad)

(Margaret Gregg )

(Margaret Gregg)

(Kathy Lent)

(Kathy Lent)

(Dan Hurley)

(Dan Hurley)

21st Century Rowhouse – Brewerytown: Overbuild – by David and Jacklynn Niemiec

(Li Hao)

(David Niemiec)

(Li Hao)