What percentage of Philly's land area do the different zoning categories cover?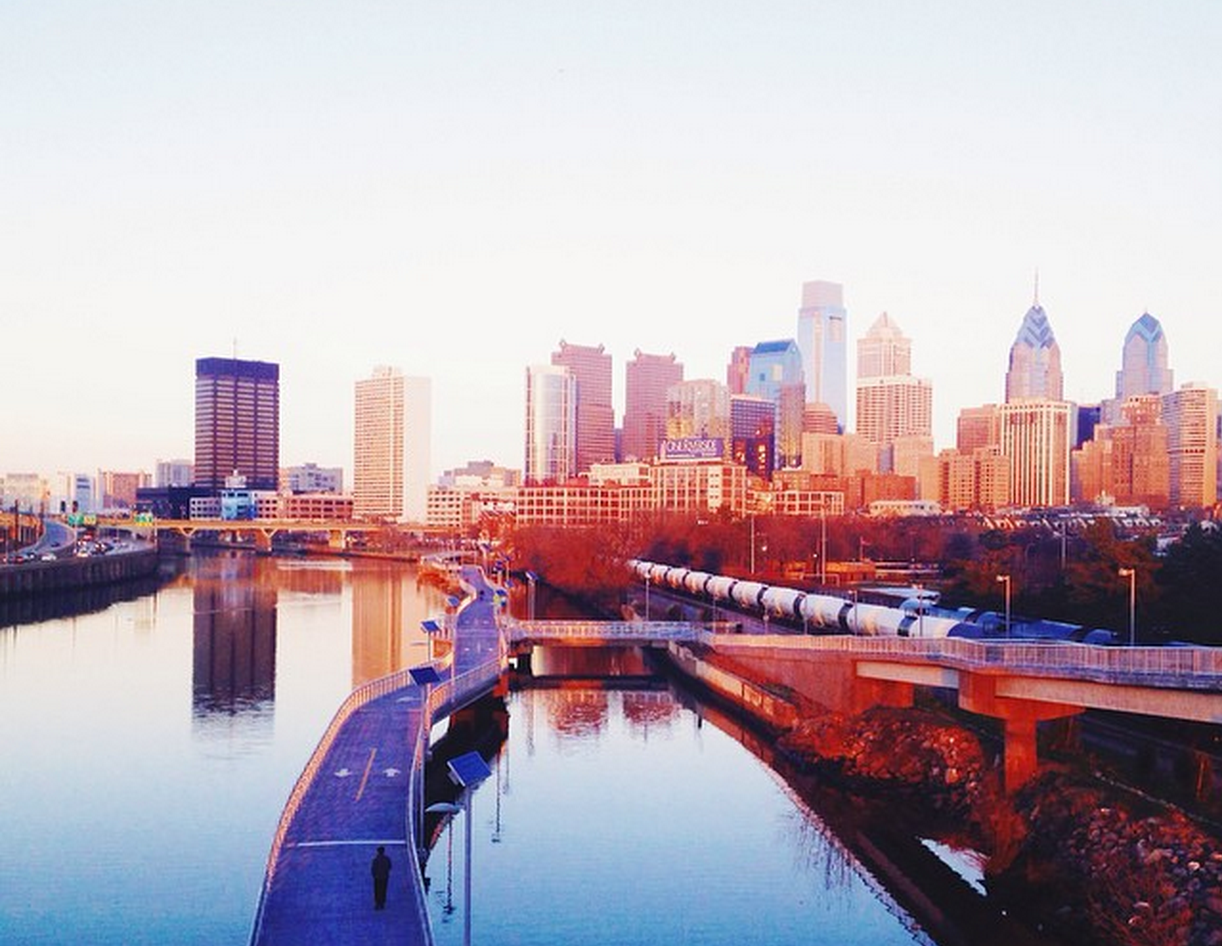 In last week's write-up of the Office of Property Records data release, we noted that single-use residential properties make up about 78% of Philadelphia's properties, with mixed-use, commercial, and industrial accounting for much smaller percentages.
We wondered though, how much land do the different zoning categories cover? Properties come in many different shapes and sizes, after all, so knowing the percentage of properties doesn't really tell us what share of the city is covered by each zoning category.
As though reading our minds, Kevin Hunter, a policy analyst in the Commerce Department, posted a couple of original charts on his personal Twitter that shed light on this question.
In the first chart, Hunter grouped similar zoning classifications into categories (Residential Single Family Attached, Neighborhood Commercial Mixed-Use, etc.) and added up the combined square footage under each to find the percentage of "zoned area" they take up.
"Zoned area" isn't exactly the same thing as land area, because it doesn't include things like streets, highways, and most water that doesn't have a zoning classification, so this just looks at the land that is zoned in some way.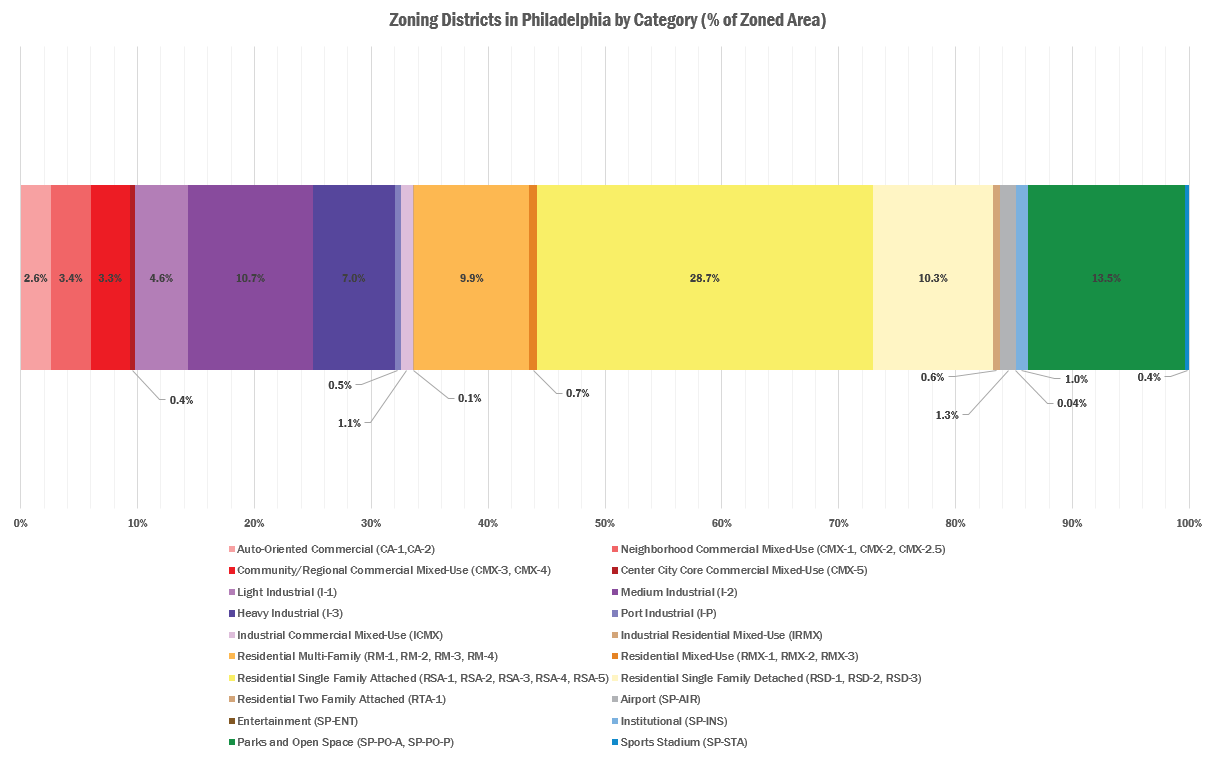 The next graph separates out each individual zoning classification and measures the acreage is covered by each. The y-axis measures the acreage, and there is a percentage on top of each district type that tells you how much of the city's zoned area it covers.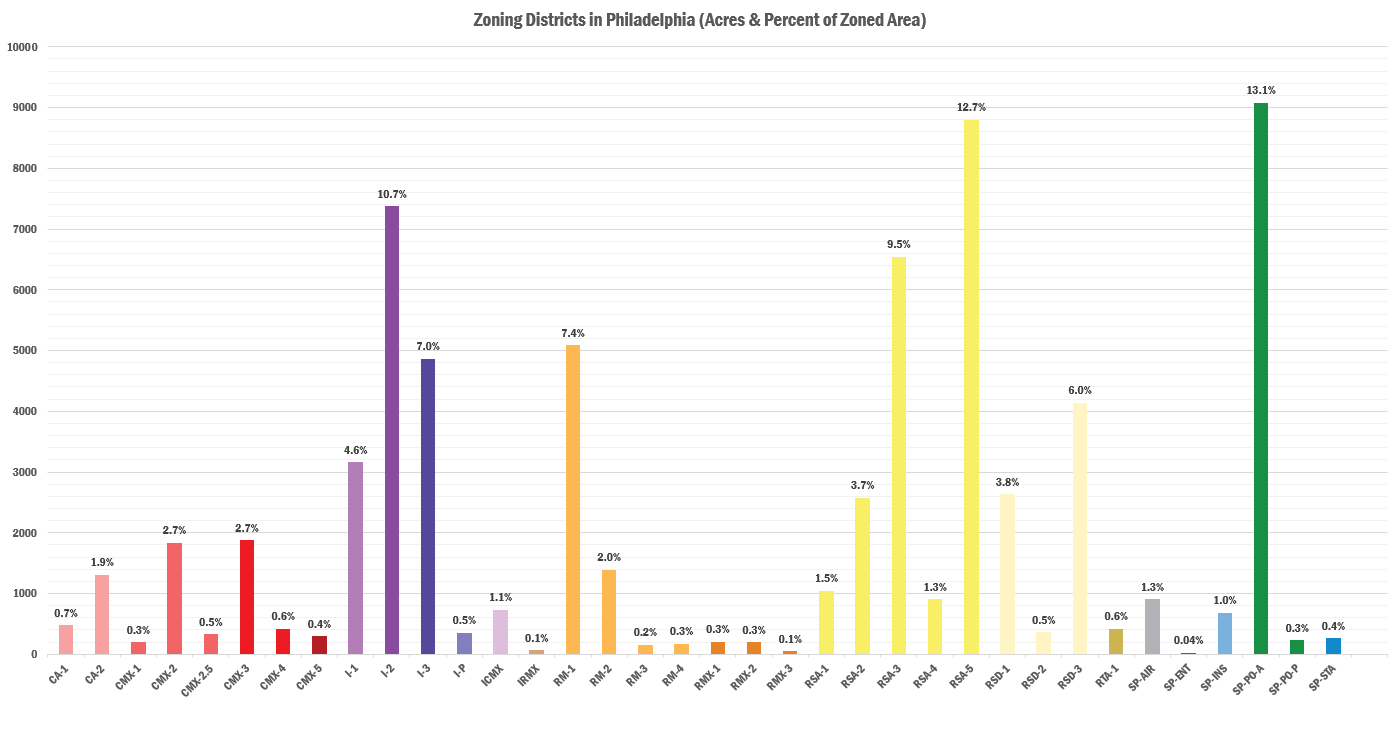 A few points of interest:
78% of Philly properties are zoned for single-use residential buildings, which covers about half the zoned land area.

Only about 2% of properties have industrial zoning, but about 24% of the city's land area is covered by industrial zoning.

About 9% of properties are zoned for mixed-use commercial, covering about 7.4% of the city's land area.

Parks and open space cover about 13.5% of Philly's zoned land area.

Why would anyone care about any of this?
Your mileage may vary on whether this precise blend of land use regulations strikes the appropriate balance for a modern economy, but the key is recognizing that there are some important economic and budgetary implications that flow from this.
What these charts show is that on all but 10% of Philadelphia's zoned land area, it's not possible for someone to construct a new mixed-use building on their own private property without a zoning exception. There are many reasons why some people don't favor mixed-use development–parking concerns, and discomfort with how it might impact the neighborhood's character are two common ones.
As Charles Marohn at Strong Towns and the folks at Smart Growth America are fond of pointing out though, mixed-use buildings deliver more tax revenue per acre than single-use and lower density development patterns, with mid-rise and high-rise buildings delivering the highest tax receipts for the land they use up.
There's more to life than bean counting of course, but at a time when many people are dissatisfied with the level of city services, and there isn't much political interest in increasing tax rates, the time seems ripe for a discussion about the relationship between zoning and the city budget, and how priorities like completing zoning remapping and converting some of the more questionably-classified industrial land into mixed-use districts could generate more tax money and jobs for the city.
WHYY is your source for fact-based, in-depth journalism and information. As a nonprofit organization, we rely on financial support from readers like you. Please give today.