What makes Washington Avenue so dangerous?
As an addendum to Jim Saksa's update on the political mess around Washington Avenue lane restriping, here's what we know about the safety situation on that bustling main drag.
There were 915 total car crashes on the street between 2010 and 2013. And if you look at Azavea's interactive map of pedestrian crash locations below, you'll see that there were 38 pedestrian crashes on Washington Avenue between 2008 and 2013, two of which were fatal.
Fourteen pedestrians were struck in the 2nd Council District, west of Broad Street, and 24 were hit in the 1st Council District, east of Broad. Both fatalities both occurred in the 1st Council District, one of which was at 8th and Washington, and the other was at 6th and Washington.
As Jim noted, QVNA transportation committee member Frank Tavani took issue with the Planning Commission's crash counts, but these crashes were all reported, so you can consider this a conservative estimate. Each of these crashes was serious enough that somebody felt the need to call the police, and file a report that got sent up to PennDOT.
So what makes Washington Ave. so treacherous?
Looking at the map, you see that the vast majority of the pedestrian crashes are happening at the intersections, not mid-block. Pedestrians have to spend a long time in the cartway when crossing the street, which increases their chances of getting hit.
At the Vision Zero symposium I attended in New York last year, several presenters made the case that pedestrian safety islands like the ones pictured below (for a street much wider than Washington Ave.) are the number one change cities can make to improve conditions for pedestrians, flagging them as more effective than curb bump-outs or some of the other tools in the traffic calming toolkit.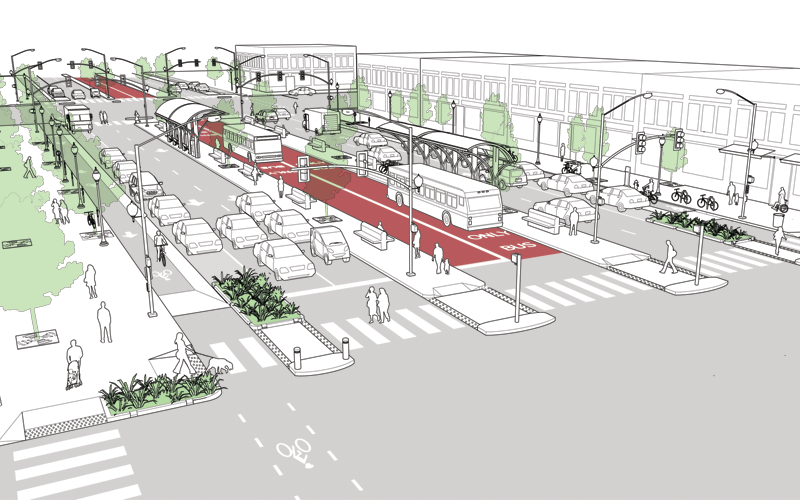 Median islands aren't currently on the table for the Washington Ave redesign, because a turning lane has been planned for that space.
As city planner Jeannette Brugger pointed out to Ashley Hahn this fall, when she asked about adding a buffered bike lane, there's only so much space on the street. Keeping the 10-foot travel lanes and introducing back-in angled parking is chewing up a lot of that space.
What about creating a buffered bike lane, like we have on Spruce and Pine streets?
"It's a matter of fitting everything in really," explained Jeannette Brugger, a transportation planner at the Philadelphia City Planning Commission who has worked on the Washington Avenue project. "There's a lot of competition for space. We had to keep the 10-foot [wide] lanes, keep back-in, angled parking, two travel lanes and left turn lane."
Bike lanes must be at least five feet wide and buffers require three additional feet of width. So adding buffers would require an additional six feet that would have to come somewhere like the median or angled parking.
The debate is also not fully settled over whether Washington Ave. should continue to have five lanes, or whether capacity should be reduced to three lanes, and that also has implications for safety. The more lanes there are, the more conflict points there are.
This image below, comparing a traditional four-way intersection to a roundabout illustrates the concept of a conflict point.
Even with just one lane in each direction, a four-way intersection has 32 potential conflict points for vehicles to collide with one another, and 24 potential conflict points for vehicles to collide with pedestrians. So reducing the number of lanes from five to three, as the Planning Commission is proposing, would reduce the number of potential conflict points exponentially and dramatically improve the odds for pedestrians.
This all sounds pretty technical, but as I hoped to get across in this explainer of the "level of service" concept, this is substantially a political discussion about which users deserve priority when the city redistributes the right-of-way on the street this spring.
The city "had to" keep the left turn lane instead of reallocating that space to a median island, because the dominant political concerns are through-put for cars and trucks and increasing parking capacity, not pedestrian safety. Everyone claims to care about all of these goals, but as in budgeting, right-of-way policies require politicians and planners to actually lay their cards on the table, and as the restriping proposal gets reworked this spring, we're going to see what the City Council members' real priorities are.
WHYY is your source for fact-based, in-depth journalism and information. As a nonprofit organization, we rely on financial support from readers like you. Please give today.