What does Trump's infrastructure executive order mean? No one really knows.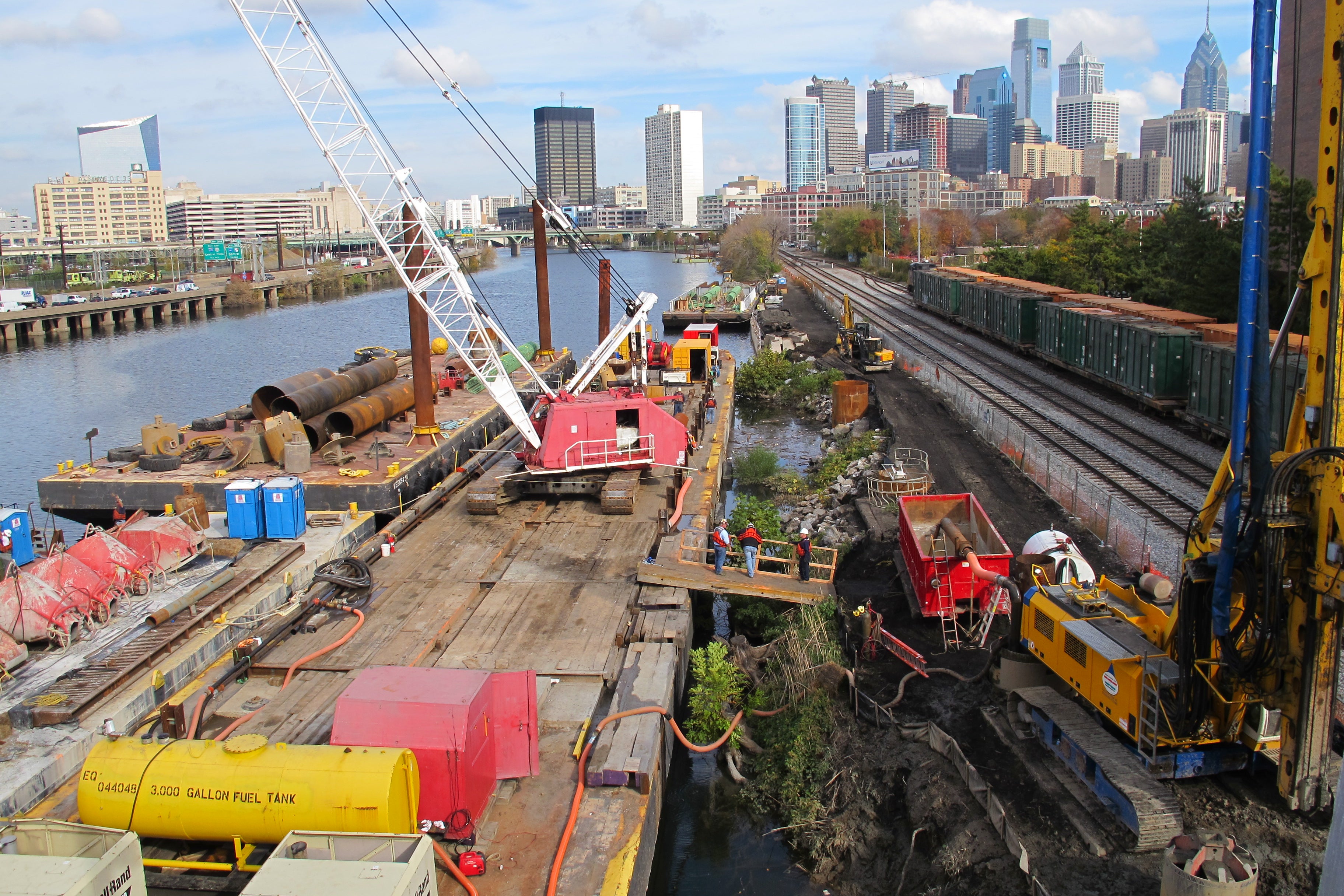 Somewhat lost among the flurry of executive orders signed by President Donald Trump last week was one "expediting environmental reviews and approvals for high priority infrastructure projects". Some infrastructure industry trade groups, like the American Association of Railroads, praised the order, saying "freight rail industry continually feels the brunt of inefficient government processes."
But most others stayed unusually quiet for organizations whose primary purpose is to lobby the federal government for more funds and fewer regulations.
PlanPhilly reached out to multiple transportation and infrastructure sector sources seeking clarification on what the expedition executive order meant, but none were willing to go on the record—not out of fear of reprisals or a desire to remain apolitical in an industry that has to work with both Republicans and Democrats, but because they couldn't make sense of the executive order and did not want to "look stupid," as one consultant put it.
At a recent board meeting of the Delaware Valley Regional Planning Commission (DVRPC), Executive Director Barry Seymour said the regional planning organization was awaiting for more guidance on how environmental reviews could be expedited and how infrastructure projects would be designated "high priority". "Exactly what this means hasn't been defined," said Seymour. "So, no one can really say what the impact will be."
The order directs the Chairman of the White House Council on Environmental Quality (CEQ) to identify "'high priority' infrastructure projects." Trump has yet to name a nominee for CEQ chair, and the CEQ website was one of the pages scrubbed by the Trump administration after taking office.
Executive orders aimed at speeding up government bureaucracy are nothing new. President Barack Obama issued an order in 2012 with a very similar purpose which created a pan-agency committee to create a "federal permitting and review performance plan" to reduce review times and select "projects of national or regional significance". Ten years before that, President George W. Bush issued his own executive order to speed up "transportation infrastructure project reviews".
"All presidents, when they first start, engage in a variety of executive actions to set parameters of their administration, try to make good on some of their policy promises, and try to do what they have in their authority to advance some of those promises," said Professor Cristina Rodriguez of Yale Law School.
Reports on a list of infrastructure projects compiled by consultants to the Trump transition team fueled speculation that they would comprise the first group of high priority projects, per the executive order. But that list substantially overlaps with a list compiled by the National Governors Association on behalf of the transition team, which itself was little more than some of the top on-going pet projects from each state's governor. The list included mass transit expansions in Boston, Chicago, New York City, and Washington D.C.; projects anathema to many Republicans. Further, most of those projects have already undergone the federal environmental reviews required by federally funded construction projects.
THERE'S A WILL, BUT WILL THERE BE A BILL?
It's equally unlikely that any of those projects might be named in a new infrastructure spending bill. First, federal infrastructure spending bills don't name specific projects. Instead, they list criteria for approval of federal funds, and then invite state and local governments to apply for those funds to pay for specific projects.
Even if the administration wanted to name specific projects in a infrastructure spending bill, such a bill will be a long time coming. House Speaker Paul Ryan has said that he won't consider a bill until after Congress repeals and replaces the Affordable Care Act (ACA) and passes a new budget. It took the House 261 days after Obama took office to pass the ACA and the Senate 338 days at a time when the Democrats controlled larger majorities in both chambers of Congress than the Republicans do today.
Even if the GOP manages to swiftly move through their legislative agenda, the party itself has sent conflicting signals on the infrastructure bill. During the campaign, Trump pledged a headline-grabbing $1 trillion infrastructure package based primarily on tax cuts for private investors, but offered few other details. Privately paid for infrastructure projects require revenue streams, meaning user fees like tolls.
There are few prospects for new toll highways that will pull in enough revenues to pay off investors. In the nation's densest regions, like the Delaware Valley, where there could be enough demand from drivers currently stuck in traffic-choked roads, there simply isn't enough open space for new highways. Building a new toll road would require eminent domain, a politically fraught and extremely expensive proposition. In America's sparsely populated areas there wouldn't be significant demand.
What about adding tolls to existing, non-tolled highways, in order to entice private dollars to cover much needed rehabilitation work? As is the case with many things favored by economists, toll roads are unpopular with the public. House Transportation and Infrastructure Committee Chair Bill Shuster (R-Pa.) shot that idea down, calling it a "non-starter" at a hearing this week.
Locally, there are no proposals in the works for new toll roads; our highway systems are already built out. And before any new highway could be built, numerous homes would need to be condemned through eminent domain, a politically fraught endeavor.
America's interstate highway system is now over 60 years old and in need of widespread repair. At the GOP retreat in Philadelphia, President Trump himself said he wants to "fix our existing product before we build anything brand new."
Industry leaders at the hearing called for more direct spending from the federal government. FedEx CEO Fred Smith called for higher gas taxes to cover the cost of increased infrastructure appropriations. Smith, along with the heads of Cargill Inc., Vermeer Corp., BMW of North American and the AFL-CIO all agreed with Massachusetts Rep. Mike Capuano that private-public partnerships would not be enough.
However, Speaker Ryan has said that he wants the infrastructure bill to pay for itself, and for every $1 in federal dollars to generate $40 in private investment.
A REGULATORY BRIDGE TOO FAR
At the DVRPC meeting, representatives from the Federal Highway Administration's (FHWA) New Jersey and Pennsylvania offices urged patience as the new administration belatedly filled top agency positions. One speculated that a FHWA regulation promulgated two days before Trump took office could provide an idea of the type of regulatory changes Trump's expediency order might lead to.
The infrastructure executive order calls on the CEQ chairman to "establish, in a manner consistent with law, expedited procedures and deadlines for completion of environmental reviews." To be meaningful, this would likely require regulatory changes made pursuant to the National Environmental Policy Act or various infrastructure spending bills, such as 2015's FAST Act.
Ironically, another of Trump's executive orders would make such changes more difficult: "Reducing Regulation and Controlling Regulatory Costs" calls for the elimination of two regulations for everyone new one promulgated.
Professor Rodriguez described that order as "nonsensical."
"The number of regulations is somewhat arbitrary," she said. "What matters is what the regulations actually accomplish."
"The fact that you would link the promulgation of one regulation to the rescission of two others that might have nothing to do with that regulation is so far from what you'd think of as good governance."
Rodriquez believes some of Trump's executive orders are nothing more than political statements, lacking sufficient details or legal authority to actually change policy. "There is definitely a performance aspect to the release of so many [executive orders,]" she said.
According to Rodriquez, the orders also sent a signal to federal agencies that there's a new boss behind the Resolute desk.
"I think in addition to playing to his supporters and people who want to see him do what he said he'd do in Washington and shake things up, he's also laying down markers to federal agencies to make clear that he expects their work to follow certain policy parameters set by the White House."
And as Matt Levine notes, passage of any new regulations, regardless of the two-for-one order, will be unlikely thanks to the hiring freeze Trump put into place. Regulations can take years to be drafted, put through a lengthy public comment period and finally published in the federal register even when agencies are fully staffed. Demoralized and understaffed agencies will be even less likely to promulgate new rules.
In the interim, transportation agencies in the region have adopted a wait-and-see approach to the new administration in Washington. SEPTA is preparing a list of shovel-ready projects just in case a new infrastructure spending bill does pass. But, privately, officials there and at other area authorities say they do not expect any significant changes any time soon.
WHYY is your source for fact-based, in-depth journalism and information. As a nonprofit organization, we rely on financial support from readers like you. Please give today.