Whale circles boat, rams another in two separate incidents [video]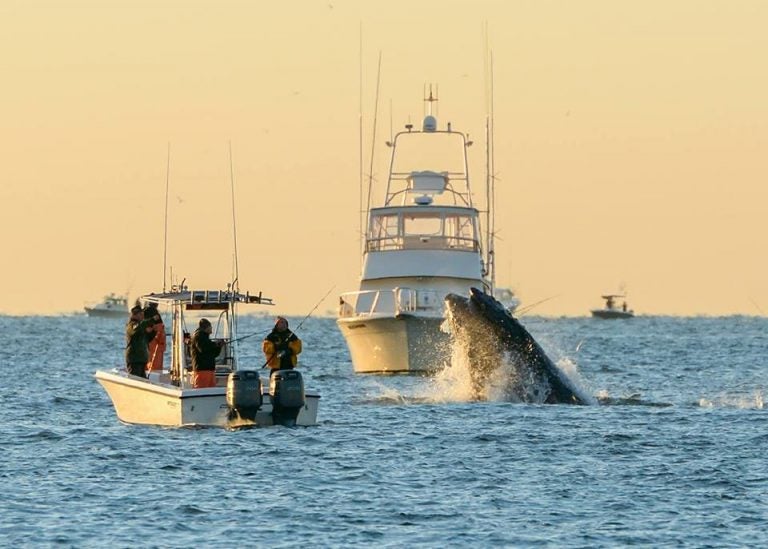 It was an active Sunday for whale encounters at the Jersey Shore.
In Monmouth County, Nick Petrucha of Belmar was fishing off Asbury Park when a whale rammed his boat, he told News 12.
Humpback whales were feeding on bunker in the Asbury Park area all weekend, photographer Robert Siliato reported on our Facebook page both days. He snapped the above image and others below.
Petrucha tells the TV station that he had his back turned to a nearby whale when about 30 minutes later his boat "got a big bump." That's when he looked and saw the whale swimming by the vessel. A video posted by News 12 shows damage to the side of his boat.
Further south off Cape May, a "very friendly" 50-foot humpback whale interacted with a Cape May Whale Watch and Research Center crew.
"The whale treated us to numerous close approaches, circling our vessel!" a spokesperson wrote on Facebook. "Our engines were in neutral for over twenty minutes while our whale treated us to a once in a lifetime display!"
The spokesperson added that the captain and crew followed all whale watching regulations and guidelines as set by Whale SENSE and NOAA Fisheries.
As the migration coincides with the annual fall striped bass run, resulting in a heavy presence of recreational fishing vessels, NOAA warns boaters to keep distance.
"North Atlantic right whales are now migrating south along the U.S. East Coast to calving grounds in the warm coastal waters of South Carolina, Georgia, and Florida. All vessel operators should stay alert and keep their distance if a whale is sighted nearby," a NOAA release advises.
The global standard for whale watching is keeping a distance of 100 feet.
Cover image: A whale breaching off Monmouth County last Saturday by Tim Torchia (click for his Instagram page).