Weekly Entertainment Guide – Winter's Glow
Looking for something to do this holiday season? Robin Bloom shares her picks.
Holiday Happenings
Pennsylvania Ballet presents George Balanchine's "The Nutcracker"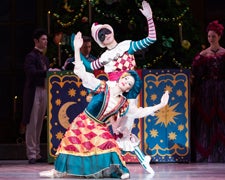 The Pennsylvania Ballet performs the annual holiday spectacular, George Balanchine's The Nutcracker, December 9-31, featuring the Philadelphia Boys Choir and the Pennsylvania Ballet Orchestra at the Academy of Music, Broad Street, Philadelphia. New this year is a specially adjusted sensory-friendly performance, December 22, to provide a relaxed atmosphere for children and families with a wide range of sensory, learning, and communication differences including autism spectrum. Additional programming includes Nutcracker Magic Children's Party, Saturday, December 10, noon, and Tea with the Sugarplum Fairy, Sunday, December 11, 2:30 p.m. and Saturday, December 17, 2:30 p.m. Photo by Alexander Iziliaev.
Nutcracker, the Annual Holiday Tradition – Regional Performances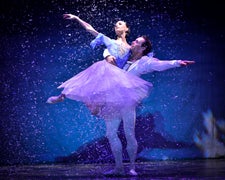 The Brandywine Ballet Company's 37th annual production of "The Nutcracker" returns with performances December 9-18 at the Emilie K. Asplundh Concert Hall, 700 S. High Street, West Chester, Pennsylvania. The Company offers the popular "Nutcracker Tea," with the opportunity to join Clara, the Sugar Plum Fairy and other characters for a special brunch on December 10, 11, and 17. The Atlantic City Ballet performs "The Nutcracker" Friday, December 16 and Saturday, December 17, Caesars, Atlantic City, New Jersey. Moscow Ballet's "The Great Russian Nutcracker" returns to the State Theatre Saturday, December 10, 3pm and 7pm, 453 Northampton Street, Easton, Pennsylvania. ContempraDance Theatre's hip hop dance parody "Philly Nutt Crak-Up" is back with superheroes, kung fu fighting, The Rappin' SugarPlum Fairy, Penn's Angels, and the South Street Rocky-Ettes at the Kingdom of Prussia, December 10-18 at the Painted Bride Art Center, 230 Vine Street, Philadelphia. Meet the "nutty" cast after the Sunday performance. The Schuylkill Valley Regional Dance Company's performances of "The Nutcracker" take place December 10, 2 p.m. and 6 p.m., Phoenixville Area Middle School, Phoenixville, Pennsylvania. First State Ballet Theatre's production of "The Nutcracker" (pictured – photo by Tisa Della-Volpe) returns Saturday, December 17, 2 p.m. and 7 p.m. and Sunday, December 18, 2 p.m. at the Grand, 818 N. Market Street, Wilmington, Delaware. American Repertory Ballet's "Nutcracker" comes to the State Theatre in New Jersey, December 16-18.
Parade of Lights at the Philly Seaport
Independence Seaport Museum's annual Parade of Lights is Saturday, December 10. The festivities begin inside the museum at 11 a.m. with live music, refreshments, visits with Santa, crafts, and more. At 5:30 p.m., the parade of festively decorated working vessels and pleasure boats begins its march down the Delaware River. Great views from the 2nd floor balcony overlooking the Delaware River inside the Museum, 211 South Christopher Columbus Boulevard, Philadelphia.
"Winterfest" at Schuylkill Center for Environmental Education
The Schuylkill Center for Environmental Education's Winterfest is Saturday, December 10, 4 p.m.-5:30 p.m. Make your own lantern or bring one and take a walk through the night forest and find your way to a bonfire for s'mores, hot cocoa, and stories of winter celebrations, 8480 Hagy's Mill Road, Philadelphia.
Holiday Craft Shows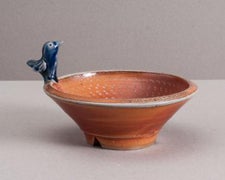 The Clay Studio's "A Hand Crafted Holiday" features unique, hand-made traditional and contemporary pottery on Saturday, December 10, 11 a.m.-6 p.m., with tastings, hands-on activities, talks, and demonstrations, 137-139 North Second Street, Old City, Philadelphia. Free and open to the public. Pictured: Dish by Ron Philbeck. Craft Forms 2016 opens at the Wayne Arts Center this Saturday and Sunday, December 10-11, featuring works of fine contemporary craft made from ceramic, metal, glass, fiber, and mixed medium, 413 Maplewood Avenue, Wayne, Pennsylvania. The University City Arts League (UCAL) Annual Holiday Craft Show and Sale is underway through December 18 with handmade, one-of-a-kind creations in pottery, hand-blown glass, jewelry, wearable art, and much more, by 30 local artists, 4226 Spruce Street, Philadelphia. Art Within Reach Holiday Sale takes place December 9-10, the annual show featuring an array of handmade items by 30 artists along with live music, The Factory, 13 Fern Avenue, Collingswood, New Jersey.
Cairnwood by Candlelight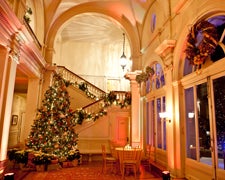 Cairnwood Estate hosts Cairnwood by Candlelight, an evening of candlelight and music at the 120 year old Beaux Arts-style mansion, Thursday, December 8, 7 p.m., with self-guided tours of all three floors of the mansion, the servant's quarters, and the tower, live music, a display of Victorian gowns, Yuletide desserts, and holiday décor including the two-story Christmas tree adorned with more than 3000 lights. See the Christmas exhibit "Variations in Vintage Velvet: Pile, Pattern, and Plush," including elegant fashions circa 1880s -1960s worn by the ladies of the house, 1005 Cathedral Road, Bryn Athyn, Pennsylvania.
Glencairn's Celebration of Christmas
Glencairn Museum hosts special exhibitions including Christmas in Pennsylvania, a "Christmas in the Castle" tour, 45 minute guided tours exploring how Christmas was celebrated in the Romanesque-style castle when it was the private home of the Pitcairn family, a concert, December 13, and the opportunity to see the World Nativities exhibit, at 1001 Cathedral Road, Bryn Athyn, PA. Pictured: A Nativity made in a French monastery by members of the Sisters of Bethlehem, loaned by Mepkin Abbey in South Carolina, 2013.
Sounds of the Season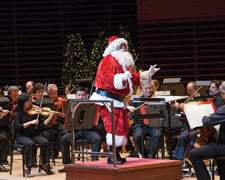 The Philadelphia Orchestra celebrates the holiday season with the annual Christmas Kids' Spectacular, Saturday, December 10, 11:30 a.m., conducted by Cristian Macelaru. The annual Glorious Sound of Christmas, named for the Fabulous Philadelphians' best-selling album, takes place December 15-17, featuring the Mendelssohn Club, under the artistic direction of Paul Rardin, with soprano Alison Buchanan and Thomas Wilkins conducting. Program includes favorite traditional carols to works by Mendelssohn, Prokofiev, and Bizet. Handel's Messiah will be performed Sunday, December 18, 2 p.m., Verizon Hall, Kimmel Center, Philadelphia. Photo courtesy of the Philadelphia Orchestra. Mendelssohn Club's Feast of Carols is back, Saturday, December 10, 5 p.m., under the direction of Artistic Director Paul Rardin. Expect the traditional elements of the annual event, including the sing-alongs and favorite carols as the 140 voice group is joined by pianist Matthew Brower, along with the Mendelssohn Brass and Michael Stairs on organ, St. Paul's Episcopal Church of Chestnut Hill, 22 E. Chestnut Hill Avenue, Philadelphia. Tempesta di Mare's Chamber Players perform Winter: A Cozy Noel, depictions from 17th-century London (Christopher Simpson) and 18th-century Versailles (Giovanni Antonio Guido) and Venice (Antonio Vivaldi), along with Johann Gottlieb Janitsch's quartet "con Stilo di Recitativo" (a reprise performance of Tempesta's modern premiere of this piece in 2008), Arcangelo Corelli's Christmas Concerto, and festive Noels by Michel Corrette, Friday, December 9, 8 p.m., Presbyterian Church of Chestnut Hill, 8855 Germantown Avenue, and Saturday, December 10, 8 p.m., Arch Street Meeting House, 320 Arch Street, Philadelphia. Philadelphia Voices of Pride, Philly's only LGBTQ and Ally choir, hosts "Winter's Glow," holiday favorites with special guest John Jarboe of the Bearded Ladies and Men on Tap, an LGBT group dedicated to keeping the art of tap dance alive in Philadelphia, Saturday, December 10, 8 p.m., Philadelphia Episcopal Cathedral, 19 South 38th Street, Philadelphia.
Parsons Dance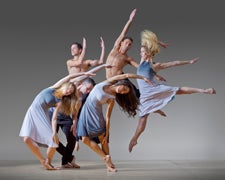 Internationally-acclaimed Parsons Dance returns to Philadelphia with a world premiere that mixes dancers with programmed flying drones, December 7-11. "The Machines" explores the evolution of man and machine, set to music by John Mackey and created in collaboration with engineers from Drexel University. Also on the program are two Philadelphia premieres and three of Parsons' signature works including "Caught," part of the NextMove at Prince Theater series, 1412 Chestnut Street, Philadelphia. Special events include a Student Discovery Series and Master Class on Friday, December 9. Post-performance chats take place after select performances and a short chat with Parsons precedes each performance. Photo by Lois Greenfield.
Philadelphia Artists' Collective's "All's Well That Ends Well"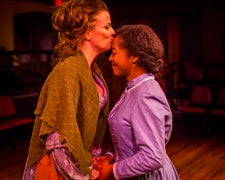 Philadelphia Artists' Collective, known for focusing on rare classical theater, takes on works from the 1600s in its current season. All's Well That Ends Well, William Shakespeare's rarely produced late play, is onstage at Broad Street Ministries through December 17, 315 S. Broad Street, Philadelphia. Dan Hodge directs the revenge tragedy with a cast that includes Damon Bonetti as Parolles, the foolish rogue, plus Monroe Barrick, Akeem Davis, Joel Guerrero, Donovan Lockett, John Lopes, Brian McCann, Laural Merlington, Kirsten Quinn, and Melanie Stefan-Watts. Photo courtesy of PAC.
Take advantage of free meter parking in Philadelphia after 11am on Saturdays through New Year's.
Each week, the Entertainment Guide spotlights interesting local arts offerings happening now, including music, dance, theater, museums, special exhibitions and other arts events from across the region.
To submit an event to be considered, email Robin Bloom at artscalendar@whyy.org.