Bring out your dead! (and 11 other post-holiday activities)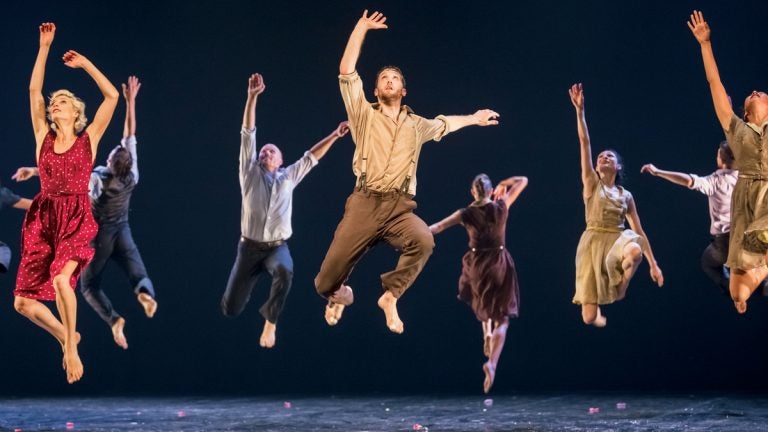 Looking for something to do this winter season? WHYY's Robin Bloom has some recommendations on what to see onstage in the Philadelphia region. Here are her picks:
After 11 years in London, "We Will Rock You" embarks on its first North American tour and will be in Philadelphia January 14-19. Written by British comedian Ben Elton, the show features the greatest hits of the legendary British rock group Queen with a score of classic songs like "Another One Bites the Dust," "Crazy Little Thing Called Love," "Bohemian Rhapsody," "We are the Champions," and of course, "We Will Rock You," Academy of Music, Broad Street, Philadelphia. Part of the Kimmel Center's Broadway Philadelphia series.
The world-renowned contemporary Canadian dance troupe Les Ballets Jazz de Montréal comes to Philadelphia with three premieres, Thursday, January 16, 7:30pm, Friday, January 17, 8pm, and Saturday, January 18, 2pm and 8pm. Known for fusing classical ballet with numerous other styles, the company performs Closer (2006), an intimate duet created by Benjamin Millepied (choreographer of Black Swan) and set to "Mad Rush" by Philip Glass; Fuel (2011), by choreographer Cayetano Soto; and Harry (2012), a 45 minute full ensemble work by Israeli-American choreographer Barak Marshall. Under the artistic direction of Louis Robitaille and presented by Dance Affiliates at Annenberg Center, 3680 Walnut Street, Philadelphia. Two master classes on Friday, January 17, 1pm and 2:30pm.
Other Desert Cities at Walnut Street Theatre
The Broadway hit "Other Desert Cities" makes its Philadelphia premiere at Walnut Street Theatre, beginning in previews January 14 through March 2. The funny and gripping drama was written by Jon Robin Baitz (creator of TV's Brothers & Sisters), and is about a once promising novelist who returns home after six years to celebrate Christmas in Palm Springs with her parents, former leading Republicans, and her eccentric liberal aunt. Directed by Kate Galvin and starring Krista Apple, Ann Crumb, Matteo Scammell, Susan Wilder, and Greg Wood, 825 Walnut Street, Philadelphia. Also onstage at Walnut's Independence Studio on 3 (before heading off on a national tour) is "Driving Miss Daisy," January 14 through February 2.
Express Tracks at South Camden Theatre
"Express Tracks" opens at South Camden Theatre Company. The world premiere, written by Joseph M. Paprzycki and directed by Lee Kiszonas, is set on a commuter train traveling from Camden to Trenton as the heat and tension rise when the train stalls and the secrets and fears of the passengers are exposed. Starring Daniel Tobin, Damien Wallace, Michelle Pauls and Eric Carter and Darryl A. Bell, Jr., January 10-26 at the Waterfront South Theatre, 400 Jasper Street in Camden, NJ. $5 tickets for Camden residents with proof of residency.
Mauckingbird Theatre Company's "Beautiful Thing"
Mauckingbird Theatre Company, known for producing gay-themed works, presents "Beautiful Thing" by English playwright Jonathan Harvey, January 15 through February 2. The down-to-earth look at first love is centered on high school neighbors from a rough working class neighborhood in Southeast London who are surrounded by violence, poverty and drugs. Peter Reynolds, who directs the play, says it is "a sweet love story between two young, gay men" who, in such a volatile situation learn that you have to be who you are and accept it. Starring Griffin Back, Kevin Murray, Kevin Chick, Melanie Julian, and Sofie Yavorksy at the Skybox at the Adrienne, 2030 Sansom Street, Philadelphia.
Sideway Stories from Wayside School
Follow the crazy characters of Wayside School on a bizarre and exciting classroom journey with Arden Theatre Company's "Sideway Stories from Wayside School," onstage through February 15. Based on the books by Louis Sachar, the adaptation by John Olive is directed by Whit MacLaughlin. Cast includes Rachel Camp, Taysha Canales, Robert Hager, Dave Johnson, Alex Keiper, Emilie Krause, Anthony Martinez-Briggs, and Steve Pacek. Post-show Q&A with cast follows every performance, along with the chance to meet the actors in the lobby and to grab a commemorative poster. Shadow-signed performances, where interpreters are part of the action (Hands UP Productions) on Friday, January 17, 10am and Saturday, January 18, 4pm, 40 N. 2nd Street, Old City, Philadelphia. Weekend and weekday matinee performances offered. Recommended for ages 5 and up.
Plays & Players takes on the hot button football concussion controversy with the world premiere of the new play "Disappearing Quarterback," Mike Boryla's one-man show about his life. The starting quarterback for the Philadelphia Eagles from 1974-1976, Boryla returns to the city for the first time in over 35 years to tell the story of walking away from the sport and the teammates he loved. A play for football fanatics and novices alike, with anecdotes of notable sports figures in Skinner Studio, 1714 Delancey Place, Philadelphia. Plays & Players will host a series of community talkbacks after select performances with guest experts in football, medicine, and sociology.
Susan Rethorst: Moving in Philadelphia, the yearlong residency of the New York choreographer, culminates in "THEN," a dance performance produced and performed by Group Motion, under the direction of Manfred Fischbeck. The world premiere reflects on the unique movement potential of the individual and embraces life's daily routines, January 16-19 at the Arts Bank, South Broad Street, Philadelphia. Presented by Philadelphia Dance Projects.
The Broadway musical "Monty Python's Spamalot" premieres in South Jersey at the Grand Theatre. Directed by Lauri Hudson, the show retells the tale of King Arthur and his knights' quest for the Holy Grail, January 16 through February 1 at 405 S. Main Street, Williamstown, NJ. The comedy (written by Eric Idle) is based on the 1975 film Monty Python and the Holy Grail and is a mockery of the Arthurian legend along with parodies of Broadway theater.
"Something Intangible" at Old Academy Players
Old Academy Players takes a look at what makes genius with "Something Intangible," by award-winning Philadelphia playwright Bruce Graham, a thinly disguised version of the creative battles between brothers Walt and Roy Disney. Directed by Nancy Frick and featuring Michael Boorse, Eric Rupp, Bonnie Kapenstein, Ben Kendall, Court Van Rooten, and Josh Rothstein, January 10-26 at 3544 Indian Queen Lane, East Falls. Free on-site parking available.
Players Club of Swarthmore presents "Arms & the Man," January 10-25. One of the first commercial successes of playwright George Bernard Shaw, the classic, witty comedy is set during the Serbo-Bulgarian war of the late 1800s, showing the futility of war through the story of Major Petkoff's household. Directed by Paul Kerrigan and starring Hannah Sisk, Gil Johnson, Josiah Donnell, Laura Christman, R. Bruce Stewart, Tatyana Duke, John Harvey, and Thomas Wilcox, 614 Fairview Road, Swarthmore, PA. Meet the Artists following the Sunday, January 19 performance.
Beacon Theatre Productions' "The Fire Within"
Beacons Theatre Productions presents "The Fire Within: Historical Civil War Drama From a New Perspective" two one-act plays that focus on the humanity and personal insights of three great historical figures, Abraham Lincoln, Mary Todd Lincoln, and Frederick Douglass. "Mary Todd Lincoln: The Woman You Thought You Knew" and "Mr. President, I'm Frederick Douglass" can be seen Saturday, January 11, 8pm and Sunday, January 12, 2pm, accompanied by live music from the era at Olivet-Covenant Church, 22nd and Mt. Vernon Streets, Philadelphia. Each performance followed by a talk back.
To submit an event to be considered for the Weekly Entertainment Guide email Robin Bloom at artscalendar@whyy.org.
Like us on Facebook to add the Weekly Entertainment Guide to your News Feed.
WHYY is your source for fact-based, in-depth journalism and information. As a nonprofit organization, we rely on financial support from readers like you. Please give today.