Weekly Entertainment Guide – Unbounded Histories
Robin Bloom shares her recommendations for what to do this week in the Philadelphia region!
What's Happening
"Unbounded Histories" at the Barnes Foundation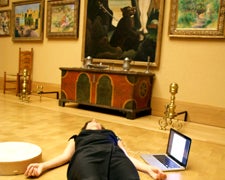 Consider the works in the Barnes Foundation in a new way with Unbounded Histories, a new site-specific project by Philadelphia artist Andrea Hornick, January 6 through February 19. The first "sound intervention" in the Collection Gallery allows visitors to listen to several dozen original poems written in response to specific works, including Seurat's Models and Van Gogh's The Postman, while exploring the Barnes collection. Hornick will give a brief performance at the Barnes' First Friday! Tango, January 6, 6 p.m. – 9 p.m., 2025 Benjamin Franklin Parkway, Philadelphia. Photo courtesy of Andrea Hornick and the Barnes Foundation.
"World War I and American Art" at PAFA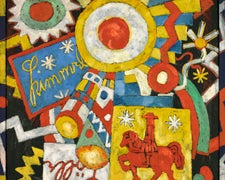 The first major exhibition to explore the First World War through the eyes of American artists is on display at the Pennsylvania Academy of the Fine Arts. World War I and American Art, one of the most ambitious projects that PAFA has ever organized, explores how the conflict changed the country through its lasting impact on arts and culture. Approximately 160 works by 80 artists are featured in a broad range of stylistic approaches, viewpoints, and experiences through paintings, drawings, sculpture, prints, photographs, posters, and ephemera. Artists include Charles Burchfield, Violet Oakley, Georgia O'Keeffe, Horace Pippin, Man Ray, Norman Rockwell, John Sloan, and many contemporary artists. The show includes high profile loans such as John Singer Sargent's monumental painting Gassed, from the Imperial War Museums in London. Accompanied by a fully illustrated scholarly catalog through April 9, Samuel M.V. Hamilton Building, 128 N. Broad Street, Philadelphia. Admission is free every Sunday. The ground-breaking exhibition travels next to the New York Historical Society. Pictured: Marsden Hartley (1877–1943) Himmel, c. 1914–15 Oil on canvas with painted wood frame, 47 ¼ x 47 3/8 in. The Nelson-Atkins Museum of Art, Kansas City, Missouri, Gift of the Friends of Art, 56-118.
"Last of the Red Hot Lovers" at Walnut Street Theatre
Start the New Year with Neil Simon's comedy Last of the Red Hot Lovers, onstage at Walnut Street Theatre's Independence Studio on 3. The all-new production about a man looking for something new and different who ends up finding himself in the same situation again and again features Walnut veterans Fran Prisco and Karen Peakes and is directed by Adam Immerwahr, making his Walnut debut. The show begins in previews January 10 through February 5 and then goes on a national tour, 825 Walnut Street, Philadelphia. Photo by Mark Garvin.
PPAC's annual Contemporary Photography Competition and Exhibition
Philadelphia Photo Arts Center's annual Contemporary Photography Competition and Exhibition gives both emerging and established artists the opportunity to share their unique visions with a wider audience. Out of 180 submissions, two artists were selected to showcase their photographic narratives through solo exhibitions that explore race and immigration and perspectives on how others define us and how we define ourselves. Hannah Price, Philadelphia based photographer and filmmaker documents relationships, race politics, and perception, and Croatian photographer Hrvoje Slovenc's photo series "Croatian Rhapsody: Borderlands" is a tribute to his homeland, on display through February 25, 1400 N. American Street, Philadelphia. Pictured: Hannah Price, Untitled. Photo courtesy of PPAC.
Philadelphia Chamber Music Society Concerts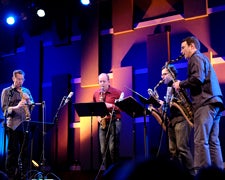 The Philadelphia Chamber Music Society starts the New Year with concerts: Network for New Music and the PRISM Saxophone Quartet (pictured) in an "All-Capanna Program," Friday, January 6, 7:30pm, Settlement Music School; Johannes Quartet, Kim Kashkashian, viola, and Marcy Rosen, cello, Sunday, January 8, 3pm, Perelman Theater; London Haydn Quartet and Eric Hoeprich, clarinet, Tuesday, January 10, 8pm, Perelman Theater; Escher Quartet and Samuel Rhodes, viola, Sunday, January 15, 3pm, Philosophical Society; Ben Wager, bass and Jeffrey Miller, piano, Wednesday, January 18, 8pm, Philosophical Society; Jeremy Denk, piano, Friday, January 20, 8pm, Perelman Theater; Lysander Trio and Charles Neidich, clarinet, Sunday, January 22, 3pm, Philosophical Society. Photo by Jon Rohrer.
"Sleeping Beauty: A Musical Panto" at People's Light
People's Light puts a rock and roll spin on a classic story with the world premiere of Sleeping Beauty: A Musical Panto, onstage through January 15. Anything is possible with the remix of the beloved fairy tale, written by Panto veterans Peter Pryor and Samantha Reading with music and lyrics by Alex Bechtel. Cast includes Ariana Sepúlveda, Emily Kaye Lynn, Brendan Norton, Josh Totora, and Mark Lazar (pictured). The celebration of the magic of music and finding your voice is for all ages, 39 Conestoga Road, Malvern, Pennsylvania. Catch a "relaxed performance" on January 15, 2 p.m. Related programs and events include AfterWORDS, a facilitated post-performance conversation with the cast after every Thursday evening performance. Photo by Mark Garvin.
"I Will Not Go Gently" at Act II Playhouse
Jennifer Childs is back in her Barrymore Award-winning show I Will Not Go Gently, the musical comedy about a fictional 1980s rock icon – Sierra Mist – who went from the top of the charts to the "where are they now" category, January 10-29 at Act II Playhouse. Written and performed by Childs, who partnered with Barrymore Award-winning sound designer and composer Christopher Colucci to create a soundtrack for the show. Directed by Harriet Power at 56 E. Butler Avenue, Ambler, Pennsylvania. Photo by Mark Garvin.
"Epic Tales from India" at the Princeton University Art Museum
One of the most important collections of South Asian art outside of India is on display at Princeton University Art Museum. Epic Tales from India: Paintings from the San Diego Museum of Art features 91 paintings representing the major schools of South Asian painting from the 16th through the 19th century, organized by the stories they illustrate to restore their original context and meaning. Works are arranged by book or literary category and are from four traditions of South Asian literature: the Bhagavata Purana, the Ramayana, several Ragamala series, and paintings of Persian literature including the 55,000-verse Shahnama, through February 5, Princeton, New Jersey. A 150 page illustrated publication accompanies the exhibition. Pictured: Kulu or Bahu, India, The demon Dhumraksha leads his army, ca. 1700-10. Opaque watercolor on paper. Edwin Binney 3rd Collection. Photo courtesy of Princeton University Art Museum.
"Truth & Vision: 21st Century Realism" at Delaware Art Museum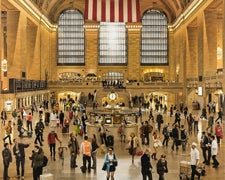 Delaware Art Museum surveys the state of representational painting at the beginning of the 21st century with Truth & Vision: 21st Century Realism, through January 22. The exhibit traces the contemporary development in a mode of painting historically associated with greater Brandywine Valley artists and celebrates realism's profound and varied development in this century with approximately 40 works by 20 contemporary realist artists from throughout the United States and Canada. The show was inspired by Robert C. Jackson's 2014 publication Behind the Easel: The Unique Voices of 20 Contemporary Representational Painters. Featured artists include Jackson as well as Steven Assael, Bo Bartlett, F. Scott Hess, Debra Bermingham, Stone Roberts, Sandra Mendelsohn Rubin, and more. Take a "Slow Art Tour" or enjoy an artist gallery chat, demo or workshop, 2301 Kentmere Parkway, Wilmington, Delaware. Pictured: Grand Central by Stone Roberts.
"Chihuly's Venetians" at Reading Public Museum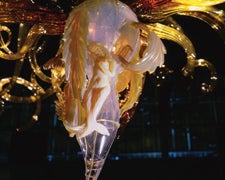 On display at Reading Public Museum is Chihuly's Venetians: The George R. Stroemple Collection, through Sunday, January 8. The exhibition features a private collection of works owned by a single collector and includes the master glassmaker's Laguna Murano Chandelier (pictured), more than a dozen drawings, and 60 radiant examples from his acclaimed Venetian series, inspired by the artist's trip to Venice in 1988. Chihuly visited a gallery that housed a private collection of Venetian glass that represented the pinnacle of Venetian Art Deco (1920s and 1930s). When he returned to the United States, he decided to create his own versions of the classic pieces with his unique twist, 500 Museum Road, Reading, Pennsylvania. Pictured: Dale Chihuly (American, b. 1941), Laguna Murano Chandelier, 1996, glass, Courtesy of the George R. Stroemple Collection, Stroemple/Stirek Collaboration.
Each week, the Entertainment Guide spotlights interesting local arts offerings happening now, including music, dance, theater, museums, special exhibitions and other arts events from across the region.
To submit an event to be considered, email Robin Bloom at artscalendar@whyy.org.
WHYY is your source for fact-based, in-depth journalism and information. As a nonprofit organization, we rely on financial support from readers like you. Please give today.