Weekly Entertainment Guide – 'The Fairy Queen,' Jazz Fest, and Spring Blooms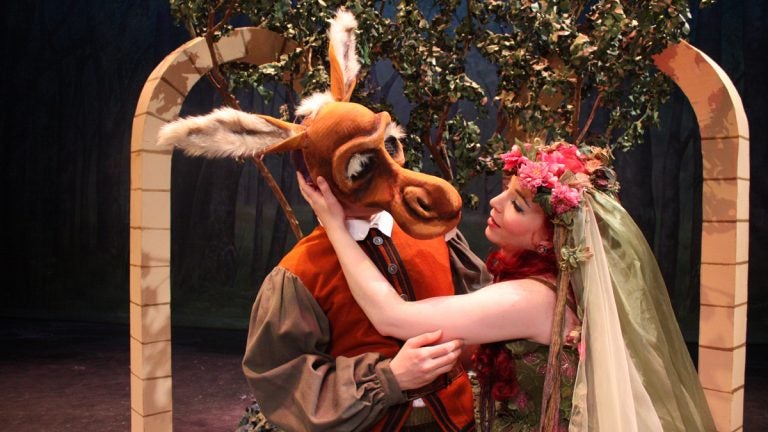 Looking for something to do this week? WHYY's Robin Bloom offers her suggestions.
Pop-Up Farm Festival at the Oval
The Oval, Philadelphia's newest park on the Parkway, presents a Pop-Up Farm Festival kicking off Thursday, April 17 with free activities including farm-inspired games, beer gardens, food trucks, live bluegrass and folk music, a petting zoo, and much more in the public space in front of the Philadelphia Museum of Art on the Ben Franklin Parkway (converted to a park during the warm weather months). Hours are Thursday, April 17th 11am-9pm, Friday, April 18, 11am-10pm, and Saturday, April 19, 11am-7pm.
World Premiere of Walter Mosley's "Lift"
Two young strangers trapped in an elevator during a suspenseful encounter reveal their darkest secrets. Catch the world premiere of "Lift," the gripping new thriller by best-selling novelist Walter Mosley, onstage at Crossroads Theatre through April 25. Directed by Marshall Jones, III and starring Biko Eisen-Martin, MaameYaa Boafo, Shavonna Banks, and Martin Kushner, 7 Livingston Avenue, New Brunswick, NJ.
Friday, April 18
"Dr. Seuss's The Cat in the Hat" at Arden Theatre Company
Dr. Seuss's classic story of rainy-day mayhem comes to life in the Arden Theatre Company's exuberant, acrobatic production of "Cat in the Hat." Originally produced by the National Theatre of Great Britain, the play for audiences young and old, is co-directed by Steve Pacek and Doug Hara, who plays the title role, and stars local actors Charlotte Ford and Dave Johnson as Thing One and Thing Two. Performances run through June 22 on the Arcadia Stage, 40 N. 2nd Street, Old City. Children's Season special programming includes post-show discussions with the cast after every performance, a commemorative show poster, weekday 10am performances, shadow-signed performances, Arden Drama School for students Grades K-5. Download the "Flat Cat" (pictured) and take it with you, take a photo, upload it and get a special prize!
"American and European Masters – Art of the 19th – 21st Centuries"
Opening this weekend at Somerville Manning Gallery is "American and European Masters – Art of the 19th – 21st Centuries," a show of original paintings exploring over 100 years of masters in the American and European art world. Specializing in paintings by the Wyeth family (N.C., Andrew, and Jamie) and the artists of their eras – including European masters like Pablo Picasso and Pierre-Auguste Renoir – the gallery highlights a major work by English artist David Hockney, American Pop artist Tom Wesselmann (pictured), Alexander Calder, Wolf Kahn and many more on display through May 31, Breck's Mill, 101 Stone Block Row, Greenville, DE. Opening reception Friday, April 18, 5:30pm-7:30pm.
Saturday, April 19
Celebrate Jazz Appreciation Month at the 3rd annual Center City Jazz Festival, Saturday, April 19, 1pm-7pm, showcasing Philly's jazz scene with a "festival crawl" offering 16 bands at 4 venues all within walking distance. Artists include Tim Warfield, Jr., Steve Coleman (pictured), Branford Marsalis' drummer Justin Faulkner and his band, avant-garde guitarist Mary Halvorson and many more at Chris' Jazz Café, 1421 Sansom Street, Fergie's Pub, 1214 Sansom Street, Milkboy Philadelphia, 1100 Chestnut Street, and TIME, 1314 Sansom Street. All access ticket $15 in advance and $20 same day.
Tycho performs in Philly this Saturday, April 19, 9pm. Described by the ambient music group's producer Scott Hansen as an audio-visual project, he and his 3 piece band arrive at Union Transfer following sold out concerts in New York and Massachusetts, 1026 Spring Garden Street.
Sunday, April 20
Spring Blooms at Longwood Gardens
Take in this year's "Spring Blooms" at Longwood Gardens as indoor and some outdoor gardens burst with seasonal color. Walk the grounds to see blossoming daffodils, tulips, magnolias, azaleas, and cherry trees or visit the conservatory to enjoy delicate lilies, delphiniums, and hydrangeas. A special exhibition displaying photographs of spring flowers taken by members of the Delaware Photographic Society is on view in the lower conservatory gallery. Easter Weekend visitors can reserve seats at the elegant "Easter Buffet" in Longwood's ballroom which features a family-friendly array of dining options. Peak blooms on view through May 23 at 1001 Longwood Road, Kennett Square, PA.
Easter Promenade on South Street
The 83rd Annual Easter Promenade is Sunday, April 20, 12:30pm-2pm, rain or shine, with a parade, costume contest, food, live music by the Philadelphia Freedom Band, dancing and more, including a visit by the Easter Bunny, South Street Headhouse District (Passyunk and South Street), Philadelphia.
Monday, April 21
The leading jazz and experimental music presenting organization Ars Nova Workshop showcases award-winning, innovative composers, conceptualists, and pioneers in the "New Paths Festival." The concert series take place in a variety of historic, iconic and unique Philly spaces and kicks off Monday, April 21, 8pm, at the Barnes Foundation. Ken Vandermark premieres a piece inspired by the Barnes collection with his latest and most radical ensemble, Made to Break. A pre-concert discussion takes place at 7pm, 2025 Benjamin Franklin Parkway, Philadelphia. On Saturday, April 26, catch Free jazz legend Milford Graves (pictured) at Bartram's Garden. Performances continue through May 30 with John Zorn on the large pipe organ at Girard College Chapel, Mats Gustaffson and his all-Swedish ensemble at the American Swedish Historical Museum, William Parker with Odean Pope, Marshall Allen, Dave Burrell, Bobby Zankel and much more. Also, "Dizzy Hours" with ANW's Mark Christman, Monday, April 28, 5pm at the Gershman Y.
Tuesday, April 22
Wilmington Earth Day Celebration
Wilmington, DE hosts the annual Earth Day celebration, April 22, 11am-2pm with giveaways, free native plants, vendors, children's activities including crafts and story time, food and more, rain or shine, Rodney Square.
Wednesday, April 23
Theatre Exile presents "Annapurna"
After a twenty-year separation, Ulysses and Emma meet again to redress the terrible event that tore their relationship apart in "Annapurna." Theatre Exile concludes its seventeenth season of innovative playmaking with the Philadelphia premiere of Sharr White's critically renowned play. Directed by Founding Artistic Director Joe Canuso, this production stars Barrymore-award winning actors Pearce Bunting and Catharine Slusar through May 11 at Theatre Exile's Studio X, 1340 S. 13th Street, Philadelphia. Post-show discussions on May 1 & 8.
Thursday, April 24
Rutgers University–Camden Theater and Music Programs join together to present a unique, multi-genre production of "The Fairy Queen," Henry Purcell's musical adaptation of Shakespeare's A Midsummer Night's Dream. The fully-staged, rarely done English masque feature more than 40 student and professional performers and a full Baroque orchestra. Music direction by renowned soprano Julianne Baird and production direction by Dr. Kenneth Elliott (both Rutgers professors). Elliott restored Shakespeare's poetry, retained the storyline, and maintained some of the original scenes and plot structure in honor of the Bard's 450th anniversary celebration. High school matinee performance takes place on Thursday, April 24, 10am, with additional performances Friday, April 25, 7:30pm, Saturday, April 26, 7:30pm, Sunday, April 27, 2pm, Gordon Theater, 314 Linden Street, Camden, NJ.
You're in for a treat with the Everyone Orchestra, coming to Ardmore Music Hall, Thursday, April 24, 8pm. Conductor Matt Butler is joined by diverse musical guests including John Kadlecik of Furthur, Danny Louis of Gov't Mule, Anders Beck of Greensky Bluegrass, Jami Novak of Cabinet, Andrew Altman of Railroad Earth, Chris Jacobs of the Bridge, and Nick Piccinicci of Floodwood. There are sure to be surprises with live group improvisation and collaboration, 23 East Lancaster Avenue, Ardmore, PA.
Marissa Nicosia contributed reporting to this week's guide
To submit an event to be considered for the Weekly Entertainment Guide email Robin Bloom at artscalendar@whyy.org.
WHYY is your source for fact-based, in-depth journalism and information. As a nonprofit organization, we rely on financial support from readers like you. Please give today.