Weekly Entertainment Guide – Local Color
Listen
Bugs, Pennsylvania Dutch culture, LGBT theater, music festivals, post-punk, & art that examines what happens when nature reclaims humans' contributions to the landscape… Robin Bloom shares her picks for this week.
What's Happening
"The Borscht Belt" at the Gershman Y
This summer, the Catskills come to Philadelphia with the exhibit The Borscht Belt: Revisiting the Remains of American's Jewish Vacationland at the Gershman Y, August 11 through November 18. Photographer Marisa Scheinfeld explores the idea and actuality of ruin and rebirth with a curated selection of 16 large-scale color photographs that document the area from its heyday as a thriving vacation destination to its rapid decline in response to changing tastes and the economic downturn. Curated by University of Towson professor Susan Isaacs, the exhibit is complemented by a large sampling of original ephemera from the era from the collection of the artist, in both 2-D and 3-D form, including maps, brochures, postcards, picture viewers, clothing, books, souvenirs, and more. Special events include a special tour and joke-telling competition, Thursday, August 11, 6pm-8pm, and an artist reception on October 13. Free admission. Pictured: "Ice Skating Rink," Nevele Grande Hotel, Ellenville, NY.
Local Color: Cut Paper Collages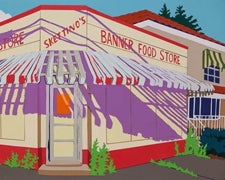 InLiquid presents Local Color: Cut Paper Collages, a solo exhibition by Joseph Opshinsky that grows out of nature's reclaiming of localized scenery or the contemplation of time's natural wear on humans' additions to the landscape. The Philadelphia artist uses bold color and a meticulous hand cutting process and focuses on Northeastern Pennsylvania, through August 27, The Hall, Crane Arts, 1400 North American Street, 1st Floor, Philadelphia. A Second Thursday reception takes place on August 11, 6pm-9pm. Pictured: Joseph Opshinsky, "West Side Market," cut paper collage.
Peach Festival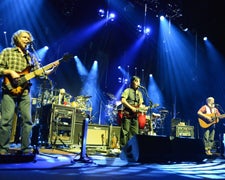 The Peach Festival began five years ago as the first-ever Allman Brothers Band-inspired festival in the Northeast Pennsylvania region and has grown into a summer festival staple. Headliners include the Trey Anastasio Band, The String Cheese Incident (pictured), Umphrey's McGee, and many more including Anders Osborne and Joe Russo's Almost Dead, August 11-14, with music, art, camping and water park fun at Montage Mountain Waterpark, Scranton, Pennsylvania. Photo by Adam McCullough.
Gayfest!
The 5th annual festival of LGBT theater, Gayfest!, kicks off August 12-27 with 30 performances including mainstage plays (all Philly premieres), plus special events including a gala opening night party with food, wine, auction, and cast meet and greet. Shows include My Favorite Husbands, Harbor (pictured), The Bang Group in "Stuck on You," MMF, and Wolves. Performances at Studio X, 1340 S. 13th Street, Philadelphia and the Louis Bluver Theatre @ the Drake, 302 S. Hicks Street, between 15th and 16th, Spruce and Pine Streets. Presented by Quince Productions. Photo by John Donges.
Goschenhoppen Folk Festival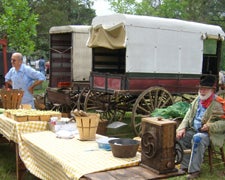 For more authentic 18th and 19th century Pennsylvania German folk life, visit the 50th annual Goschenhoppen Folk Festival, Friday, August 12, 12pm-8pm, and Saturday, August 13, 10am-6pm. Costumed craftspeople demonstrate the secrets of their arts such as rope-making, blacksmithing, hearth cooking, and gardening. See farm animals, ride in a horse drawn wagon, taste fastnachts, shoofly pie, elderberry pie, fresh peaches and ice cream and more. This year's theme is Vannenaus Blaane, or "planning ahead," offering visitors the opportunity to see the many ways the settlers prepared for the coming season, Henry Antes Plantation, 318 Colonial Road, Perkiomenville, PA. Photo courtesy of the Goschenhoppen Folk Festival.
Bug Fest at Academy of Natural Sciences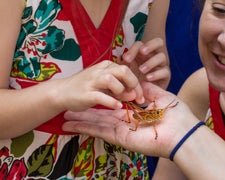 Race a cockroach and see hundreds of live insects at the annual Bug Fest, crawling into the Academy of Natural Sciences of Drexel University Saturday and Sunday, August 13-14. Examine spider webbing up close and the spiders that spin them, meet a bedbug sniffing dog and learn how dogs do their jobs, build a beehive, work on a giant termite mound and taste insect treats prepared by chef Zack Lehmann. While there, check out the exhibit Dinosaurs Unearthed, on view through January 16, 1900 Benjamin Franklin Parkway in Philadelphia. Photo by Meredith Dolan/ANS.
Butterfly Festival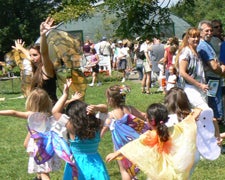 The Stony Brook-Millstone Watershed Association hosts the 16th annual Butterfly Festival, Saturday, August 13, 10am-4pm, on the grounds of the 930 acre Watershed Reserve. Celebrating the Black Swallowtail Butterfly, the official state butterfly of New Jersey, activities include the butterfly and bug parade (join a Guinness World Record attempt for gathering the most people wearing butterfly wings!), hay rides, nature walks, insect zoo, and crafts, juggling demonstrations, an aerial acrobatics show, butterfly stilt walkers, a dog agility show, glitterhoops, spin art, and food, 31 Titus Mill Road, Pennington, NJ. Free parking, rain or shine. Photo courtesy of Stony Brook-Millstone Watershed Association.
Hidden River Blues Festival
Dance to live blues along the Schuylkill River at the Hidden River Blues Festival, Saturday, August 13, 11am-9pm. Expect a mix of national and local blues artists including Charlie Musselwhite (pictured), Samantha Fish, James Supra Blues Band, Deb Callahan Band, Georgie "The Blacksmith" Bonds, Mike Mettalia and Midnight Shift, Stella Ruze, and Ben Arnold. Also, food vendors, beer garden, and merchants, Venice Island Performing Arts Center, 7 Lock Street, Manayunk. Bring folding chairs or blankets. Rain or shine. Children 10 and under free.
Community Unity Music Festival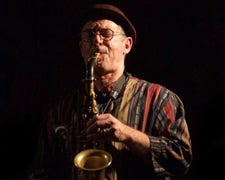 The Community Unity Music Festival encourages young people to "put down the guns and pick up an instrument" with a free festival, Saturday, August 13, 12-7:30pm. The afternoon offers live musical performances by Papo Vazquez, Zenia McPherson, Suzanne Burgess, Killiam Shakespeare, Bobby Zankel (pictured), Philadelphia Clef Club Big Band, and more, plus workshops, spoken word, line dancing, games, vendors, and food, Clark Park, 43rd and Chester, Philadelphia. Rain date, Saturday, August 20. Presented with the CultureTrust Greater Philadelphia.
Jersey Shore Events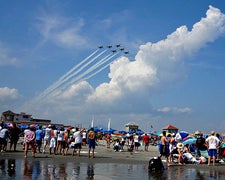 The Festival of the Sea Carnival returns to Long Beach Island, August 10-14 with rides, carnival food and games, and entertainment for the whole family, St. Francis Parish and Center Grounds, 4700 Long Beach Boulevard, Brant Beach, NJ.The "Truck"erton Food Truck & Brew Fest takes place Saturday and Sunday, August 13-14, with 20 gourmet food trucks, live music, craft beer garden, local wines and more, Tuckerton Seaport, 120 West Main Street, Tuckerton, NJ. Photo courtesy of the Tuckerton Seaport.In Ocean City? Check out the 107th annual Baby Parade, August 11, the Miss Ocean City Pageant is August 13, Weird Week kicks off August 15-19, plus Ocean City Pops performances, Citizen Cope, and Mummers Night!The Atlantic City Air Show (pictured) flies in on Wednesday, August 17.
"This is Now" at International House Philadelphia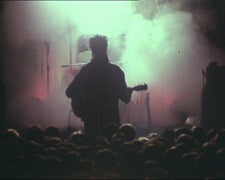 A major touring program from the British Film Institute that features key underground films from the post-punk era in the United Kingdom (1979-1985) visits International House Philadelphia, August 12-26. This is Now: Film and Video After Punk offers a range of innovative, sexually provocative, and visually stunning short independent films – many that have been out of circulation for three decades. Look for works by Isaac Julien, John Maybury, Sophie Muller, the Neo-Naturists, Grayson Perry, John Smith, Cordelia Swann, Jill Westwood, and Cerith Wyn Evans. 20 Super 8 and 16mm films from this iconic period in music history have been digitally remastered by the BFI National Archive. Special events include a talk by William Fowler, Curator of Artists' Moving Image at BFI National Archive, followed by a special reception featuring a Post-Punk/New Wave DJ set by Philadelphia based producer and musician Jeff Ziegler, August 18. All programs start at 7pm in Ibrahim Theater, 3701 Chestnut Street, Philadelphia. Photo courtesy of International House Philadelphia.
Frank the Baptist at Kung Fu Necktie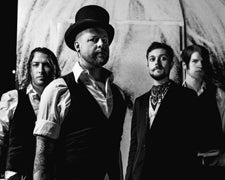 An alternative rock sensation in Europe, the post-punk band Frank the Baptist brings their intense brand of indie rock to Kung Fu Necktie, Tuesday, August 16. Doors open at 8pm with Live Not On Evil and Washerwoman opening, 1250 North Front Street, Philadelphia, PA. Photo courtesy of Frank the Baptist.
Each week, the Entertainment Guide spotlights interesting local arts offerings happening now, including music, dance, theater, museums, special exhibitions and other arts events from across the region.
To submit an event to be considered, email Robin Bloom at artscalendar@whyy.org.