Weekly Entertainment Guide – HalloFunk'nween
Robin Bloom on what's happening for Halloween this week.
Poe Arts Festival
The first annual Poe Arts Festival takes place Friday, October 28, 5pm-10pm, hosted by the Edgar Allan Poe National Historic Site and the German Society of Pennsylvania. Special after dark tours of Poe's 1843 residence will feature actors reciting some of his greatest works. Activities at the German Society's 7th and Spring Garden Streets historic 1889 headquarters include Poe talks in the library, a display of David Plunkert's recent illustrated edition of Poe's works, theatrical performances in the Auditorium, Poe inspired music and poetry in the Ratskeller, and more. Come in costume and win a prize!
Philly Halloween Festivals & Fun
South Street Headhouse District's fall festival, PumpkinFest, is Saturday, October 29, starting at noon, offering live music, trick-or-treating for the kids, circus performers, shopping, pumpkin painting, hay rides, and much more at Headhouse Plaza, between Pine and South Streets, Philadelphia. New this year, extended trick or treating hours, costume contests including a dog category, Thriller dance, children's movies under the Shambles, and an adult screening of Rocky Horror Picture Show hosted by DJ Robert Drake. Photo courtesy of South Street PumpkinFest. #SassySaysRittenhouse Row's Halloween Celebration is Saturday, October 29, 10am-5pm. Come in costume for trick-or-treating wherever you see the cat (stores, restaurants, hotels), all ages.
Fall Fun with Furry Friends
East Passyunk Avenue Business Improvement District's Fall Fest & Spooky Saturday is October 29, 11am-4pm, with free activities for all ages and dogs too. Expect trick or treating, food and drink offerings, a craft show, live music, costume contest for kids and dogs, pumpkin painting, and more, by the Singing Fountain, East Passyunk Avenue and Tasker and Mifflin Triangle, East Passyunk Avenue and Mifflin, South Philadelphia. #SassySays
Halloween in Germantown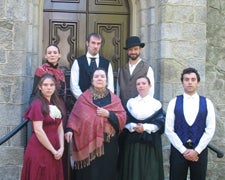 Join in a live murder mystery, Mystery in the House of Usher: A Poe Tale, Saturday, October 29, 5:30pm, and Sunday, October 30, 2:30pm, at the Victorian Ebenezer Maxwell Mansion. You're in the House of Usher and Lenore has been murdered. Meet Poe and characters from his stories to decide who murdered Lenore in a game similar to the style of "Clue," as guests tour the Mansion and are greeted in each room by an actor portraying a suspect. Solve the mystery while enjoying apple cider and ginger snaps, W. Tulpehocken Street, Philadelphia. Reservations required. Don't miss Ghosts of the Great Road, an interactive ghost walk and live paranormal investigation of Philadelphia's most haunted and historic neighborhood, Saturday, October 29.
Peoplehood
Spiral Q's 17th annual Peoplehood Parade gathers a wide range of Philly communities to represent who they are and what they believe in, with giant puppets, colorful costumes, flags and masks, Saturday, October 29. Parade steps off at 1pm at Paul Robeson House, 50th and Walnut and heads to Clark Park, Chester Avenue between 43rd and 45th. The parade will be followed by a participatory group art-making activity in Clark Park around 2pm. This year's theme is "We Might All Be Giant," celebrating the collective power of the community. Free. Photo by Melisa Cardona.
Pennsbury Manor's "Tricks and Treats at the Manor"
Enjoy Halloween fun mixed with Pennsylvania history at Pennsbury Manor's 8th annual Tricks and Treats at the Manor, Sunday, October 30, 1pm-4pm. The free community event at the former estate of Pennsylvania founder William Penn offers a scarecrow hunt, a reenactment of a witch trial (in 1683 Pennsylvania colonist Margaret Mattson was accused of being a witch and William Penn presided over her trial), 17th century craft demonstrations, trick or treating around the manor, crafts and games, corn maze, hayride and more. Come dressed in costume, rain or shine, 400 Pennsbury Memorial Road | Morrisville, Pennsylvania.
Tricks 'n' Treats at Woodmere Art Museum
Head to Woodmere Art Museum in costume for a Halloween Parade and Straw Maze, Sunday, October 30, 2pm and 4pm, with musical accompaniment provided by the Springfield Township High School Spartan Pep Band. Check out the Halloween collection of artist Peter Paone (pictured) with its variety of vintage decorations and mementos, 9201 Germantown Avenue, Chestnut Hill.
Frightful Fall Theme Park Fun
Halloween activities at area theme parks include Sesame Place's Halloween Spooktacular, October 29-20 and Hershey Park's Trick or Treat Adventure. For more frightful fun, visit Dorney Park's Halloween Haunt or Fright Fest at Six Flags Great Adventure. Photo courtesy of Six Flags.
Roxey Ballet's "Frankenstein"
Roxey Ballet presents a futuristic adaptation of Mary Shelley's Frankenstein that fuses the classic narrative of Dr. Frankenstein's efforts to build and animate a human with the timeless intrigue of the unknown. With choreography by Lees Hummel and Stephen K. Stone, the production uses dance performance, media, and technology as components of storytelling, October 28, 7pm, October 29 at 4pm and 7pm, and October 30 at 1pm and 4pm in the intimate 72 seat Canal Studio Theater, 243 North Union Street, Lambertville, NJ.
Halloween at the Rosenbach and Dracula
Halloween at the Rosenbach offers a chance to get up close and personal with the most mysterious and magical literature in its collection, Saturday, October 29, 6pm-9pm. Dress in literary costume and explore the arcane and experience the mystic arts with vintage fortune cards and palmistry, 2008-2010 Delancey Place, Philadelphia. A Dracula Hands-On Tour is offered on Sunday, October 30, 3pm-4pm, with a chance to see Bram Stoker's hand-written notes for the novel and a discussion about the classic. Photo courtesy of the Rosenbach of the Free Library of Philadelphia.Want more Dracula? The Atlantic City Ballet's annual presentation of Dracula is Sunday, October 30, 4pm, in the Circus Maximus Theater, Caesar's, Atlantic City, NJ.
Candlelight Ghost Tours
Fort Mifflin invites visitors to experience the Fort after dark at special events and programs including Candlelight Ghost Tours, Friday, October 28, 7pm, Trick or Treating with the Ghosts, Saturday, October 29, 10am-4pm, and an overnight with the Ghosts, Saturday, October 29, 7pm, Fort Mifflin & Hog Island Roads, Philadelphia. Photo courtesy of Fort Mifflin.Take a Ghost Tour of Philadelphia by candlelight and discover the secrets of America's most historic and most haunted city. Tours depart from Signers' Garden at 5th and Chestnut Streets, Philadelphia.The Historic West Laurel Hill Cemetery hosts True Tales from the Tombs, true stories of the Cemetery's most provocative and memorable permanent residents, Friday, October 28, 7pm, with one hour candlelit tours departing every half hour through 9pm. Bring your own flashlights! Sunday, October 30, 1pm-3pm, is Fall Family Day: Halloween Picnic and Parade with arts and crafts, a pumpkin patch, Halloween games and goodies, and stories, for children ages 4-12, 3822 Ridge Avenue, Philadelphia. Wear your costume!Graeme Park hosts Halloween Lantern Tours of the Keith House to learn about the haunted history of Graeme Park, Saturday, October 29, 6:30pm-9pm, at 859 County Line Road, Horsham, PA. Bring a flashlight!Witness firsthand the true stories of murders in the Dark Dover Lantern Tour, October 28-29, John Bell House, 43 The Green Dover, Delaware, after the Dover Halloween Parade that begins at 6pm.
Rocky Horror
Halloween wouldn't be complete without interactive screenings of the Rocky Horror Picture Show. Grab your virgin kit and head to the State Theatre of New Jersey, Friday, October 28, with party starting at 9pm and screening at 11pm, 15 Livingston Avenue, New Brunswick, New Jersey. Catch it on Saturday, October 29, 10pm, at the Schwartz Center for the Arts, 226 S. State Street Dover, Delaware and at the Milton Theatre, Sunday, October 30, 8pm, 107 Union Street, Milton, Delaware.Bucks County Playhouse offers a live stage version with performances each night through Sunday, October 30, 70 S. Main Street, New Hope, Pennsylvania.
Nosferatu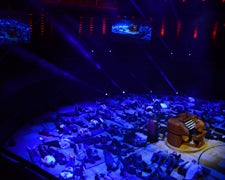 The Halloween Organ Extravaganza returns, Friday, October 28, 9:30pm, to the Kimmel Center, with a screening of Nosferatu: A Symphony of Horror, accompanied by Peter Richard Conte on the Fred J. Cooper Memorial Organ. After the concert, go onstage to "feel" the low notes of the instrument after the show (bring a towel or blanket to lie on). Come in costume to the Halloween Treats Family Concert Saturday, October 29, 11:30am, as members of the Philadelphia orchestra put on musical costumes and explore the spooky and the silly with guest magicians, Verizon Hall, Broad Street, Philadelphia. Photo by Pete Checchia.Watch the classic vampire film Nosferatu accompanied by a live original score by Not So Silent Cinema's musical director Brendan Coonan, Friday, October 28, 8pm. Not So Silent Cinema's Nosferatu is an all ages Halloween event at FringeArts, 140 N. Columbus Boulevard, Philadelphia.University of Delaware joins the fun with the UD Chamber Orchestra performing the original score by Hans Erdmann during the screening of the silent movie classic, under the direction of James Allen Anderson, Friday, October 28, 7pm, Gore Recital Hall in the Roselle Center for the Arts, Newark, Delaware.
Boo at the Zoo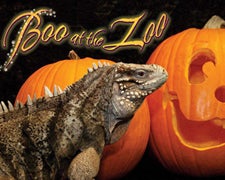 Boo at the Zoo returns to America's first zoo, offering spooky adventures, Saturday and Sunday, October 29-30, 10am-4pm, with family activities, hot apple cider, trick or treat safari, hay bale maze, harvest pictures in front of the giant pumpkin wall, and more, the Philadelphia Zoo, 3400 West Girard Avenue, Philadelphia. Costumes encouraged. Photo courtesy of the Philadelphia Zoo.
Linvilla Orchards' PumpkinLand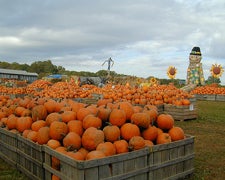 Head to Linvilla Orchards for PumpkinLand and hayrides, a Jack-o-Lantern exhibit, pumpkins, fall decorations, live music, train rides, pony rides, face painting, straw bale and cornfield mazes, pick-your-own apples, candy and caramel apples, and much more including a costume parade on Sunday, October 30, 137 W. Knowlton Road, Media, Pennsylvania. Free.
Family Fall Fun Weekend at Terhune Orchards
Terhune Orchards hosts a Family Fall Fun Weekend, Saturday and Sunday, October 29-30, 10am-5pm with the Adventure Barn, pumpkins, live music, pick your own apples, baked goods, pony rides, tractor-drawn wagon rides, children's activities, corn stalk maze, spider web maze and more, rain or shine, 330 Cold Soil Road, Princeton, New Jersey.
Steamin' Halloween at the Marshall Steam Museum at Auburn Heights
The Marshall Steam Museum at Auburn Heights hosts a Steamin' Halloween, Sunday, October 30, 12:30pm-4:30pm, celebrating local history and life at the dawn of the automotive age with train rides and rides on the antique autos, fresh steam-popped popcorn from the vintage popper, firing up demonstration, entry to the museum (the world's largest operating collection of Stanley steam cars plus a 1930s working Lionel electric trains display), a hands-on engine display, children's activities, and exhibits. Wear costumes and stroll the beautiful grounds at 3000 Creek Road (Route 82), Yorklyn, DE.
Pennhurst Asylum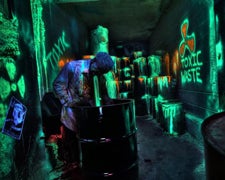 Prepare to be scared at Pennhurst Asylum, the former mental institution that opened in 1908 and is said to be a "cursed hospital," with attractions that include a hospital-themed walk-through with original artifacts, the Dungeon of the Lost Souls where human experiments once went horribly wrong, the Tunnel Terror, a 900-foot long gauntlet, and Ghost Hunt, a self-guided tour, through October 30, Church Street and Bridge Road, Spring City, Pennsylvania. Photo courtesy of Pennhurst Asylum.
PHIT's "Stay Dead"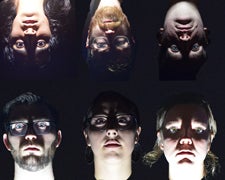 Treat yourself to Philly Improv Theater's improvised horror comedy show, Stay Dead, Thursday, October 27 through Sunday, October 30, 7:30pm with a Halloween night show at 10:30pm, as a Philadelphia performance group spontaneously creates a show based on horror movies, directed by Mike Marbach, Adrienne Theater, 2030 Sansom Street, Philadelphia.
Day of the Dead Celebrations
The Mütter Museum makes the perfect destination for Mischief at the Mütter, Thursday, October 27, 6:30pm-11pm, a party offering full museum access, drinks, and more. Sunday, October 30 is the annual family-friendly Day of the Dead celebration, featuring traditional ofrenda, face painting, skull cookie decorating, paper flower making, and festive food demonstrations, 10am-5pm, at the College of Physicians of Philadelphia, 19 S. 22nd Street, Philadelphia.Philadelphia Museum of Art's Día de los Muertos celebration is Friday, October 28, 5pm-8:45pm with the sounds of Jarana Beat and a new interpretation of Mexican music, 2600 Benjamin Franklin Parkway, Philadelphia.World Cafe Live – Wilmington hosts Day of the Dead, a Halloween Extravaganza celebrating the lives and music of some favorite musicians that left us too soon including Bowie, Prince, Garcia, Lennon, Morrison, Joplin and more, Friday, October 28, doors open at 7pm with show at 8pm. Show is for all ages and costumes are optional, 500 N. Market Street, Wilmington, Delaware.International House Philadelphia hosts a Dia de los Muertos Dance and Costume Party, Friday, October 28, 9pm, with music, Mexican food, beer, prizes for best costume, and more, Ibrahim Theater, 3701 Chestnut Street, Philadelphia.Penn Museum's annual Día de los Muertos celebration takes place Saturday, October 29, 11am-4pm, in conjunction with the Mexican Consulate in Philadelphia and the Mexican Cultural Center, with traditional music and dance, family tours, storytelling, puppetry, paper maché artistry, sugar skull and mask making, face painting, special food and more. Check out the large ofrenda (altar) created by Cesar Viveros. Come in a themed-costume and join the parade and costume contest, 3260 South Street, Philadelphia. Photo courtesy of Penn Museum.Fleisher Art Memorial celebrates the Day of the Dead with an elaborate altar piece in the historic Sanctuary space featuring the Mariachi Pedro Villaseñor, Jarana band Son Revoltura, and Aztec dance troupes, Tuesday, November 1, 5pm-9pm, 719 Catharine Street, Philadelphia. The Day of the Dead Procession leaves Fleisher for the 9th Street Market at 5pm, returning at 6pm for performances to begin.
HalloFunk'nween music and more
Tickets are going fast for the Sun Ra Arkestra Halloween concert on Monday, October 31, 8pm, Johnny Brenda's, 1201 N. Frankford Avenue, Philadelphia.Painted Bride Art Center hosts HalloFunk'nween, Friday, October 28, 9:30pm, a carnival style Halloween dance party with DEAD DJ, tarot readings, games, costume contest, scary monologue contest and performance by Found Theater, 230 Vine Street, Philadelphia.Halloween Boo-Ga-Loo offers a spooky night of music at Gloria Dei Old Swedes Church on Saturday, October 29. Grounds open at 5pm for children to enjoy pumpkin painting, trick or treating in the graveyard, and more. The music starts at 7pm with Shy Boyz, Cream Circus, The Broken Prayers, and more, 927 S. Water Street, Philadelphia.The B-52s Halloween Scream is Sunday, October 30, Fillmore Philly, 29 East Allen Street, Philadelphia.The Trocadero Theatre hosts Dracula's Ball featuring Stabbing Westward: 30 Year Anniversary Show, Monday, October 31, 9pm costumes encouraged, ages 18 and older, 1003 Arch Street, Philadelphia.Catch an '80s Halloween Party at the Steel City Coffee House, Saturday, October 29, 8pm-11pm, 203 Bridge Street, Phoenixville, PA.It's Vileween at Burlap and Bean with the Philly-based experimental rock band Vilebred, Saturday, October 29, 8pm, the Shops at Springton Pointe, 203 South Newtown Street Road, Newtown Square, PA.The Halloween Costume Ball Rock n Roll Murdershow comes to Underground Arts, Saturday, October 29, 8pm, with TJ Kong and the Atomic Bomb, Straw Hats, Laser Background as The Zombies, Grubby Little Hands, Minka, and Ceramic Animal, 1200 Callowhill Street, Philadelphia.Ardmore Music Hall's Halloween Family Jam features Alex & the Kaleidoscope playing Family Funk with a costume party, brunch & more, Saturday, October 29, 10:30am (doors open at 10am). Later that night, join the 23 piece Brazilian funk band PhillyBloco for a Halloween Party, 9pm (doors open at 8:30pm). Catch Splintered Sunlight (Grateful Dead Tribute), Sunday, October 30, 7pm (doors open at 6:30pm), 23 East Lancaster Avenue, Ardmore, Pennsylvania.
Terror Behind the Walls at Eastern State Penitentiary
The annual Terror Behind the Walls, the massive haunted house inside the castle-like walls of the abandoned Eastern State Penitentiary, is back and scarier than ever with Hollywood-quality sets, custom-designed props, animatronics, digital sound effects and a cast of more than 200 performers in a theatrical production that consists of six haunted attractions. New this year, the "Hex Challenge," invites visitors to step further into the story by entering a secret room before each of the six attractions (available for additional fee), and experience "Lock Down" with an all new twist. Choose whether to explore the prison passively or actively. Try the hour-long, After Dark VIP guided tour by flashlight or try the "Fright and a BITE" Dinner Package. Ranked among the top haunted attractions in the country, "Terror Behind the Walls" is the largest and runs on select evenings through November 5 at 22nd Street and Fairmount Avenue in Philadelphia. Photo by Andrew Garn.
Each week, the Entertainment Guide spotlights interesting local arts offerings happening now, including music, dance, theater, museums, special exhibitions and other arts events from across the region.
To submit an event to be considered, email Robin Bloom at artscalendar@whyy.org.
Look for #SassySays for pet friendly events. Let us know if your event is pet-friendly! Email artscalendar@whyy.org and put #SassySays in the subject line.