Weekly Entertainment Guide – Freedom Train
Listen
Robin Bloom offers 14 things to do this week in the Philadelphia region!
What's Happening
"Freedom Train" at the Rosenbach
The Freedom Train brought 126 of our nation's most iconic documents to 3.5 million people across the country, with the goal of promoting pride in America, its political and economic systems, and to encourage civic participation. Launched in Philadelphia at Independence Hall, the Freedom Train included many objects lent by the founders of the Rosenbach Museum and Library. Many of those objects are reunited in The Freedom Train 1947-1949: Exhibiting America's Past to Shape America's Future, an exhibit of items including the Bay Psalm Book, the first book published in what is now the United States (1640), Thomas Paine's Common Sense (1776), and the manuscript of Lincoln's 1864 Baltimore Address, in which he explored the meaning of the word "liberty." The exhibit also includes a civil rights section focusing on the controversy over whether the exhibit that was dedicated to freedom would allow segregated visitation as it passed through areas that enforced segregation as well as the manuscript of Langston Hughes' "Freedom Train" protest poem. On view through November 1, 2008-2010 Delancey Place, Philadelphia. Pictured: Photograph of Sally Fickland viewing the Emancipation Proclamation, 1947. Image courtesy of the National Archives.
Night Market Philadelphia "Under 95"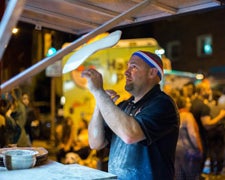 Night Market Philadelphia is back "Under 95" at Front Street and Snyder Avenue, Thursday, September 1, 6pm-10pm, a street food festival featuring many of the city's best ethnic and regional restaurants and food trucks, plus music and more, rain or shine. Presented by the Food Trust. Photo by Dave Tavani for The Food Trust.
Labor Day Weekend in Wildwood
Enjoy Labor Day Weekend Fireworks on the beach at Pine Avenue, Friday, September 2, 10pm, visible from almost anywhere in the Wildwoods. Beatlemania performs on Saturday, September 3, 8pm at Lou Booth Amphitheatre, 2nd and Ocean Avenues, North Wildwood, rain or shine. The Wildwood Block Party and Music Festival is Sunday, September 4, 11am-11pm, with food, crafts, and continuous live music including The Sound of Philadelphia Show with 45 RPM, Jeremiah Hunter Band, Bittersweet, Just In Time, Purple Reign, The Infernos, Brass Transit, The Blue Notes and MFSB, Fox Park, on Ocean Avenue between Burk and Montgomery Avenues, Wildwood, NJ. Free. Also, the Wildwood Airfest takes place September 2-5.
Delaware Valley Bluegrass Festival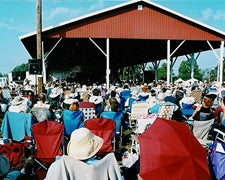 The 45th annual Delaware Valley Bluegrass Festival continues its tradition "to present and promote traditional American folk music," September 2-4, with the Steep Canyon Rangers, Ricky Skaggs and Kentucky Thunder, Seldom Scene, and more, plus a children's stage (kids 12 and under admitted free), jam class, clogging class, Jam Station Central, and more, 735 Route 40, Pilesgrove, New Jersey. Photo courtesy of the Delaware Valley Bluegrass Festival. #SassySays
Made In America Festival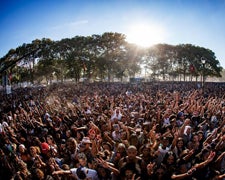 The Budweiser Made In America Festival makes its way to Philadelphia Labor Day weekend, September 3-4, with a lineup curated by Jay Z including Rihanna, Coldplay, Jamie xx, Chance the Rapper, Martin Garrix, Gary Clark, Jr. and more, with concerts on the Benjamin Franklin Parkway. Photo courtesy of the Budweiser Made In America Festival.
Chaddsford Winery Labor Day Music Fest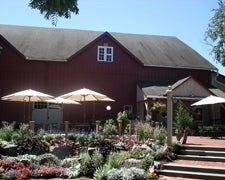 Chaddsford Winery hosts a Labor Day Music Fest with food, live music, local brews, and Pennsylvania-made wine. Artists include Beaucoup Blue, Tap Room Trio, Casey Alvarez, Ryan Tennis, Hake & Jarema, and Roger Girke. Hours are Saturday, September 3, 11am-7pm, Sunday, September 4, 11am-6pm, and Monday, September 5, 11am-6pm on Baltimore Pike in Chadds Ford, Pennsylvania.
All the Time in the World Festival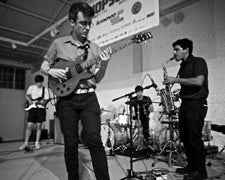 Fire Museum Presents brings together Avant Garde/experimental "rock" performers from the Northeast and beyond with the All the Time in the World Festival, Saturday, September 3, 7:30pm, Vox Populi Gallery Black Box, 319 N. 11th Street, 3rd Floor, Philadelphia. Groups include Horse Lords (pictured), Spires That in the Sunset Rise, Tom Carter/Carter Thornton, and Erik Ruin's Ominous Clous Ensemble.
Art in the Garden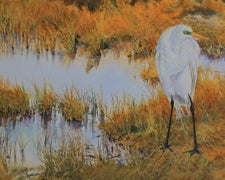 The 17th annual Art in the Garden is set amongst 32 acres of landscaped gardens at the Paxson Hill Farm, Saturday and Sunday, September 3-4, 10am-4:30pm. Over 70 local artists display their work in painting, tile work, pottery, jewelry & more. Free admission and free parking is available on sight at 3265 Comfort Road, New Hope, Pennsylvania. Rain or shine. Pictured: "Return of an American Egret," 2015, by Robert Barrett, featured artist.
Arden Fair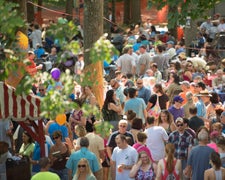 The 109th Arden Fair, "Music in the Grove," offers live music with Elkhorn, ARDEN Kind, Montana Wildaxe, Kooligans, the Diamond State Concert Band, and more, plus hand-made crafts by over 120 vendors, children's activities, antiques market, food, dancing, plant sale and much more, Saturday, September 3, 10am-6pm, 2126 The Highway, Arden, Delaware. Free admission, parking, and shuttle busses. Rain date is Sunday, September 4. Photo by Joe del Tufo.
West Cape May Tomato Festival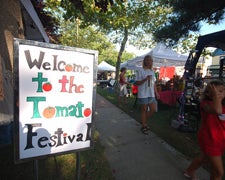 Celebrate the favorite summer fruit and sample tomato pies, empanadas, and more at the West Cape May Tomato Festival, Saturday, September 3, 9am-5pm, Wilbraham Park, corner of Broadway and Myrtle Avenue, West Cape May, New Jersey. Rain date is Sunday, September 4.
Circus Week at Morris Arboretum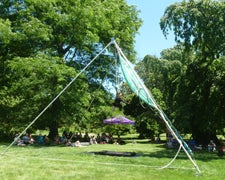 Morris Arboretum's summer garden railway celebrates Circus Week with trapeze artists from the Secret Circus, Sunday, September 4, 11:30am and 1pm in the Azalea Meadow. Watch the colorful circus trains zip around the quarter mile track with their cargo of elephants, tigers, and dinosaurs. "Awaken the Senses," the theme of the railway, features buildings that incorporate one or two of the five senses all created with natural materials nestled among woody plants and colorful flowers in the Arboretum's garden, open every day through Labor Day, September 5, 100 Northwestern Avenue, Chestnut Hill, Philadelphia. Photo by Marie Ingegneri.
Bethany Beach Jazz Funeral
The small beach town of Bethany Beach, Delaware celebrates the end of the summer season with the 31st annual Bethany Beach Jazz Funeral. Bid farewell to summer and celebrate the approaching fall season as the town parades a casket and mannequin representing "summer of 2016" down the boardwalk. Accompanying the mock procession are three Dixieland Jazz bands. Festivities begin on Labor Day, September 5, around 5:30 p.m. at the North End of the Bethany Beach Boardwalk. Free.
Philadelphia's Tri-State Labor Day Parade & AFL-CIO Family Festival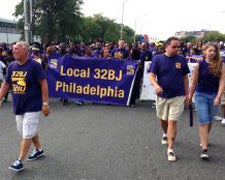 Philadelphia's 29th Tri-State Labor Day Parade and AFL-CIO Family Festival is this Monday, September 5. The parade begins at 9:15am at Sheet Metal Workers Local 19 Union Hall, Columbus Boulevard and Washington Avenue to Market Street, to Great Plaza at Penn's Landing, with music, crafts, children's activities, food and more from 11am-2pm.
P.M. Summer Nights Concert Finale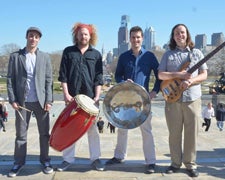 Penn Museum's P.M. outdoor Summer Nights Concert Finale is Wednesday, September 7, 5pm-8pm, with Philadelphia Caribbean music ensemble Trinidelphia, blending Trinidadian Soca, Calypso, Latin jazz, reggae, salsa, and American top 40 sounds, 3260 South Street, Philadelphia.
Look for #SassySays for pet friendly events. Let us know if your event is pet-friendly! Email artscalendar@whyy.org and put #SassySays in the subject line.
Each week, the Entertainment Guide spotlights interesting local arts offerings happening now, including music, dance, theater, museums, special exhibitions and other arts events from across the region.
To submit an event to be considered, email Robin Bloom at artscalendar@whyy.org.