Washington Avenue restriping project stalled, perhaps indefinitely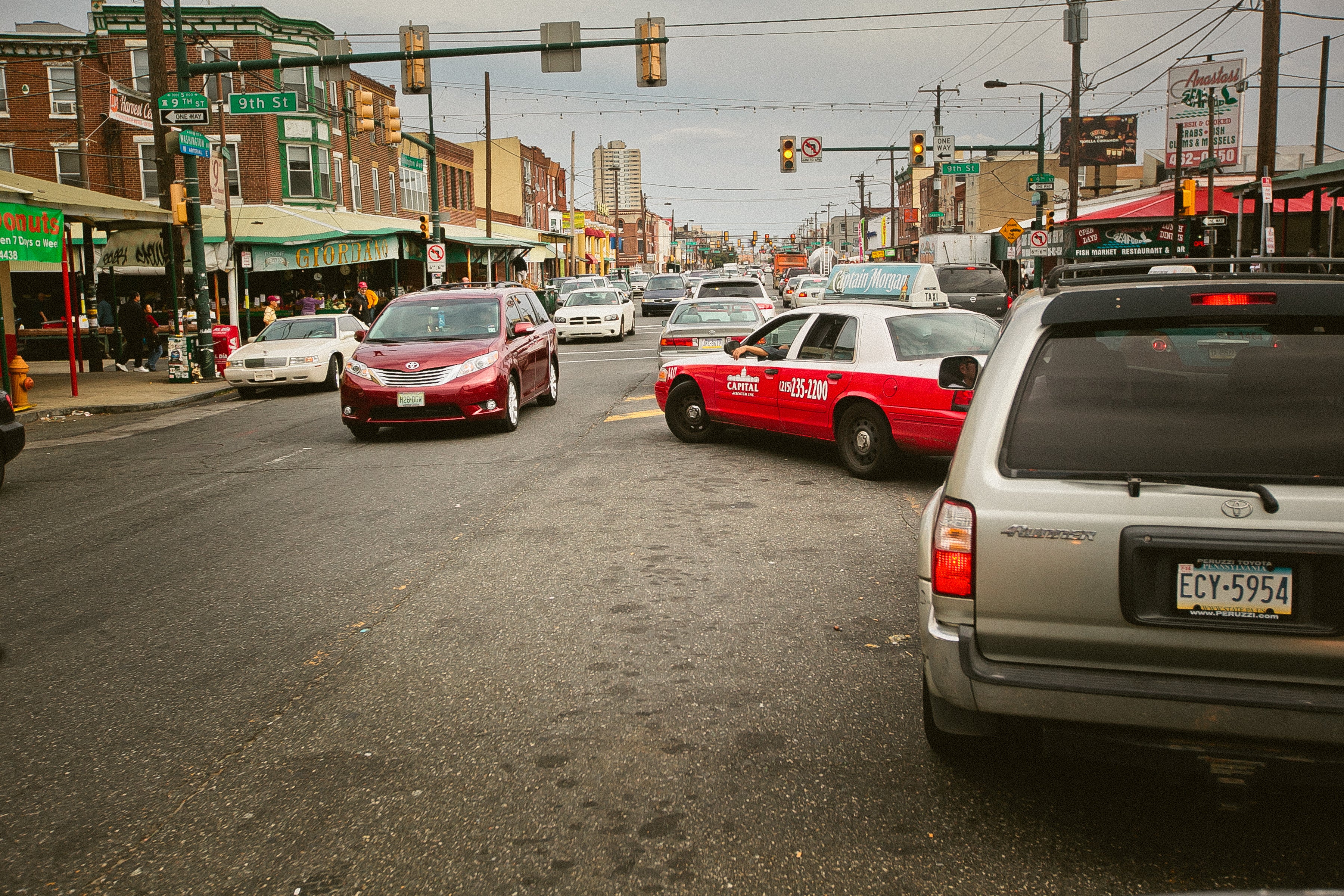 "This situation stinks right now."
Tom Donatucci isn't actually talking about right now. He's describing Washington Avenue, not too long ago. The avenue has been a mess for years, an inchoate jumble of forklifts, speeding cars, illegally parked trucks, reckless bicyclists, and frightened pedestrians.
"It stinks for business, it stinks for commuters, it stinks for pedestrians and it stinks for bicyclists. It just smells."
Donatucci heads the Washington Avenue Property Owners Association, a registered community organization comprised of the building trade wholesalers west of Broad Street who have long made their benjamins along Washington.
Everyone who used Washington Avenue agreed – the wholesalers, the residents, the bicyclists, the drivers, the politicians, the planners, everyone – Washington Avenue needed fixing. The lanes were barely visible, and traffic laws seemed more like traffic suggestions. And short of on top of someone, you could park anywhere.
So when the Delaware Valley Regional Planning Commission authorized a study to restripe and realign Washington Avenue in 2011 using state Transportation and Community Development Initiative funding, it was a cause for celebration, even if realigning some lanes was little more than a temporary, short-term fix. Consultants were hired, public hearings were held, and stakeholders lined up in support of the City Planning Commission's nascent plan.
By spring of 2014, a study proposing a realignment of Washington's lanes finally finished and some semblance of order seemed on the way for the chaotic street. Its five lanes would go down to three (one in each direction plus a center turning lane), the bike lanes would be extended, new loading zones would keep the trucks and forklifts from blocking traffic, and back-in parking – a la nearby 11th Street – would add two spots per block. Throw in some pushed-back stop bars and longer crosswalk signals, and the cumulative effect would be a calmer street with slower moving traffic.
All that was left was for City Council to authorize the lane changes, buy some paint and let the Streets Department have at it.
But a year later, nothing's changed.
Well, not quite nothing – Streets did repaint the road recently. But the department did so without any of the Planning Commission's recommended fixes to the Avenue's chaos, or bothering to repaint the bike lanes.
The Planning Commission says the complete restriping project is still an active project, but with every passing day this so-called short-term solution to the Avenue's safety problems seems less long for this world.
THE BEST LAID PLANS OF MICE AND MEN…
When the restriping plan was released last year, it found support from most of Washington Avenue's 19 registered community organizations, but not all. With the help of a professional traffic engineer, two RCOs – the Queen Village Neighbors Association and the Pennsport Civic Association (ironically, the two representing the stretch of the road that would have changed the least) – expressed reservations about the plan. They asked the city to release the full conceptual plans for restriping Washington; the city has only made a summary of the study publically available.
Following the public hearings, QVNA board member Frank Tavani took issue with how the PCPC's consultants conducted the plan's traffic analysis, complaining over its use of "non-reportable accidents." Most traffic studies only count accidents reported to public authorities, which exclude crashes that don't require the cops or a trip to the hospital. Tavani also criticized the study's count of daily traffic on Washington. At 9,800, the plan's numbers were considerably less than a few DVRPC traffic counts from a few years ago, which put daily traffic somewhere between 15,000 and 20,000.
Tavani said the city has completely ignored him and the concerns he raised on behalf of QVNA and PCA, while refusing to release the full study. To him, the Planning Commission's silence is damning.
"It looks like there was one particular solution that the consultants were asked to investigate, to see if it would work," said Tavani. "I think that there are certain people on the planning commission that feel that the time to change the fabric of the corridor is now."
But that's simply not true, says Jeannette Brugger, Senior Transportation Planner at the Planning Commission. "This is really about safety," said Brugger, the restriping project's manager. We're not changing the design of the street because we think the use should be changed," she said. "This is a shorter-term project to make it safer for what's there right now."
Ultimately, resurfacing the road could provide an opportunity to completely redesign Washington Avenue, but that wouldn't be done before additional studies.
As for Tavani's more technical concerns with the plan, Brugger says that "in the next few weeks" the Mayor's Office of Transportation and Utilities and Streets Department will release a report in response. "We stand by our study," said Brugger, who said that MOTU and Streets, not the Planning Commission, controlled the data.
But even if the city's data sate his professional criticisms, Tavani says he'll still be worried about what happens if Washington – one of just a handful of east-west arterials south of Market Street – loses 50 percent of its capacity. "My concern is there are parallel side streets that are pretty underused at the moment like Federal Street, Carpenter, Christian. That's where the traffic will go."
With the community apparently divided, the councilmen who represent the two districts that Washington Avenue's runs through, Mark Squilla and Kenyatta Johnson, have held off introducing the legislation needed to remove the traffic lanes as called for by the city's restriping plan.
When asked about the delayed restriping, Squilla said: "City planning is holding meetings to discuss the plan with local businesses. I am not sure they have figured out all the logistics at this point."
In an emailed statement, Johnson said he was "planning on holding hearings on this proposal in the near future," in response to "reservations" from "local stakeholders."
"The public hearing process will allow everyone to weigh in," Johnson's statement read. "We hope to bring everyone together to reach a consensus."
With a response on the way, Brugger said she expects the restriping to move through council this spring. "There is a lot of public support for it and we hope to continue that momentum," she said. "WAPOA, SOSNA … a lot of neighborhood groups are supportive."
HIT THE BRAKES AND THROW IT IN REVERSE
Well, they were supportive. "Way back when it was introduced, I – we – were very much for it. We were gung ho," said Tom Donattuci, WAPOA's president.
But now? "There is no way, ever, we can get down to one lane. Ever."
The delays caused the volte face, says Donatucci.
In advance of the restriping, the city picked up parking and traffic enforcement, cutting down on some of the most egregious lane-blocking and illegal parking. Those improvements, plus the new paint, are the reasons why Donatucci thinks a long-term fix is in order, instead of Brugger's "shorter-term project."
And while Donatucci had nothing but praise for PCPC and MOTU, "the restriping plan can be better. I want great."
The WAPOA president said that "most of my guys" are looking to move their businesses off Washington. One, Mario Carosella, did already by moving some warehousing operations to Southwest Philly.
The "existing businesses want to relocate to neighborhoods like Washington Avenue [in] 1992, not Washington Avenue 2015," said Donatucci. As Carosella recently told the Inquirer, "The heavy trucks are going away."
Donatucci's plan, as he puts it, "reaches for the brass ring." Donatucci says he doesn't want to paint a Band-aid on Washington Avenue. His idea attempts to appease bicyclists with buffered lanes; retailers and residents with more car parking, and drivers with the same number of travel lanes as today.
Donatucci won't reveal exactly how he proposes to do that, not yet anyway. He wants to run it by his fellow Washington Avenue property owners next week and gauge their feedback before going public. And Donatucci emphasizes that it's "just an idea" for now – his idea, not WAPOA's – and certainly not a proper, fully laid out plan. Nor is it a criticism of the City Planning Commission or MOTU. But Donatucci says he's spoken to stakeholders and thinks, with a few concessions from bicyclists, developers, residents and existing businesses each, everybody will gain in the end.
Well, maybe not everybody. Because Donatucci admits that for his plan to work for the shared vision of West Washington Avenue as a growing commercial corridor, the current free-wheeling, forklift infested loading zones will have to go. Future retail developments would build in loading zones within their lots, rather than on the street. "Do you think a Trader Joes would park in the middle of the road like our businesses do?" Donatucci asked rhetorically. "No, it has to be planned ahead."
COMPETING VISIONS
Tavani and the two RCOs seem to want Washington Avenue to stay essentially the same as it does today. "The existing lane usages have equal right to how the roadway is used as the people who are moving in and who are trying to … change it," said Tavani. Ironically, it's Tom Donatucci – the fourth generation to run the eponymous kitchen fixture supplier – who is trying to change Washington the most. Tavani wants to keep the arterial and suggests bikes should move to already calm roads like Federal and Carpenter before traffic calming Washington.
Toss in a few other developers, the bicyclists, holdout wholesalers, the car-centric mini-malls auto-repair shops, and the anti-gentrification crowd and it's obvious stakeholder consensus is an impossible dream.
Still, Brugger says the Planning Commission needs to "make the stakeholders happy as possible to get it through Council." Meanwhile, Squilla's waiting on the Planning Commission to work things out with local businesses and Johnson is planning to hold hearings to build consensus.
But because of the lack of leadership seeing this project to completion, what consensus that originally existed keeps slipping further away.
When asked about Donatucci's ideas, SOSNA President Lauren Vidas said: "I think so much has changed since the original plan came out that it is probably worth revisiting."
In Philadelphia, painting a few lines on the ground apparantly requires the unanimous approval of 19 community organizations, two councilmen, three city departments and a regional planning commission.
Donatucci describes the current restriping plan as "splitting the baby," using the biblical tale to illustrate that the Planning Commission's ultimately doomed attempt to accommodate for all the existing users of Washington Avenue.
But the moral of the Judgment of Solomon wasn't that splitting children in half is a messy solution that no non-sociopath prefers. In the parable, King Solomon ultimately gives the child – in one piece – to the woman who relents first after hearing his grisly solution to their maternity dispute, for she shows a mother's love.
Unfortunately for Washington Avenue, that just ain't gonna happen with a road. No amount of cleverness will make one party selflessly sacrifice its own interests for the good of this expansive asphalt baby.
Cleverness of idea alone won't win the Washington Avenue War, regardless of whether City Planning's study, Tavani's bike-lane removal, or Donatucci's bold vision is best.
Fixing Washington Avenue requires political leadership. Until that happens, Washington and its five lanes of overloaded forklifts, aggressively driven cars, randomly parked trucks, absentminded jaywalkers, and seemingly suicidal cyclists will remain a road that not even its intrepid namesake would be willing to cross.
WHYY is your source for fact-based, in-depth journalism and information. As a nonprofit organization, we rely on financial support from readers like you. Please give today.