Voices behind the walkout — New Jersey
On Wednesday, students around the country will walk out of their schools to demand lawmakers do more to protect the nation from gun violence. The National School Walkout will start at 10 a.m. and last 17 minutes — one minute for each person gunned down at Marjory Stoneman Douglas High School in Parkland, Florida, last month. We talked to students, parents, and educators in the region about school safety and will post their thoughts each day leading up to Wednesday's walkout.
—
New Jersey has some of the strictest gun laws and lowest gun-death rates in the country, with the Giffords Law Center to Prevent Gun Violence ranking the Garden State second in the U.S. when it comes to the strength of its firearm restrictions.
But many students and parents say there's still plenty to fear.
As Krista Gervon, a mother of three from Lawrenceville, put it, "I don't really feel safe that New Jersey has strict gun laws, because surrounding areas don't, and someone could easily just drive over the border into Pennsylvania and come back (armed) and commit a crime in New Jersey."
Voters in her district — Lawrence Public Schools in Mercer County — recently approved a $25.1 million referendum that included money to install security vestibules in four district schools. District officials say they are mulling additional security measures.
Here's what folks in New Jersey had to say:
---
About Lawrence Public Schools
Enrollment: About 4,000 racially diverse students in seven schools.
Location: Lawrence Township, New Jersey (north of Trenton).
Details here.
---
Maura Freeland, 17, junior
From: Lawrenceville, New Jersey
Personal connection: Several relatives in law enforcement. She and student Alissondra Gutierrez (see below) are organizing the student walkout at Lawrence High School.
How to fix it: "We need to ban assault rifles, and we need to expand background checks. I don't think teachers should be armed. It wouldn't make me feel safe. More guns is just more people getting hurt. There are much more effective ways we can do this." (New Jersey prohibits several assault-style weapons, but Freeland is pushing for a federal ban.)
What the future holds: "I'm definitely hopeful. I think what makes this different from other mass shootings is that they just struck a nerve with the wrong group of people. Teenagers, we're stubborn. We're also really empowered. It's just different, and we're not really going to back down until we get what we need. It (the activism ignited by Parkland) can be compared to the Children's Crusade of 1963 (considered a pivotal moment in the civil rights movement). It's like the tipping point."
Krista Gervon, 36, parent
From: Lawrenceville, New Jersey
Personal connection: She's the mother of three boys (a 6-year-old in elementary school, a 2-year-old and a 7-month-old) and a member of Moms Demand Action for Gun Sense in America. She grew up in Wilton, Connecticut, not far from Newtown, Connecticut, where a gunman killed 20 first-graders and six educators at Sandy Hook Elementary School in 2012. "When Sandy Hook happened, my (oldest) son was just about to turn 1, and it was one of those things that, now that I have a child, it just hit me a lot harder than anything had in the past. It was very close to home. I didn't know anyone personally who was involved. But it wasn't something that happened somewhere else. It was where I grew up. It was places I had been. And it was devastating to me."
How to fix it: "I don't really feel safe that New Jersey has strict gun laws, because surrounding areas don't, and someone could easily just drive over the border into Pennsylvania and come back (armed) and commit a crime in New Jersey."
She supports a federal ban on assault weapons (in addition to New Jersey's); universal background checks; a longer waiting period; and mandatory training, testing, and insurance for gun buyers. "You have to pass a test to drive a car. You should have to pass a training program in order to use a gun. There's so much freedom in purchasing a weapon that you don't have in any other area of life. Having a gun is a big responsibility, just like driving a car."
She doesn't expect change to come quickly. "This is going to be a long battle to fix this problem, because a lot of people have such strong views about that Second Amendment. It makes me really sad to think that it would have to come to me buying bulletproof backpacks or them putting those bulletproof shelters in classrooms. I feel like we're just accepting this as the problem, and it's not going to go away, and we're going to have to just protect ourselves. I don't feel like that's what being an American is. We should be free and safe in our daily life to go to school, to go to the movies, to live our lives, without fearing the very real possibility of being shot to death."
What the future holds: "I'm hopeful. I know that a lot of people say if we didn't make a change after Sandy Hook, we'll never make a change. But I don't believe that. These high school students have made it clear they're not going to back down. They're going to be the change. It's not their parents that are going to try to do it for them. And the Sandy Hook parents did so much to try to enact some change. But I think these kids are going to be the ones that will be an actual force. When you're 18, and you're on the verge of being able to vote and about to go to college, you're getting a bigger sense of the world outside your little bubble. They're so impassioned and energized, like: 'I'm going to change the world!' I think they'll keep on going, and I'm behind them 100 percent."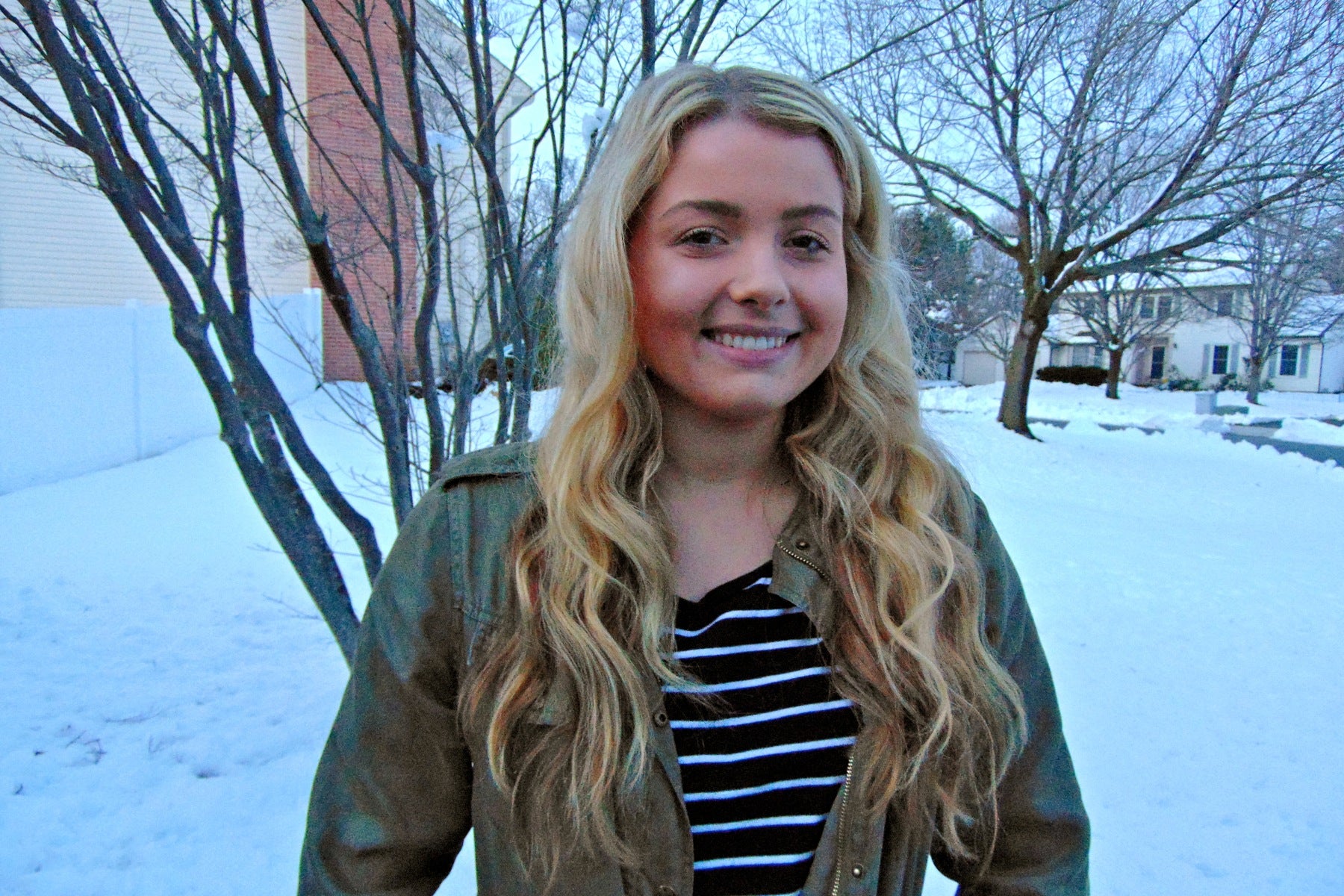 Alissondra Gutierrez, 17, junior
From: Lawrenceville, New Jersey
Personal connection: None. "I feel like it's important that even though we don't deal with gun violence, we still stand up for the people that do deal with it." She's a co-organizer of the National School Walkout at her high school.
How to fix it: "When people purchase guns, it needs to be stricter. They need to really focus on the background checks. I don't believe teachers should have guns. It would make school feel like an unsafe place. Personally, I would not want to go to school if my teachers were armed. Metal detectors would be nice, but it's not really realistic."
On voting: She's not old enough to vote yet but says women's rights and gun control are key issues that will drive her vote.
What the future holds: "I'm hopeful because it's students leading it. I feel like we're going to actually make change this time. The students now have very powerful things to say, and I think the adults are starting to listen."
Catherine Kildea, 17, senior
From: Lawrenceville, New Jersey
Personal connection: "Growing up in this time, it feels like it's always a concern. It's just a huge concern that we've always dealt with — we just never talked about it." With Parkland and other school shootings, she said, that's changing. "It's very sad, but I've actually spoken with a lot of my classmates who said, when you're sitting in class, you think: 'What would I do if it were to happen right now? How would I get out of this situation?' "
How to fix it: "New Jersey has some of the strictest gun laws in the country. But we still need better security measures. We're very lenient because we do live in a good area, and we're very fortunate for that. But just like the students in Parkland said, they never thought it would happen to them. So I think Lawrence should get better security measures."
How to pay for them is a challenge, she said. "Metal detectors would be great, but it's not really financially possible. I also think having an armed police officer in school would help a lot. But that's very controversial, so people in the whole town don't necessarily agree with that.  When I presented this idea to my friends, one girl said, 'I'm sorry, but I can't support that. I just don't want guns in my school.' Later, I realized the proper rebuttal would've been, 'neither do I! But at the end of the day, this is the world we live in today and we can't just hope that guns will not be brought into our schools by a school shooter. The only way we can know we are protected from a shooter is by having trained, armed guards to protect us.' It's sad that we need these measures, but it's just that, we need them."
She also supports "preventive measures" such as expanding mental health services in schools to enable students "to talk about how they feel and not letting this pressure build up where they take it out on their classmates in this horrible, horrible way."
Cracking down on bullying and holding regular safety drills at school also are key. "Removing all guns from all citizens is a very foolish idea. I don't think it helps the issue at hand, and I think it hurts people that are law-abiding citizens." She plans to meet with state Sen. Shirley K. Turner, D-Mercer, Thursday to share her concerns and ideas and has written to U.S. Sen. Cory Booker, D-New Jersey.
On voting: "I'm very excited to vote. I'm very into politics. Gun control is definitely going to be a very big thing for me. It's definitely in my top five of issues, because it's a life or death situation."
What the future holds: "Parkland feels different. Every time we have a shooting, it's horrible, it's just scary and frightening, and you feel horrible for the victims. I do feel like our attention span as a nation changes so quickly. But I feel like Parkland is definitely making people talk — people that I haven't heard speak out about it before, and people that aren't even really into politics or sharing their opinion. In the future, there's definitely hope."
---
About Hopewell Valley Central High School
Regional public high school.
Enrollment: About 1,250 students in grades nine-12.
Location: Pennington, New Jersey (north of Trenton).
Details here.
---
Ethan Block, 16, sophomore
From: Pennington, New Jersey
Personal connection: As head of student outreach at Hopewell Valley Central High School, he's helping plan Wednesday's walkout and another National School Walkout on April 20, the 19th anniversary of the Columbine massacre. He's also a student leader for the March for Our Lives in Philadelphia on March 24. "Parkland was a very safe community. And we're a safe community. We're exactly like Parkland in a lot of ways. So it really does kind of beg the question: Are we next?"
In fact, his school and two other nearby schools were placed on lockdown last Friday after a stranger got into the high school when a student held a locked door open for him. Police responded, but determined the trespasser meant no harm.
He finds lawmakers' inaction on school shootings aggravating, he said. "The first response is thoughts and prayers. But just as a bystander, as someone who has recently gotten involved in politics, it frustrates me greatly to see the lack of action from representatives. I think what the Parkland kids are doing is great. They're saying: 'We're not going away. This isn't going to be just another school shooting.' I really think we have the opportunity to do something here."
How to fix it: "In my opinion, the United States is the greatest country on earth. We are without a doubt a First World country. So why do we have to put all these extra security measures on our schools? No other First World country is doing this. No First World country has to do this. So I think it's preposterous that we have to do that in order to feel safe. So I think we really have to band together and get to the root of the problem, which is guns. Definitely, AR-15s need to go. The public should not be allowed to own a weapon of war. There's no need to. If people want to defend their family, they can defend their family with a pistol. They don't need a weapon that the only use for it is to kill the maximum amount of people possible."
Arming teachers is a bad idea, he said. "I know from my teachers at my school, that they would never think of having a gun in the classroom. I think a lot of teachers would feel that way, and they would just quit. It would just cripple our entire education system."
On voting: "Gun control is important to me, because it's happening to kids, because you have these school shootings, and people are dying who are my age. Kids like myself are seeing the harm that the NRA and gun owners do to people. Politicians who are supported by these groups cannot be in office if we want to keep children safe. As we become of age to vote, I think that's really going to make a difference in the polls."
What the future holds: "I hope more than anything that what we're doing now and our marches are going to make a difference. Because I've had enough. I know the kids in Parkland have had enough. I know kids all around the country have had enough. It's inevitable that there will be violence in this country. It's inevitable anywhere. But we really have to work with our representatives and elect people who are willing to make changes regardless of what the NRA or gun lobby thinks. It's really important that we all realize this is an issue that can end. It's not anything we can't do anything about. We, as people, have power. I don't think people realize how much power we have."
WHYY is your source for fact-based, in-depth journalism and information. As a nonprofit organization, we rely on financial support from readers like you. Please give today.