Vital Signs: Fresh paint for businesses with "ghost signs"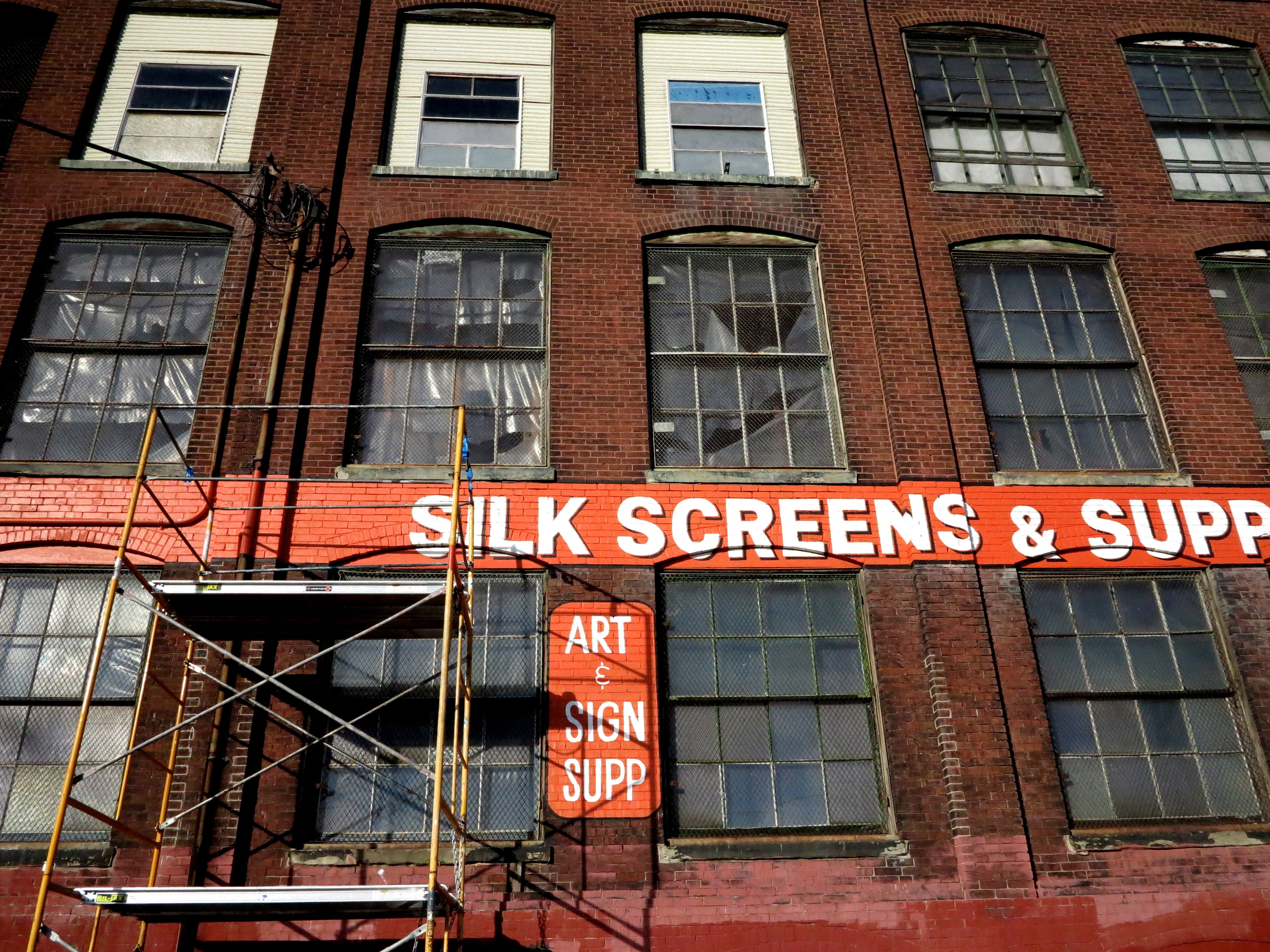 "Ghost signs" are all over this city's walls, advertising businesses of yesteryear in vanishing paint. But some of the same businesses behind those weathered signs are hardly faded. You just wouldn't necessarily know it from the outside.
That was certainly the case with the Hermann Henssler Locksmith, a fifth-generation shop at North 13th Street and Girard Avenues. As we reported earlier this year, Henssler's fading signs were repainted for free thanks to a recent partnership between Temple's Tyler School of Art and the Mural Arts Program, helping breathe new life into the 115-year old business.
Henssler's sign restoration marked the first of several to come under a project called Vital Signs – an effort spearheaded by Temple Contemporary's Robert Blackson, at the hands of Tyler art students, with help from the Mural Arts Program. Vital Signs aims to restore aging signs for long-standing local businesses, taking them back to their original Technicolor glory.
The project at Henssler was such a success, bringing both aesthetic improvements and an associated uptick in business, that Blackson was emboldened to work on a few more signs. Luckily Mural Arts agreed to continue donating leftover paint, the occasional use of their scaffolding, and staff expertise.
This year Blackson approached ten more businesses with ghosted but interesting signs painted on their buildings and five proved to be perfect candidates: Each is an independent family-run businesses that just keep on ticking.
When Blackson contacted the business owners, some thought the offer was too good to be true. But after seeing before and after pictures at Henssler, coupled with the very right price of $0, it wasn't hard to persuade owners to participate.
"Once they see the quality of the work and how careful we are to make sure that the colors and design match what it was originally, they see it's going to be an accurate representation," Blackson explained.
The second business to have its signage refreshed is Photo Process Screen Manufacturing Co., a screen-printing company run by the Oteri Family, at 179 West Berks Street. As with Henssler, Tyler painting student Stacey Holder is behind the paint brush.
Sam Oteri is quick to note that his business will begin its 69th year on January 1, and they've been at Berks and Hancock streets since 1960. It's what Oteri calls a "good old-fashioned place," with a first floor packed with screen-printing supplies for sale, a basement woodshop for making frames, and their screen-printing workshop upstairs.
But tired signage outside belied the productivity inside. Signs reading "Photo Process Screen Mfg." and "Silk Screens & Supplies", painted in block letters on a stripe of brick between the first and second floor windows, was badly faded. So faded, Oteri said, a neighbor across the street looking for screen-printing supplies and didn't realize they were still in business. That neighbor is now a customer thanks to the repainted sign.
"The project outside is purposely done to draw a lot of attention," Oteri said, with high hopes that the fresh paint will boost the family business.
Oteri wanted to have his signs repainted, but wasn't able to find people he trusted to do the job.
Traditional sign painting is, like ghost signs themselves, a vanishing art. As part of Vital Signs, local master sign painter Gibbs Connors, has given an assist to Tyler students interested in learning the art. Mural Arts has given practical oversight and assistance to students learning wall painting.
"I've been trying to get my outside painted for three years," Oteri said. " Now that they did it, it looks just exactly like what I wanted."
All of his signs repainted as they had been, with one exception: The sign saying "Line Offset Films" became "Ink Jet Films" because that's what they actually sell these days. Next the ground level of the building will be repainted, giving the exterior an even fresher appearance.
"Neighbors thanked us saying it looks nice and clean and not like a beat up old factory building," Oteri said. "We've got to spruce up Philadelphia."
Next up for the Vital Signs treatment are Fufari's Soft Pretzel Bakery on Frankford Ave, Cunningham Piano on Germantown Avenue, Fluehr's on North Front Street, and Honest Lou's Exterminating on Lancaster Avenue.
Photo Process Screen Manufacturing: Before & After
(courtesy of Robert Blackson, Temple Contemporary)

(Robert Blackson, Temple Contemporary)

(Ashley Hahn, EOTS)

(Ashley Hahn, EOTS)

(Ashley Hahn, EOTS)