Stop using tap and bring in 'safe water,' physician urges North Philly school officials
A health expert said every school in the city that has plumbing joined by lead solder should stop allowing children to use drinking fountains immediately.
Listen
1:38
Gale Glenn is just one mother, but she says she speaks for 698 children.
Glenn came to Mastery Frederick Douglass Elementary in North Philadelphia Monday night to discuss recently revealed reports of high lead levels in drinking fountains at the school attended by her three children. The only parent in attendance, she sat in the second row of the auditorium and spoke informally with a panel of Mastery staffers and lead experts.
"I just want things to be right. This school — we do have some issues here. We don't want our kids to be sick," Glenn said. "It's better to know than not to know."
The meeting occurred in response to an investigative report last week by Keystone Crossroads/PlanPhilly that found a legacy of disturbing water quality issues at the school over 15 years.
Most recently, after three water fountains failed city-mandated lead tests in April — including one 350 times the district's 10 parts per billion limit — Mastery failed to inform parents of the results.
Mastery says it decommissioned the fountains immediately, but it didn't notify parents about the potential hazard to their children until months later — only when reporters began asking questions.
Monday night, Mastery CEO Scott Gordon apologized to Glenn personally for that inaction.
"We addressed the problem. I do feel badly that we should have sent a notice out because it creates a sense of distrust," he said.
'The right choice'
At some point in the spring, Mastery says it shut off every fountain in the school and set up jugs of filtered water throughout the building for student use.
Marilyn Howarth, the director of community engagement with the Center of Excellence in Environmental Toxicology at the University of Pennsylvania, applauded that approach.
"As a physician, I can tell you that's the safest way to do it," she said during the meeting. "I think that's the right choice."
Mastery invited Howarth to Monday's gathering to discuss the serious health risks, especially for young children, associated with exposure to lead.
"A loss of brain cells, basically a loss of IQ points, and also behavioral changes," she explained.
Howarth said every school in the city that has plumbing joined by lead solder should stop allowing children to use drinking fountains immediately. That plumbing method was banned in new construction by updates to the Safe Drinking Water Act in 1986. Many Philadelphia schools were built long before the method was banned and have not undergone full renovation.
"In most cases in Philadelphia, they need to do exactly what they've done here, which is to bring in safe water," the physician said.
Marilyn Howarth, an occupational and environmental medicine physician, was asked by Mastery to speak to parents about the effects of lead at Frederick Douglass Elementary. She said no amount of lead in drinking water is safe. (Kimberly Paynter/WHYY)

Students now drink from jugs of filtered water at Frederick Douglass Elementary. (Kimberly Paynter/WHYY)

File photo: Water fountains at a Philadelphia charter school are turned off because of lead in the plumbing. (Kimberly Paynter/WHYY)
The water at Douglass had raised red flags even prior to the 2019 testing.
Some school fountains failed earlier rounds of lead testing in both 2006 — when The School District of Philadelphia operated the school — and 2017, with Mastery Charter in command of the district building.
Officials say fountains with high lead results were immediately deactivated in both 2006 and 2017.
Separately, in 2016, faculty documented a brown discharge flowing from water fountains over the course of a week. Teachers from that era said it was part of the building's culture that staffers never drank from fountains.
Mastery's central office administrators say they were not notified about those incidents.
A recent comprehensive facilities review of all district-owned facilities also raised concerns, saying Douglass should remedy its water infrastructure because the school's pipes "may contain" lead solder.
'Very troubling'
At one point in the meeting Monday, CEO Gordon expressed surprise that the school's action in 2017 to remove failed outlets didn't solve the wider problem at the school.
Howarth explained that school-wide issues could be caused by lead leaching into water sitting in pipes far from a failed fountain. Testing outlets, therefore, only gives you part of the picture.
"On different days, in different circumstances, you will have different levels, which is why the only safe thing to do is really not use any of them."
Short of replacing all of an old school's plumbing to the water main, she said "there really wouldn't be any way to be confident that the water was safe."
Gordon was visibly struck by the comment.
"That is very troubling," the Mastery CEO said.
Asked later if he was considering switching to filtered water jugs at all of Mastery's 18 schools in Philadelphia, Gordon was noncommittal.
"We're going to follow up to see how we can be as proactive as we can. Not sure what that solution is. But whatever it is, we're going to pursue it," he said. "We want to make sure without any shadow of a doubt that we're doing everything we can to keep our kids safe."
Mastery officials could not immediately provide a cost estimate for what it would take to stop using drinking fountains at its schools.
A recent City Council bill mandated that lead testing take place in every school in the city. The results have not yet been reported publicly.
Water problems are only the latest infrastructure concerns school officials have been forced to deal with in recent years. This fall alone, the district has dealt with multiple crisis stemming from asbestos discoveries in aging school buildings.  Chipping paint, failing HVAC systems, and other hazards continue to dog the system.
At Douglass, water still runs from bathroom sinks, but with signs warning students not to drink. Tap water is also used in food preparation. School officials pledged Monday night to retest those kitchen outlets and act accordingly if there are signs of toxicity.
Parent Gale Glenn, who donned a Mastery baseball cap during the meeting, left feeling like the school had taken "a step forward."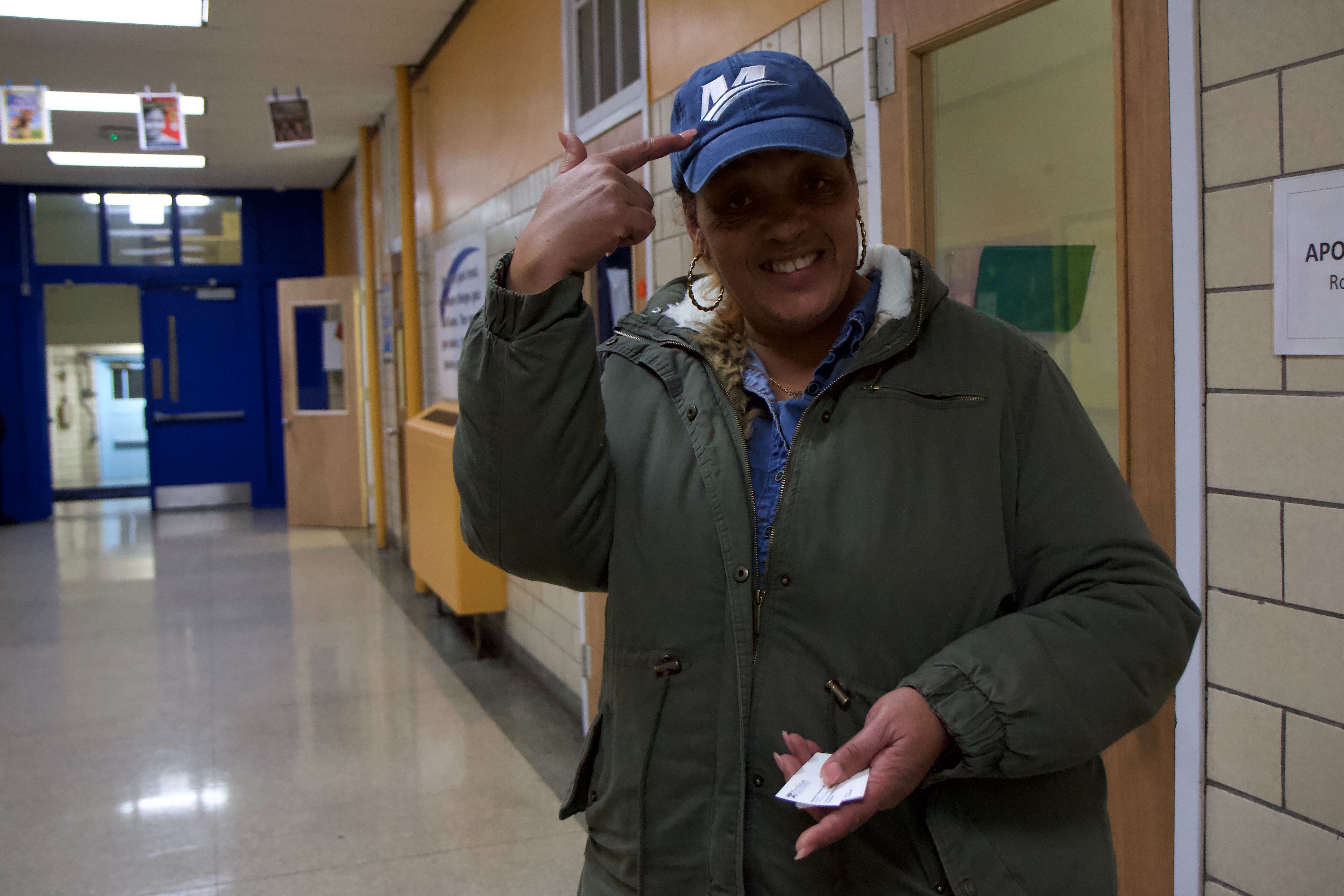 "I still represent Mastery. I love Mastery. This is my kids' school," she said. "This is my neighborhood school. I'm heavily involved and I just want things to be right."
WHYY is your source for fact-based, in-depth journalism and information. As a nonprofit organization, we rely on financial support from readers like you. Please give today.