Travel writer Rick Steves visits Delaware to support marijuana legalization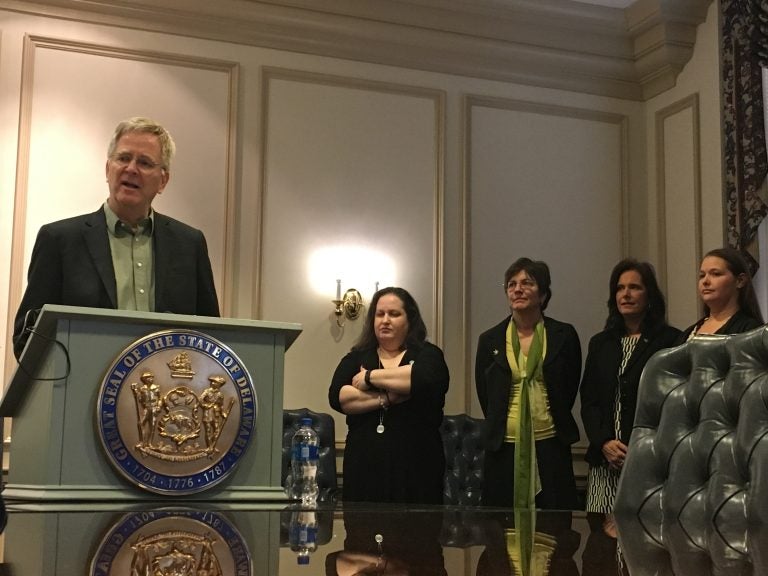 Travel writer and TV host Rick Steves spoke Wednesday of his experience with legal marijuana around the world as he advocated for Delaware to legalize recreational marijuana.
The author of more than 50 travel guidebooks, Rick Steves is well-versed in European culture. In parts of Europe, marijuana policy is somewhat more lax than in the U.S. In other parts, it's completely legal.
From that time spent overseas and his experience in his home state of Washington, Steves said he's seen positive results from legalizing marijuana.
He rejects the argument that legalizing marijuana will cause usage to go up.
"No society has ever found that there is any correlation between consumption and how strict the laws are," Steves said at Legislative Hall in Dover. He spoke alongside legalization advocates before the final meeting of a task force examining the issue.
Earlier this month, Carney reiterated his opposition to recreational marijuana, saying it was too soon for Delaware to legalize it without seeing the ramifications in states where it is legal like Colorado and Washington.
"I don't think it's a good idea to be out ahead of that, [to be] one of the lead states there," Carney said in an interview on WHYY-TV's First. "I've talked to my colleagues, governors from Colorado and the state of Washington, and they talk about some of the unintended negative consequences."
Carney did not specify the negative issues the other governors discussed with him.
Steves said lots of politicians who are opposed to legalization are acting like it's 2010 and not 2018, ignoring the positive reaction seen in states that have legalized marijuana use.
"We have a track record. It's been four years since we've been selling marijuana in Washington and in Colorado," noting that 'use among adults stays essentially the same" and "crime does not go up, DUIs do not go up."
State Rep. Helene Keeley, D-Wilmington South, and state Sen. Margaret Rose Henry, D-Wilmington East, introduced a bill legalizing and taxing marijuana in January 2017. The bill never came up for a vote last year, and was put on hold in favor of the task force to deeply examine arguments for and against legalization.
The task force is scheduled to release its final report to Carney later this month.