Trash truck crash injures one, halts traffic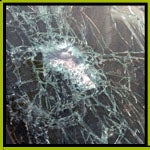 An accident involving a trash truck during morning rush hour yesterday left one person seriously injured.
Around 6:15 a.m., a trash truck and a car were involved in an accident in the inner northbound lanes of Roosevelt Boulevard and Red Lion Road.
The driver of the car was transported to the hospital in serious but stable condition, while traffic in the inside northbound lanes remain blocked for nearly an hour.