Transit planners talk bike policy with Council aides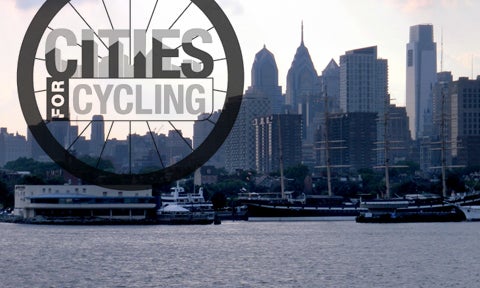 Fresh off a four-hour bike tour of Philadelphia on Thursday, transit officials from around the country dropped by a meeting with City Council aides Friday afternoon to talk about the city's bike infrastructure.
While the transit delegation was enthusiastic about Philadelphia's efforts to make the city more bike-friendly ― the San Francisco planner admitted he was "really envious" after his trip here ― Council aides seemed less enthusiastic.
Questions for the planners, who hailed from San Francisco, New York City, Washington, D.C., and Portland, Ore., focused on the threats bikers could pose to pedestrians.
The transit planners were in town as part of the Cycling for Cities program, which works to promote bicycle transportation policies in big cities, an initiative by the National Association of City Transportation Officials.
Several Council aides asked panel members whether their cities require adult bikers to register ― none do.
Andrew Stober, chief of staff for the Mayor's Office of Transportation and Utilities, acknowledged that "there's a lot of tension out there."
He and deputy Streets commissioner Steve Buckley laid out the administration's plan for addressing Council's concerns, saying that creating more space for bikers on the street will reduce tensions with drivers and pedestrians. Department heads theorize that some illegal behavior, like riding on sidewalks, is partially caused by bicyclists feeling unsafe when they follow the rules of the road.
The transit officials agreed.
Jon Orcutt, director of policy for the New York City Department of Transportation, pointed out that his city's research found New Yorkers aren't against bike lanes. Street users, whether they be bikers, motorists, transit users or pedestrians, don't like "behavioral chaos" and think that a bike lane network "creates order to the streets."
New York has even gone beyond bike lanes, installing separate lights at certain signalized intersections for bicyclists and placing parked cars between bike and car lanes on certain busy streets.
On that front, the administration is expanding the city's bike network ― Lombard and South streets got dedicated bike lanes during repaving last week.
Timothy Papandreou, deputy director of transportation planning and development for the San Francisco Metropolitan Planning Agency, also sketched out a three-pronged approach to improving relations based around "education, outreach and enforcement," pointing to his own city's Give and Get Respect Campaign.
To address that, Stober said that Nutter's administration was trying to secure grant money to do education outreach to bicyclists with the Bicycle Coalition of Greater Philadelphia. The money would be used to purchase and distribute bike lights to evening riders. In the process, Bicycle Coalition members could explain the city's bike laws more amicably.
The transit officials also pointed out the need for special education efforts targeting 18- to 25-year-old men, the demographic most likely to cause problems on their bikes, they say.
Sill, enforcement remains a problem because, as several Council aides pointed out, police don't write tickets to bicyclists.
On an existential note, Buckley pointed out that lawbreaking comes from many corners: Jaywalkers cross streets with impunity and motorists "slide" through stop signs without getting ticketed.
The goal, he said, is to make the streets safe for everyone, not to "cram an agenda down anybody's throats."
The conversation also touched on the feasibility of starting up a bike-sharing service for Philadelphia.
While transit officials agreed that a large bike-sharing system of 1,000 bikes or more could be self-sustaining, they pointed out that Philadelphia would need to come up with money for startup costs to get a project off the ground.