Touring Philly's black history along South Street from Du Bois home to Standard Theater
Some University of Pennsylvania students studying African-American history are zooming in on the era when South Street was the heart of Philadelphia's black community.
Since the late 1800s, South Street in Philadelphia has sported many identities — it's been a bustling African-American neighborhood, an immigrant-owned garment district, and a music den for punk rock. Now, it's one of Philly's tourist traps known for tattoo parlors, hip shops, and countercultural vibes.
Some students studying African-American history at the University of Pennsylvania are zooming in on the era when South Street was the heart of the city's black community. For Black History Month, they took WHYY on a walking tour around the famed boulevard, mapping the footprint of black culture on the neighborhood.
Home of W.E.B. Du Bois
The first stop: Rodman Street between Sixth and Seventh, the site of the former home of civil rights activist W.E.B. Du Bois. Strolling on the block where Du Bois' home once stood, Helen Fetaw, a senior at Penn studying health and societies, said she imagines the late scholar's neighborhood looked very different than the one here today.
"I think that as black Philadelphians moved out of this area, he would have seen a loss of the people in this neighborhood and a loss of culture through all the flux and flow in the recent years," she said.
W. E. B. DuBois studied a very different Philadelphia around his home at about 6th and South Streets over a hundred years ago. (Kimberly Paynter/WHYY)

Ramon Garcia-Gomez, a University of Pennsylvania philosophy politics and economics major, said he hopes people will stop and read the historical markers in the 7th Ward. (Kimberly Paynter/WHYY)

(From left) Penn students Ramon Garcia-Gomez, Helen Fetaw, and Nathaniel Gertzman, tour the 7th Ward. They read about W. E. B. Du Bois and his research in Philadelphia as part of their African American History class. (Kimberly Paynter/WHYY)
In the late 1890s, when Du Bois was living in the Seventh Ward (running from Spruce to South Street and from Seventh Street to the Schuylkill River), the neighborhood was predominantly African-American; today, it's mostly white. Du Bois arrived in Philadelphia at a time when the area was home to many immigrants and African-Americans, who were unskilled laborers and living in poverty. Susan Wharton, a wealthy Quaker who lived in the ward, spoke with local leaders, including her neighbor and University of Pennsylvania provost Charles C. Harrison about conducting a study of the "Negro problem" in the neighborhood. In 1896, Harrison gave Du Bois a temporary post as assistant instructor in sociology to investigate the plight of African-Americans in the area.
Du Bois went door to door, conducting more than 5,000 interviews. His research amounted to a groundbreaking study called "The Philadelphia Negro," which unpacked how the legacy of slavery and the exclusion of African-Americans from the city's top industrial jobs had shaped the condition of black people in the neighborhood. The study goes down in history as the first sociological case study of a black community in the country — and one of the first of its kind in the world.
Fetaw said she was taken aback by how little support her university provided Du Bois while he was conducting his landmark research.
"During his time here, he received a salary of like $900. Throughout the entire time, he had no contact with students, no interactions with really any type of faculty. And once he finished 'The Philadelphia Negro,' he just kind of had to leave," she said.
"Obviously, I was really disappointed in Penn and the lack of support that they provided him. But, also, it helped me to recognize that African-Americans throughout history in Philadelphia and on Penn's campus have not been given the light that they deserve," she said. "And so, it's helped me to appreciate how far we've come — but also how much more work we still have to do."
Home of William Adger
At Ninth and South streets, Nathaniel Gertzman, a senior at Penn studying mechanical engineering, stood at the site of the former home of Robert Adger, the father of William Adger who was the first black student to graduate from the University of Pennsylvania. Robert Adger, born and raised a slave in South Carolina, arrived in Philadelphia around 1848. In the Seventh Ward, he worked as a relatively wealthy furniture dealer and china shop owner. He taught his 13 children to read and write, but William was the only one to attend college. After graduating from Penn, Adger wanted to become a priest and studied at the Divinity School of the Episcopal Church. He died at 30 before reaching his goal.
"We've talked a lot about what the early integrators looked like at schools like Penn, and their lives were not easy," said Gertzman. "They had to sit in the back of class, they had to sit behind walls. I don't know exactly if William Adger had to do all those things, but one can imagine that he did."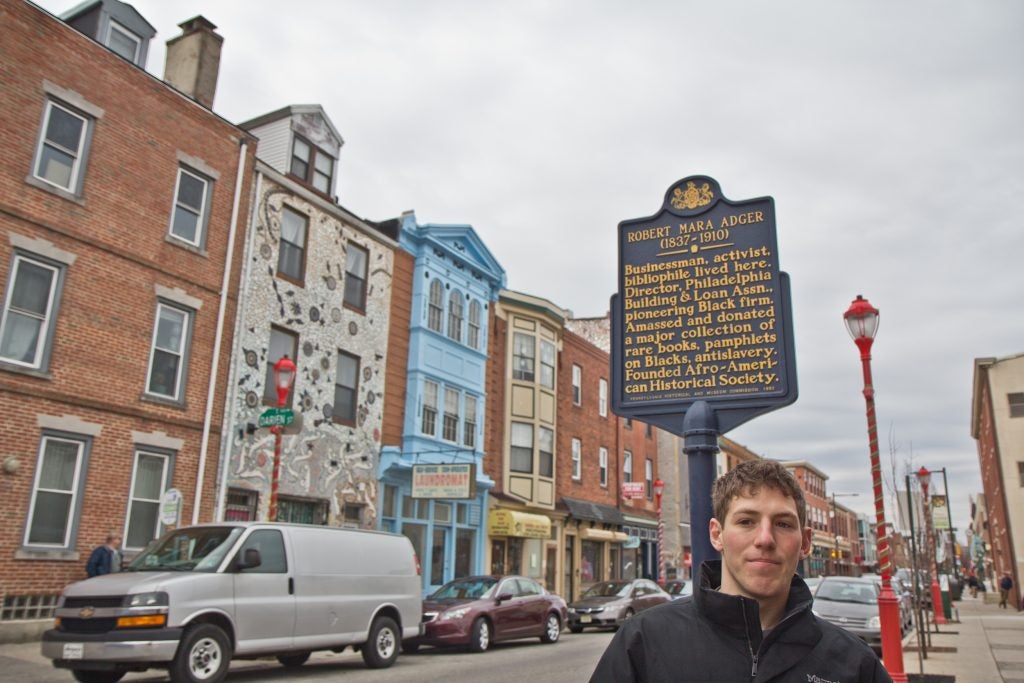 Gertzman said that standing next to William Adger's former home is a reminder of the challenges people of color at Penn have faced throughout the college's history.
"I think it's very important for us to remember where we've come from," Gertzman said. "I think we have made a lot of progress, and I think no one would disagree with that. But I think it's very important for students like myself to look back and remember how things used to be, so that things never look like that again, and so we keep that in mind when making decisions and having these conversations."
The Standard Theatre
From Ninth Street, Ramon Garcia Gomez led the way up to 11th and South, the site of the former Standard Theatre. Gomez, a Penn senior studying philosophy, politics, and economics, said the Standard was the first theater in the neighborhood primarily for the black community.
"After the First World War, during the Great Migration, when a lot of African-Americans were coming into this area in the city from the South, [the Standard Theatre] really gave them an outlet to kind of express themselves artistically," he said.
The theater had its heyday during the Roaring '20s, with jazz sensations Duke Ellington, Louis Armstrong, and Bessie Smith performing on the Standard stage. But the venue was also a place where many Philadelphians got their start.
"There's a tap dancing duo, the Nicholas Brothers, who started there, and I think it's indicative of a celebration of excellence and black art, but also a ground for the development of homegrown talent," Gomez said.
During the Great Depression, the Standard went out of business and became a movie house, which was torn down in 1957.
Even though there's only a historical blue post left in its place, Gomez said, the theater has touched generations of black artists in Philadelphia.
"Like Will Smith, Meek Mill, Patti LaBelle are Philadelphians, and they're not necessarily connected to the Standard Theatre, but I think they continue the legacy that the Standard Theatre set," he said. "Now it's just a blue post on the street, but I think understanding the legacy established of black art in Philadelphia, it's really cool walking by and seeing what it created and how it still continues today."
'I walk with hope'
As the neighborhood tour wrapped up, Chaz Howard, university chaplain at Penn who co-teaches the African-American history course, said walking around the neighborhood with his students left him with mixed emotions.
"I think I have a deep love for Philly," he said. "It's one of the best cities in America … yet you can't help but have a grief at what's been lost here from the rich, vibrant black community that this was to the great community it is today, but a displaced community that's moved to different parts of the city."
In his ninth year teaching the class, Howard said walking around Philadelphia's old Seventh Ward has a different tint to it in this present moment.
"I think the backdrop of America is different than doing this walk in Obama's America," he said. "I think there's a different surrounding conversation that happens with all the different challenges in our current administration around immigration, around policing, around discrimination against women, and so forth."
Despite the challenges, Howard said, it's his students that keep him looking forward.
"I think when you do this walk, there's a feeling of sadness but also of hope, particularly of hope," he said. "When I walk around with the students, knowing all that they're going to do when they graduate and all that they're doing now as current scholars and activists, I think I still walk with hope."
---
Music credits
W.E.B. Du Bois: "Cases to Rest" by Blue Dot Sessions
William Adger: "Thannoid" by Blue Dot Sessions
Standard Theatre: "The Jazz Piano" by Royalty Free Music from Bensound
WHYY is your source for fact-based, in-depth journalism and information. As a nonprofit organization, we rely on financial support from readers like you. Please give today.