Tips for weatherizing your home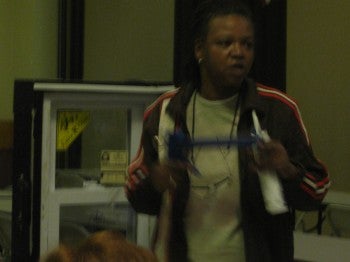 B.J. McDuffie recommends weatherizing your home when Daylight Savings Time ends. But the weatherization specialist brought her list of tips, demonstration tools and free weather-proofing kits to last night's Lawncrest Community Association meeting since there's plenty of winter left.
The kits, which included caulk guns, rope caulk and window zips, among other things, were provided by PGW and the City of Philadelphia and were the culmination of McDuffie's demonstration.
Starting with the basement, McDuffie gave step-by-step tips weatherization tips for keeping your home safe and energy costs low.
"It's fine to use energy," she said. "What we don't want to do is waste energy."
HVAC
Coming up in Lawncrest
St. William Comedy Night Saturday, Feb. 12 7-9pm Dinner, comedy & dancing with Little Joey Callahan, Christine rock, Tim Grill and Lawrence Mullaney. Ticket information available at rectory
Presentation BVM Home & School's Night at the Races Saturday, Feb. 12 at 7pm Food, beer, chances, card games, horse races. Ticket info at 215-742-1860 (Kristen Cashman)
McDuffie had tips for homeowners with both vents and radiators about to keep the systems clean and energy efficient, including:
Don't block the return vent.
Replenish the hot water heater and bleed your radiators as needed.
Make sure your chimney is clear by using a flash light and mirror to look up, or lighting a match near the flute. When you light the match, if the flame gets sucked up, your chimney is clear.
Wrap your hot water heater as long as your manual doesn't warn against doing so. McDuffie explained you can buy a jacket for about $12 at a hardware store and follow the instructions to apply it to your hot water heater.
DOORS AND WINDOWS
Door and window leaks are comfort leaks, McDuffie explained, meaning the cold air seeping in usually prompts action. You can seal small cracks with caulk and large ones by stuffing them with plastic bags before caulking.
For the small cracks where your windows slide up and down, McDuffie suggested rope caulk, which was given to LCA members in the free kit. The rope caulk can be reused; simply store it in plastic, and bring out next winter. If it's hard, heat it for a few seconds in the microwave.
Door sealant, window sealant and Extreme Rubber are the same, McDuffie said. You don't need to buy all three. Once you find the appropriate size for your needs, one product will do the job.
TOP FLOOR
If you need to temporarily fix a hole in the ceiling on the top floor of your home, McDuffie recommends covering the space with a piece of cardboard larger than the hole, securing it with tacks and sealing it with caulk.
When bleeding your radiator, check the one farthest from the heater. So if your heater is in the front of the house in your basement, McDuffie pointed out, bleed the radiator in the back room on the top floor. If you can't use your hand to turn the key, she said, don't use a tool. Instead, seek a professional.
FINAL TIP
As a final tip, McDuffie suggested a way to get the most from your radiator. Get a large, flat piece of cardboard that's slightly wider and taller than each radiator in your home. Cover each in foil and slip them behind the part of the radiator that's against the wall. This will reflect the heat that's normally pushed to your wall and draw it back into the room.
"If you don't think about how you're using energy," McDuffie said, "you're losing the battle."