Three at Philly immigrant organization fired after claiming boss outed them to ICE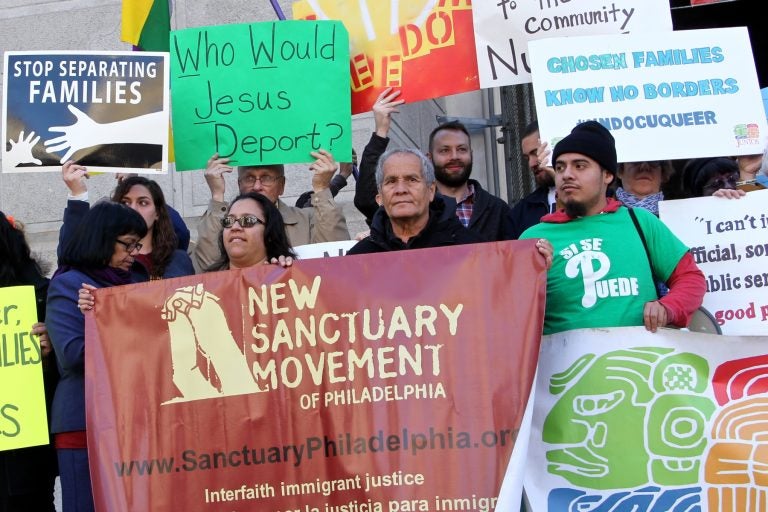 The New Sanctuary Movement of Philadelphia, one of the city's leading grass-roots immigrants rights organizations, has fired half of its staff following conflict over the executive director's behavior.
In a lengthy Facebook post, former staff members Sheila Quintana, Cynthia Oka, and Jazmin Delgado accused executive director Peter Pedemonti of exposing one of them to potential ICE enforcement during a Feb. 13 protest outside U.S. Immigration and Customs Enforcement headquarters in Philadelphia. 
During the event, where NSM was handing over petitions to ICE officials, Pedemonti beckoned to one of his staff — who is not identified and whose immigration status is not disclosed — and gave the ICE official that individual's name, the Facebook post continued. The staff member, whose ability to remain in the U.S. legally is apparently uncertain, was forced to interact with ICE, according to the post.
"We felt that if he was careless enough to put one of us — whom he had regular contact with — in direct and ongoing danger (yes, ongoing, because ICE can retaliate against the affected staff at any point in the future), then what would stop him from being careless with immigrants that he does not know personally?" they wrote. Quintana, Oka, and Delgado say they went to NSM's board, requesting a guarantee that the organization would cover any legal costs in the event ICE arrests the vulnerable staffer.
Their concerns have precedent. So far this year, ICE officers have arrested immigrants rights leaders or their family members in New York and Colorado, steps that are perceived as retaliation for their activism. In each case, ICE has legal grounds for arresting these leaders for immigration violations, even if the agency historically declined to pursue deportation in their cases.
Quintana, Oka, and Delgado also asked NSM's board to fire Pedemonti because "we were deeply concerned about [his] incompetencies" as a white male citizen, calling for more decision-making power to be given to the group's immigrant members. Instead, the board fired them on March 15. In a written statement, members of the board challenged some of the staffer's descriptions of their firings and called Pedemonti's actions during the protest a "mistake."
"We believe it is important to clarify the [executive director] did not give the ICE liaison the organizer's status or their full name, but only information which since the beginning of employment has appeared on the NSM website," said the board. "In spite of their claim, the decision to terminate the employees was not in retaliation for bringing a complaint about the executive director to the board," but instead because the staffers "disrespected" the organization's conflict resolution process and "threatened … they would divulge inflated allegations about NSM."
Quintana, Oka and Delgado did not respond to requests for comment.
The firings reduced the organization's staff by half, even as it has been ramping up its response to greater enforcement of immigration laws under President Donald Trump. Hired in 2017, Delgado led the group's accompaniment program, coordinating volunteer escorts for more than 70 immigrants nervous about interacting with any branch of the courts system — from traffic court to immigration proceedings. As a community organizer, Quintana worked with NSM's member congregations and also with local law enforcement on limiting information sharing between police and ICE, starting in 2016. Oka was a part-time organizer, recruiting three new congregations and working with NSM's members in the South Philadelphia Indonesian diaspora.
In the small world of immigration activism in Philadelphia, few have commented on the shakeup at NSM. Sometimes advocacy groups focus entirely on their public-facing work and neglect to build structures within their organizations to diffuse conflict, said one local organizer who declined to go on the record. Several of NSM's member congregations also declined to comment.
"My primary concern is about the needs of Hernandez family, and NSM is intricate to that," said Pastor Renee McKenzie at Church of the Advocate, referring to a family of five immigrants facing deportation who have taken "sanctuary" in her church in North Philadelphia. "They are working to make sure Carmela and her family have everything they need."